(BIVN) – Hector may have weakened to a Category Three hurricane, but with maximum sustained near 125 mph, it is still a powerful storm.
A Tropical Storm Warning remains in effect for Hawaii County, as the center of Hector is expected to pass about 150 miles south of the Big Island during the day on Wednesday. The effects of a hurricane are far reaching and can extend well away from the center, forecasters warn.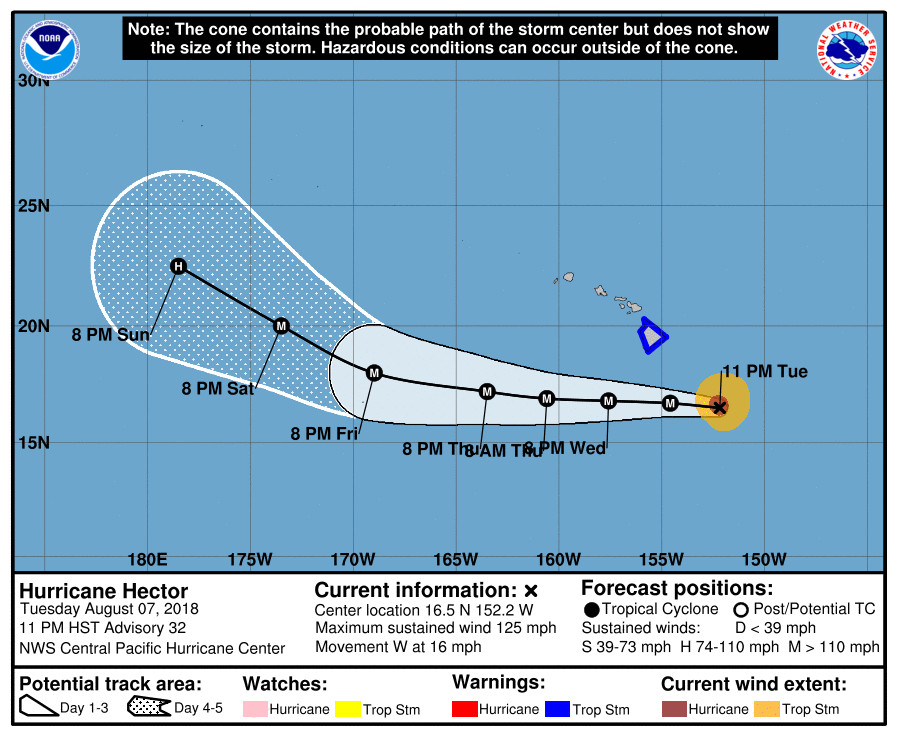 According to a civil defense message issued this evening, the following advisories have been issued by the Central Pacific Hurricane Center:
Tropical storm force winds up to 73 mph are possible for the east and southeast sections of Hawaii Island, especially for the areas around South Point.
High winds gusts are forecast through Wednesday and will affect the entire island, especially downslope areas.
High Surf Warning up to 15 ft for east and southeast facing shores until 6:00 pm Wednesday.
The following public safety measures and recommendations are now in effect, civil defense says:
High winds can cause extremely dangerous conditions due to flying debris, downed power lines, and blocked roads. These hazards can occur without advance warning.
Be prepared for interruptions to utilities, including power outages.
Secure loose objects in your yard and prepare your house for strong winds.
Residents along the affected shores should be alert for high and dangerous surf conditions.
It is important to remain calm, informed, and focused during an emergency.
If in a place that is vulnerable to high wind, such as near large trees, a manufactured home, or on a boat, consider moving to a safer shelter before the onset of strong winds or flooding.
The following beach and road closures are in effect:
Whittington, Punaluu, and Milolii Beach Parks are closed. All pavilion and camping permits for these three parks have been cancelled through Friday.
South Point Road from the Kamaoa Road junction to South Point is open to local resident traffic only.
Early voting sites at the Pahoa Community Center and the Pahala Community Center will be closed Wednesday, August 8.
The managing director and acting mayor for the County of Hawaii, Wil Okabe, signed a Hurricane Hector Emergency Proclamation on Tuesday. The proclamation stated:
WHEREAS, Chapter 127A Hawaii Revised Statutes, provides for the establishment of County organizations for emergency management and disaster relief with the Mayor having direct responsibility and authority over emergency management within the County.

WHEREAS, Chapter 127A Hawaii Revised Statutes and Chapter 7, Articles 1 and 2 of the Hawai'i County Code, establishes a Civil Defense Agency within the County of Hawai'i and prescribes its powers, duties, and responsibilities, and Section 13- 23 of the Hawai'i County Charter empowers the Mayor of the County to declare emergencies; and

WHEREAS, the National Weather Service at 5:00 a.m. HST on August 6, 2018 issued Hurricane Hector Advisory Number 25 advising that Hurricane Hector had entered Hawaiian waters and was located at 15.0 North Latitude/141.9 West Longitude or 930 miles east of Hilo, Hawai'i as a Category 4 hurricane with maximum sustained winds of 145 mph and;

WHEREAS, the National Weather Service at 5:00 p.m. HST on August 7, 2018 issued Hurricane Hector Advisory Number 31 advising of a Tropical Storm Warning for the County of Hawai'i. Hurricane Hector was located at 16.6 North Latitude/150.7 West Longitude or 370 miles east of South Point, Hawai'i as a Category 4. hurricane with maximum sustained winds of 130 mph and;

WHEREAS, a Tropical Storm Warning means that possible tropical storm conditions can occur any time within the next 36 hours; and

WHEREAS, conditions associated with hurricanes and tropical storms include but are not limited to storm surge, high surf, high winds, flash flooding and heavy rain may occur; and;

WHEREAS, due to the possibility of imminent disaster due to property damage and/or bodily injury to residents of Hawai`i Island, and the need for government agencies and representatives from the private sector to mobilize and provide immediate services to our island residents, a state of emergency is authorized pursuant to Chapter 127A Hawaii Revised Statutes, and Chapter 7, Hawai`i County Code.

WHEREAS, being that the Mayor is temporarily absent or disabled pursuant to Section 5-1.5 Hawai'i County Charter the Managing Director shall act as Mayor; and

NOW, THEREFORE, I, WIL OKABE, Acting Mayor of the County of Hawai'i, do hereby proclaim and declare that a state of emergency exists due threat of imminent disaster on the Hawai'i Island, effective August 7, 2018, and continuing thereon for 60 days or until further act by this office.

IN WITNESS WHEREOF, I have hereunto set my hand and caused the Seal of the County of Hawai'i to be affixed. Done this 7th day of August 2018 in Hilo, Hawai'i.

WIL OKABE
Acting Mayor
County of Hawai'i