(BIVN) – With maximum sustained winds near 75 mph, Hurricane Lane is expected to rapidly strengthen for the next 36 to 48 hours, and is predicted to become a major hurricane by Saturday. Lane is forecast to cross over into the central Pacific basin on Saturday, and should become a major hurricane at around the same time.
"Visible, infrared, and microwave satellite imagery indicate that Lane's overall cloud pattern has continued to improve, with several spiral bands and a more symmetrical outflow pattern having developed," reported the National Hurricane Center at 5 p.m. HST. "Although the inner-core convection has deteriorated somewhat until just recently due to the entrainment of dry air, microwave images indicate that a well-defined inner-core and low-level eye feature has formed."
"Lane is poised to rapidly intensity shortly, and sustain that trend for the next 36 hour so owing to the very low vertical-wind-shear and warm-SST regime that the cyclone will be moving through," the National Hurricane Center said.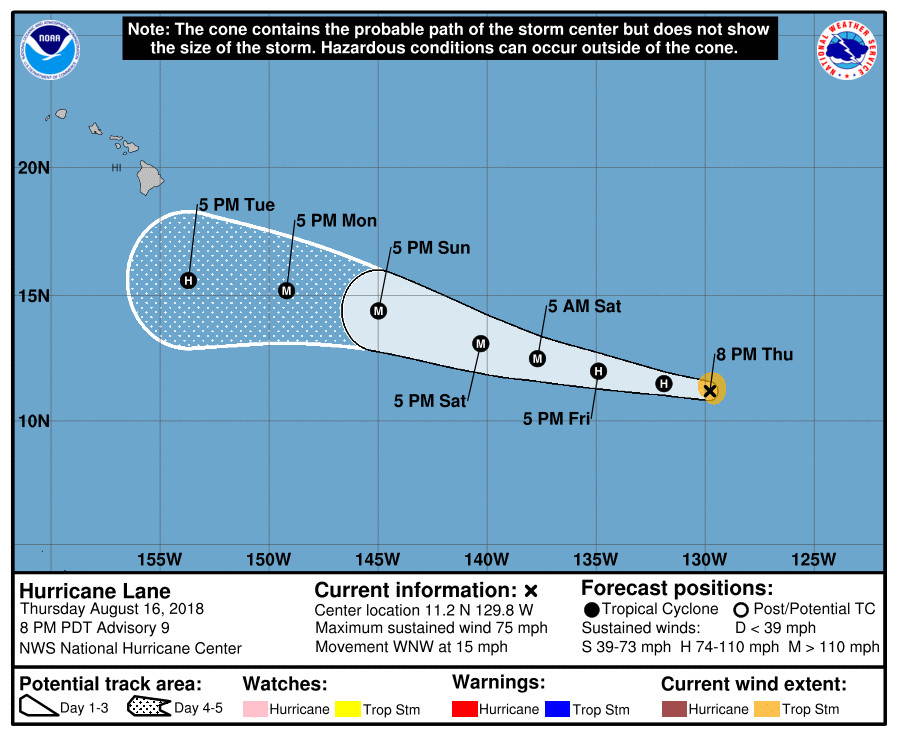 Forecasters say Lane "made a sharp jog toward the west-northwest during the past 6 hours, but this believed to be a short-term wobble due to the convection having recently wrapped around the north side of the low-level center. A return to a general westward motion of 280/13 kt is expected to resume shortly."
The 5 p.m. HST National Hurricane Center forecast track has been shifted a little to the right or north of the previous advisory track, "primarily due to the more northward initial position", forecasters say.
Lane appears headed for a close pass to the south of Hawaii Island, but it "is still too soon to know whether Lane will directly impact the islands," the National Weather Service in Honolulu wrote. Weather conditions "heading into midweek will obviously depend greatly on the eventual track, intensity and size of Lane," the forecasters wrote.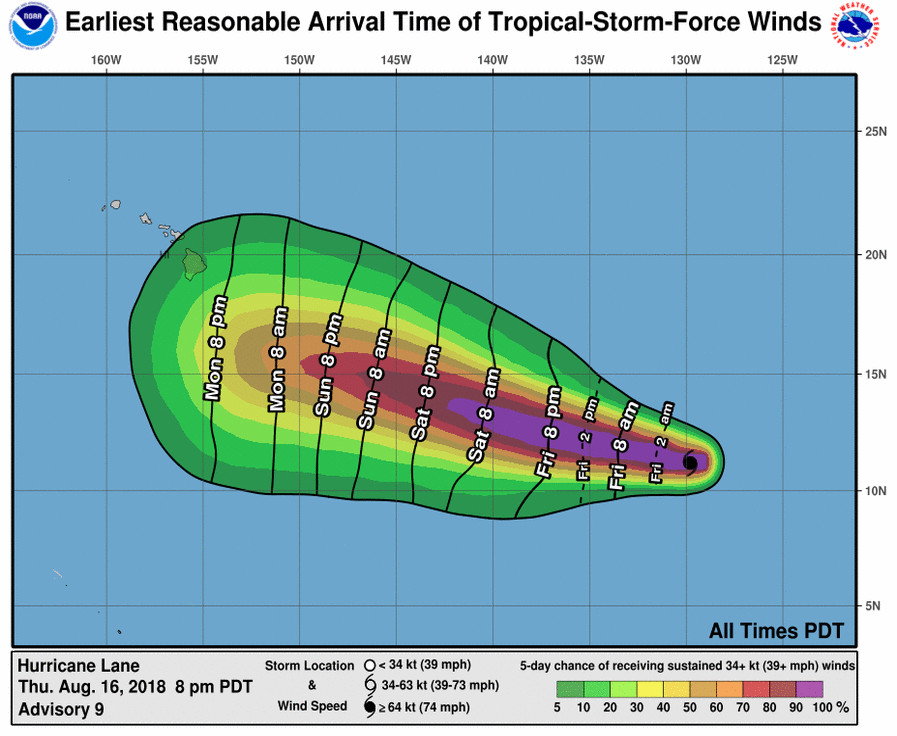 "The latest model guidance remains in good agreement on Lane continuing move between westward and west-northwestward direction for the next 3-4 days, followed by a turn back toward the west on day 5 as the stout subtropical ridge to the north strengthens to the east and northeast of the Hawaiian Islands and as a broad upper-level trough north of Hawaii gradually lifts out toward the northeast," the National Hurricane Center said at 5 p.m. HST. "A good analog that was used for Lane's forecast was recent Hurricane Hector, which exhibited similar inner-core and outflow characteristics, and moved through similar environmental and oceanic conditions."