(BIVN) – Tropical Storm Lane is gradually intensifying as it moves west in the Eastern Pacific, 1,935 miles east southeast of Hilo.
"Lane appears to be intensifying this morning, with a more symmetric presentation on satellite imagery and pulsing deep convection near the center," the National Hurricane Center in Miami wrote this morning. "A recent SSMI/S microwave pass indicates that an inner core is trying to form, although it isn't well defined yet."
Maximum sustained winds have increased to near 60 mph (95 km/h) with higher gusts. Lane is forecast to become a hurricane by tomorrow and could become a major hurricane over the weekend. "It is too soon to know if Lane will directly impact the islands," wrote the National Weather Service in Honolulu this morning. "An indirect impact from Lane is possible early next week as drier air from subsidence ahead of the hurricane spreads over the islands on Monday."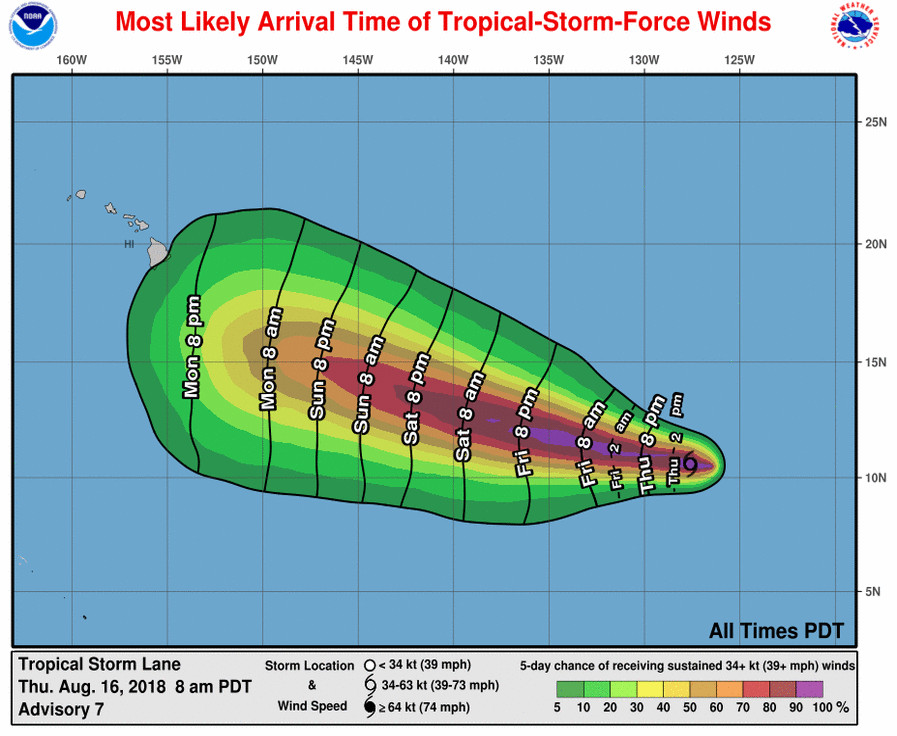 "While so far Lane has only been slowly intensifying, the large-scale environment appears favorable for more significant intensification to occur soon, especially with current signs of a primitive inner core," the National Weather Service forecasters said. "Thus the wind speed forecast will maintain the quick strengthening from the previous forecast, and there remains a significant chance that rapid intensification will occur during the next few days."
"The biggest change from yesterday is that more of the global models are indicating that westerly shear could affect Lane in the central Pacific, so more weakening is shown at day 5," forecasters wrote.
Lane is moving toward the Central Pacific at 14 mph and is expected to continue moving westward for the next day or so, followed by a turn toward the west-northwest.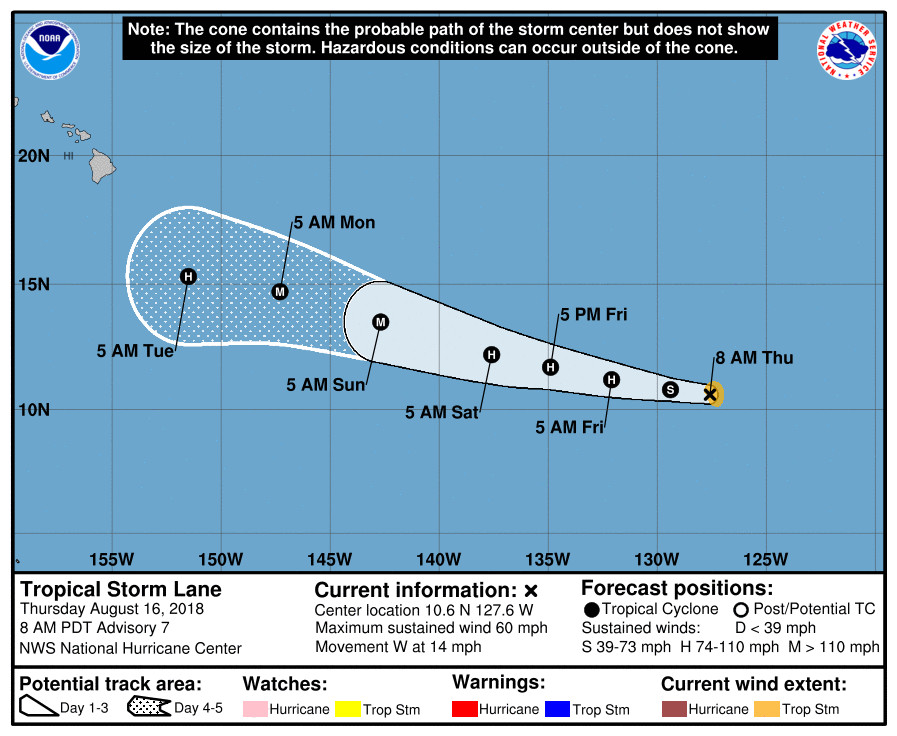 According to the National Hurricane Center:
The subtropical ridge to the north of Lane should continue to be the dominant steering mechanism, forcing the tropical cyclone to move westward or west-northwestward for the next several days. While the model spread is low in the short range, it notably increases by days 4/5. The GFS-based guidance is showing Lane move slower than the rest of the guidance, which allows the eastern periphery of the ridge to erode due to an inverted mid-level trough, and consequently a more poleward motion of the cyclone. The ECMWF and UKMET show Lane moving faster and basically missing any influence of that trough, causing the storm to move faster to the west. There are no strong signals pointing me to either solution, so the official forecast follows the trend of the consensus, which ends up slightly west of the previous forecast.
The next complete advisory on Lane will be issued at 11 a.m. HST.