(BIVN) – There are no coastal watches or warnings in effect, however "all interests in the Hawaiian Islands, including the Northwestern Hawaiian Islands, should continue to closely monitor the progress" of Hurricane Lane this week, the Central Pacific Hurricane Center said Monday morning. "On the current forecast track, a Tropical Storm or Hurricane Watch may be required for parts of Hawaii later today or tonight."
"Based on the latest trends in the forecast, direct impacts on the islands appear to be increasingly likely," forecasters wrote this morning.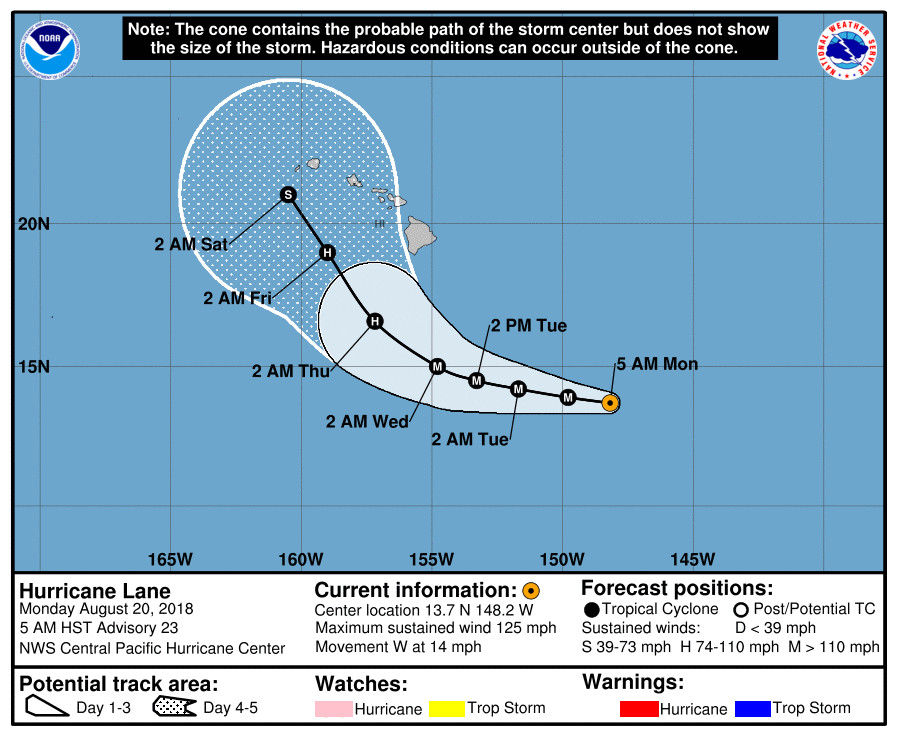 At 5 a.m. HST, the center of category 3 Hurricane Lane was located near latitude 13.7 North, longitude 148.2 West, 615 miles southeast of Hilo. Lane is moving toward the west near 14 mph, and forecasters say this general motion is expected to continue today. Lane is forecast to move westward at a slightly slower forward speed from tonight through early Tuesday, followed by a turn toward the west-northwest starting late Tuesday, the Central Pacific Hurricane Center says.
Lane is still a major hurricane, with maximum sustained winds near 125 mph. Little change in strength is expected through early Tuesday, with some weakening possible starting late Tuesday. Hurricane-force winds extend outward up to 30 miles from the center and tropical-storm-force winds extend outward up to 120 miles.
In a Hydrologic Outlook, the National Weather Service in Honolulu said "the latest forecast models indicate that, regardless of the eventual track and intensity of Lane, an extremely moist and unstable air mass will move over the islands beginning around Wednesday, and will remain in place through the end of the week. This is expected to result in very heavy rainfall, potentially leading to flash flooding."
"The details on the timing and location of the heavy rain are still uncertain. Please keep yourself informed through NOAA Weather Radio or local media for forecast updates," the National Weather Service said.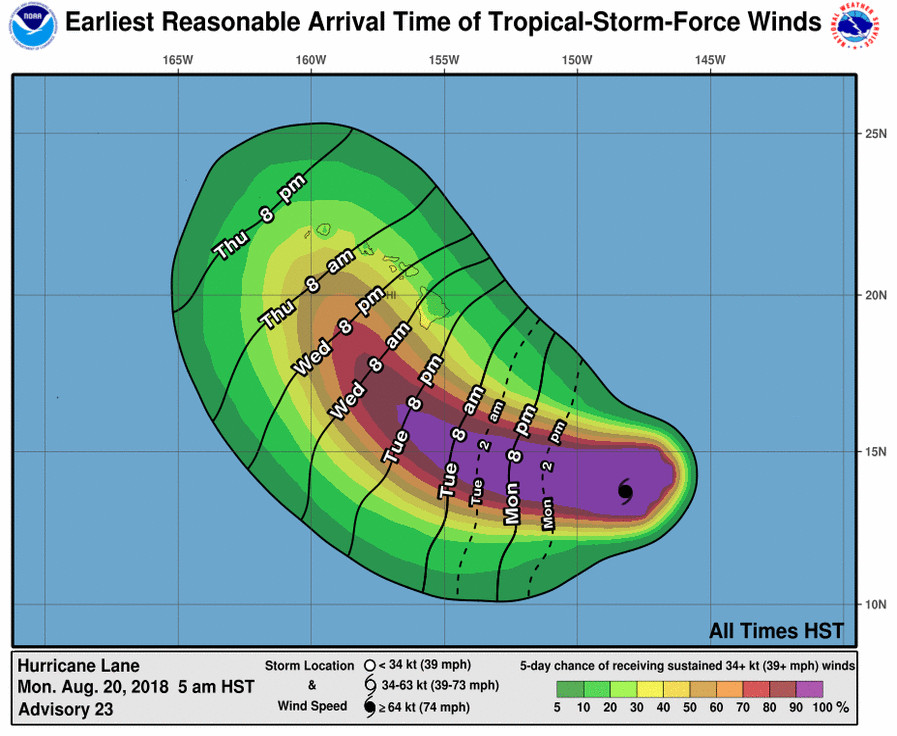 Due to Hurricane Lane, Hawaii County Civil Defense says "a high surf advisory up to 10 ft has been issued for areas along east facing shores, from Ka'u to Puna. A high surf advisory means breaking wave action poses a threat to life and property. Residents along the affected shores should be alert for high and dangerous surf conditions. Boat owners should take measures to secure their vessels."
From the National Weather Service: "Long period ESE swells from Hurricane Lane are building at buoy 51004 to the SE of the Big Island this morning, while the PacIOOS buoy in Hilo is just beginning to detect long-period energy from the E. A High Surf Advisory for E facing shores of Maui and the Big Island is now in effect. As Hurricane Lane moves into an area S of the islands later this week, S swell will likely increase, with a wide variety of wave periods leading to rough and potentially damaging surf. Still significant uncertainty and difficult to know the level of impacts, but there is potential for large seas/swells from Lane to lead to warning-level surf along E through S facing shores of the islands. A small NNW swell is expected to arrive Monday and peak on Tuesday before gradually diminishing Wednesday and Thursday."
From the Central Pacific Hurricane Center's 5 a.m. HST discussion:
Aircraft from the NOAA Aircraft Operation Center and the U.S. Air Force Reserves 53rd Weather Reconnaissance Squadron departed Hurricane Lane late Sunday evening. In the meantime, we are relying on satellite imagery to track Lane's progress. A warm spot, which appears to be indicative of an eye, appeared in the infrared satellite imagery several hours ago. Radar reflectivity data sent from the NOAA aircraft between 0510z and 0722z showed that Lane's eyewall was open in the southeastern quadrant. More recently, a 1237z SSMI microwave image appears to show that the eyewall has now become distinct in all quadrants. All of the satellite fix agencies (PHFO, SAB, and JTWC) based their subjective Dvorak current intensity estimates on an "eye pattern". These estimates ranged from 90 to 102 knots. The latest UW-CIMSS ADT estimate appears to be an unrealistically low 77 knots. Since the aircraft observations were much stronger earlier tonight and the overall appearance of the hurricane appears to be improving, we will maintain the initial intensity at 110 knots.

The initial motion for this advisory is 275/12 knots. Lane continues to track westward along the southern flank of a large subtropical ridge. There is still significant spread in the track guidance beyond day 2 due to the variations in the way the individual models handle the erosion of the western portion of this ridge as an upper-level trough digs down northwest of the main Hawaiian Islands in about 72 hours. The latest forecast track through 48 hours is close to the previous forecast. However, due to overwhelming evidence that the western end of the ridge will erode from days 3 through 5, we again had to shift the track far to the right. The latest forecast track is much closer to the TVCN/TVCX and GFEX consensus models. It is also to the right of the ECMWF, and to the left of the GFS and HWRF track guidance. Note that another NOAA G-IV mission to sample the environment around Lane is scheduled for this afternoon. The data from this aircraft will be used to improve the initial fields in the hurricane forecast models.

The latest intensity forecast has been nudged up slightly compared with the previous one. Lane will remain over 27-28 degree C waters through the forecast period. Shear of 10 to 15 knots is expected during the next 6 hours or so, followed by reduced shear during the 12 to 48 hour time periods. After that, vertical shear is expected to increase, which would likely result in steady weakening. Lane may possibly become a tropical storm by day 5. This intensity forecast closely follows the IVCN consensus guidance. Note that with the eye becoming more distinct, there is a possibility that Lane may be undergoing a new period of intensification. Additional reconnaissance aircraft will be flying into the system soon, so we expect to receive direct measurements of the cyclone's intensity in a few hours.

Due to the large uncertainty in the future track and intensity of Lane, all interests in the Hawaiian Islands, including the Northwestern Hawaiian Islands, should continue to closely monitor the future progress of this system. Based on the latest trends in the forecast, direct impacts on the islands appear to be increasingly likely. The latest trends in tropical cyclone wind speed probabilities also suggest that a Tropical Storm or Hurricane Watch may be needed for some parts of the island chain later today or tonight.

FORECAST POSITIONS AND MAX WINDS

INIT 20/1500Z 13.7N 148.2W 110 KT 125 MPH
12H 21/0000Z 13.9N 149.8W 110 KT 125 MPH
24H 21/1200Z 14.2N 151.7W 110 KT 125 MPH
36H 22/0000Z 14.5N 153.3W 110 KT 125 MPH
48H 22/1200Z 15.0N 154.8W 100 KT 115 MPH
72H 23/1200Z 16.6N 157.2W 95 KT 110 MPH
96H 24/1200Z 19.0N 159.0W 80 KT 90 MPH
120H 25/1200Z 21.0N 160.5W 55 KT 65 MPH