(BIVN) – The powerful Hurricane Lane is passing to the south-southeast of the Big Island and is expected to make a turn toward the islands Wednesday into Thursday, forecaster say.
A Hurricane Watch is in effect for Hawaii Island, while Lane is moving a bit slower this morning. With maximum sustained winds blowing at 155 mph, Lane is on the high end of a category 4 hurricane. The storm already appears to have wobbled slightly to the west northwest during the last few hours, the Central Pacific Hurricane Center (CPHC) reports.
"Slow weakening is forecast during the next 48 hours, but Lane is forecast to remain a dangerous hurricane as it draws closer to the Hawaiian Islands," the CPHC forecasters said at 11 a.m. "Lane is forecast to move dangerously close to the main Hawaiian Islands as a hurricane later this week, potentially bringing damaging winds and life-threatening flash flooding from heavy rainfall."
"It is much too early to confidently determine which, if any, of the main Hawaiian Islands will be directly impacted by Lane," the CPHC wrote. "Even if the center of Lane were to remain offshore, it is important to remember that impacts from a hurricane can extend well away from the center."
In an earlier Hurricane Local Statement written by the National Weather Service in Honolulu, forecasters said "the onset of damaging tropical storm force winds on the Big Island could be as early as Wednesday, with dangerous hurricane force winds possible by Wednesday night. On Maui county, damaging tropical storm force winds could begin as early as Wednesday night, with dangerous hurricane force winds possible starting on Thursday. Hurricane Watches
may be needed for other areas as Lane draws closer."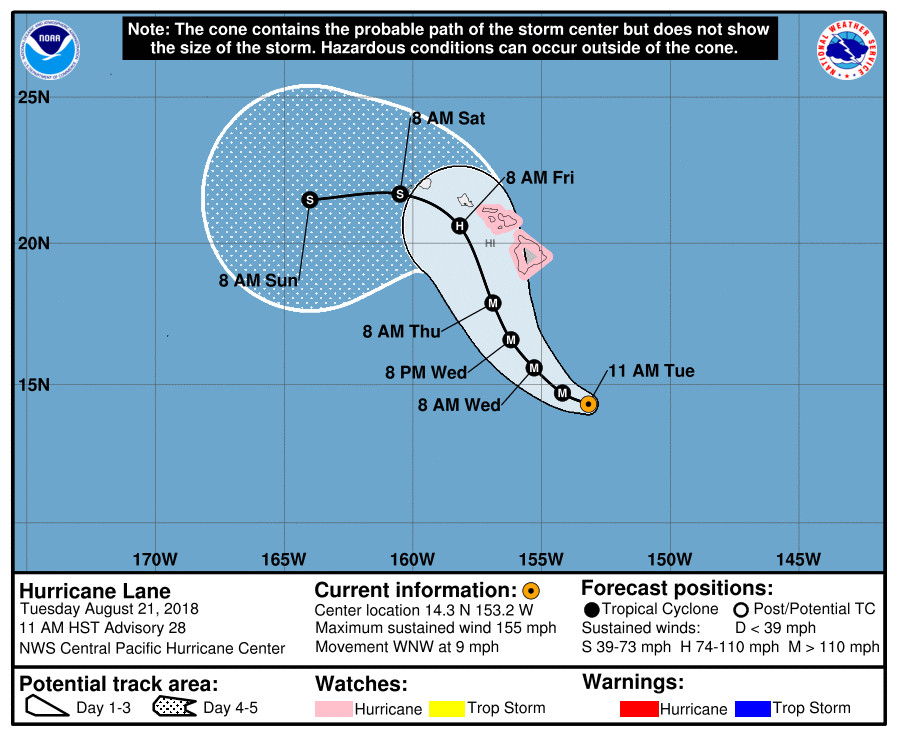 According to the National Weather Service, damage from strong winds could include:
Considerable roof damage to sturdy buildings, with some having window, door, and garage door failures leading to structural damage. Mobile homes severely damaged, with some destroyed. Damage accentuated by airborne projectiles. Locations may be uninhabitable for weeks.
Many large trees snapped or uprooted along with fences and roadway signs blown over.
Some roads impassable from large debris, and more within urbanor heavily wooded places. Several bridges, causeways, and access routes impassable.
Large areas with power and communications outages.
"Bands of intense showers and thunderstorms surrounding Lane will begin to overspread the state from south to north, reaching the Big Island late tonight or Wednesday morning," the NWS forecasters continued. "Excessive rainfall is possible which could lead to major flash flooding, landslides and mudslides. Flooding can occur even in areas not usually prone to flooding. Storm total rainfall amounts greater than 20 inches are possible."
NWS says potential impacts include:
Extreme rainfall flooding may prompt numerous evacuations and rescues.
Rivers and tributaries may overwhelmingly overflow their banks in many places with deep moving water. Small streams, creeks, canals, arroyos, and ditches may become raging rivers. In mountain areas, deadly runoff may rage down valleys while increasing susceptibility to rockslides and mudslides. Flood control systems and barriers may become stressed.
Flood waters can enter numerous structures within multiple communities, some structures becoming uninhabitable or washed away. Numerous places where flood waters may cover escape routes. Streets and parking lots become rivers of raging water with underpasses submerged. Driving conditions become very dangerous. Numerous road and bridge closures with some weakened or washed out.
"Swell generated by Lane could bring very large and rough surf and dangerous rip currents for south and southeast facing shores," the National Weather Service says. A High Surf Advisory is already in effect. "Tornadoes and large waterspouts will be possible associated with Lane, mainly along and to the right of the track of the hurricane," the forecaster say.
The U.S. Department of Health and Human Services has activated the Secretary's Operation Center "and staff and is standing by to support requests for public health and medical assistance, if needed, as the storm makes landfall", announced U.S. Senator Brian Schatz (D-Hawai'i) today. "Our federal agencies are mobilizing and are ready to help," said Senator Schatz. "As the situation becomes more serious, the federal government will continue to prepare and residents should too."
Governor David Ige will join HI-EMA Administrator Tom Travis for a press conference on Hurricane Lane at 2 p.m. HST.
Hawaiian Airlines says it is waiving reservation change fees for guests holding tickets for travel on Hawaiian and its codeshare partners to, from, within, and via Hawai'i from August 21-26 due to Hurricane Lane.
From the 11 a.m. Central Pacific Hurricane Center discussion:
Lane remains a powerful hurricane this morning, with a well-developed warm eye completely surrounded by persistent cold cloud tops. Morning visible satellite imagery also depicts a well-defined eye. The Hurricane Hunter aircraft from the 53rd Weather Reconnaissance Squadron is flying through Lane again this morning, and confirms that the hurricane has intensified further since their previous visit on Monday evening. The central pressure has dropped around 10 mb during the past 12 hours, with the most recent dropsonde in the eye finding 941 mb. Peak SFMR winds measured so far have been 134 kt, and max flight level winds are 143 kt. Subjective Dvorak current intensity estimates range from 6.5/127 kt to 7.0/140 kt, with the latest ADT current intensity at 6.4/125 kt. Based primarily on the aircraft data, the intial intensity for this advisory is increased to 135 kt, which makes Lane a high-end Category 4 hurricane.

Lane is moving a bit slower this morning and appears to have wobbled slightly to the WNW during the last few hours, and the initial motion for this advisory is 280/8 kt. Lane has been moving westward to the south of a mid-level ridge during the past several days. However, this will be changing soon, as Lane begins to round the western periphery of this ridge and moves into an area of relatively light steering flow. This is expected to allow the cyclone to gain latitude as its forward speed diminishes. The hurricane is forecast to turn gradually to the west-northwest through tonight, then to the northwest Wednesday through Thursday, as it moves between the mid-level ridge to the east and a developing upper-level trough to the northwest of Hawaii. After this point, the track and intensity forecasts remain highly uncertain, as the majority of the reliable model guidance brings Lane very close to the islands with potential interaction between Lane and the mountainous terrain of the islands. This interaction combined with increasing vertical wind shear leads to a weakened Lane being steered to the west by the low-level trade wind flow. The new track forecast has been nudged slightly to the north or closer to the islands from 36 through 72 hours, into better agreement with the multi-model consensus HCCA.

Water temperatures along the forecast track will be sufficiently warm to support a major hurricane, and thus any significant weakening before Lane draws closer to the Hawaiian Islands will likely be due to increasing wind shear. In the short-term through the next 24 hours or so, shear is expected to remain light, and expect only slow weakening as the cyclone moves over slightly cooler SSTs and may be impacted by eyewall replacement cycles. At 72 hours and beyond, the forecast anticipates a sharp increase in shear as Lane moves closer to the large upper trough to the northwest of the main Hawaiian Islands. The new intensity forecast is close to the previous forecast, and although it remains on the high end of the guidance envelope, it generally follows the trends presented by the multi-model consensus IVCN and HCCA.

In addition to continued storm penetrations by the Hurricane Hunters of the 53rd Weather Reconnaissance Squadron, the NOAA G-IV will once again be sampling the larger scale environment today to help with initialization of the forecast models.

KEY MESSAGES:

1. Lane is forecast to move dangerously close to the main Hawaiian Islands as a hurricane later this week, potentially bringing damaging winds and life-threatening flash flooding from heavy rainfall. As Lane is expected to be slow-moving as it nears the islands, it will produce large and damaging surf. A Hurricane Watch remains in effect for Hawaii and Maui counties, and additional Tropical Storm or Hurricane Watches may be required this afternoon or tonight.

2. It is much too early to confidently determine which, if any, of the main Hawaiian Islands will be directly impacted by Lane. Even if the center of Lane were to remain offshore, it is important to remember that impacts from a hurricane can extend well away from the center. Interests throughout Hawaii are urged to closely monitor the progress of Lane during the next few days.

FORECAST POSITIONS AND MAX WINDS

INIT 21/2100Z 14.3N 153.2W 135 KT 155 MPH
12H 22/0600Z 14.7N 154.2W 130 KT 150 MPH
24H 22/1800Z 15.6N 155.3W 120 KT 140 MPH
36H 23/0600Z 16.6N 156.2W 110 KT 125 MPH
48H 23/1800Z 17.9N 156.9W 100 KT 115 MPH
72H 24/1800Z 20.6N 158.2W 80 KT 90 MPH
96H 25/1800Z 21.7N 160.5W 55 KT 65 MPH
120H 26/1800Z 21.5N 164.0W 40 KT 45 MPH