(BIVN) – A Hurricane Warning remains in effect for Hawaii Island as category 4 Hurricane Lane, with maximum sustained winds near 155 mph, is passing south of the Big Island.
"Lane is moving toward the west-northwest near 8 mph," reported the National Weather Service's Central Pacific Hurricane Center at 11 a.m. HST. "A gradual turn toward the northwest is expected today followed by a more northward motion on Thursday. A turn back toward the west is expected on Saturday. On the forecast track, the center of Lane will move very close to or over the main Hawaiian Islands from Thursday through Saturday."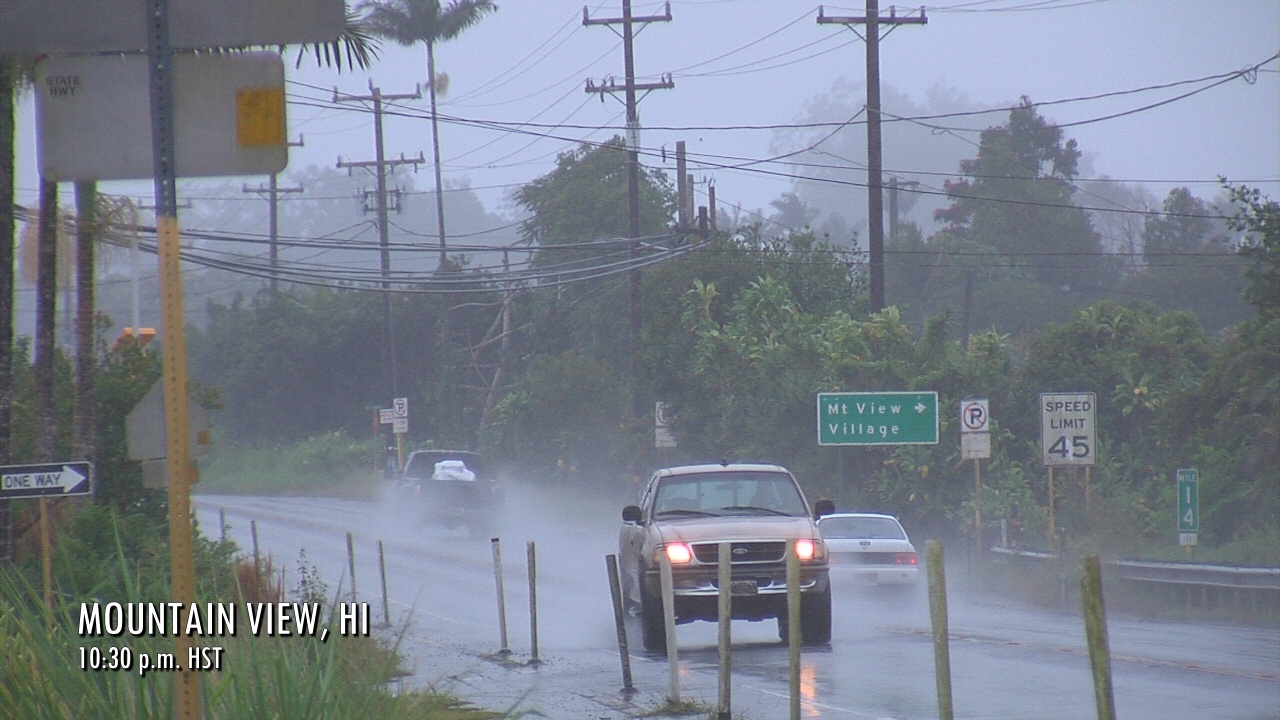 "Rainbands from Hurricane Lane are moving ashore on the Puna and Kau districts," the National Weather Service said. "Excessive rainfall associated with Lane is expected to affect portions of the Hawaiian Islands from late today into the weekend. This could lead to major flash flooding and landslides. Lane is expected to produce total rain accumulations of 10 to 15 inches with localized amounts in excess of 20 inches over the Hawaiian Islands."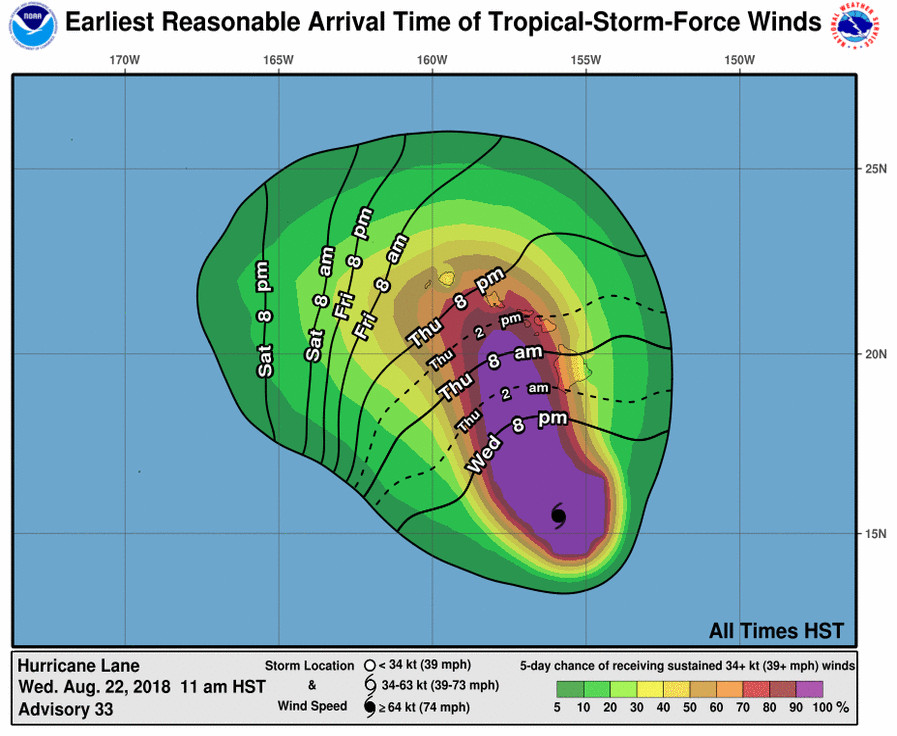 "The onset of tropical storm-force winds on the Big Island could start later this evening, with dangerous hurricane force winds starting in the overnight hours," the National Weather Service in Honolulu reported just before 10 a.m. "The highest wind threats for the Big Island will develop along the western slopes of the island as strong and gusty down slope winds interact with mountainous terrain. The location of these damaging wind impacts will depend heavily upon the final track of Hurricane Lane."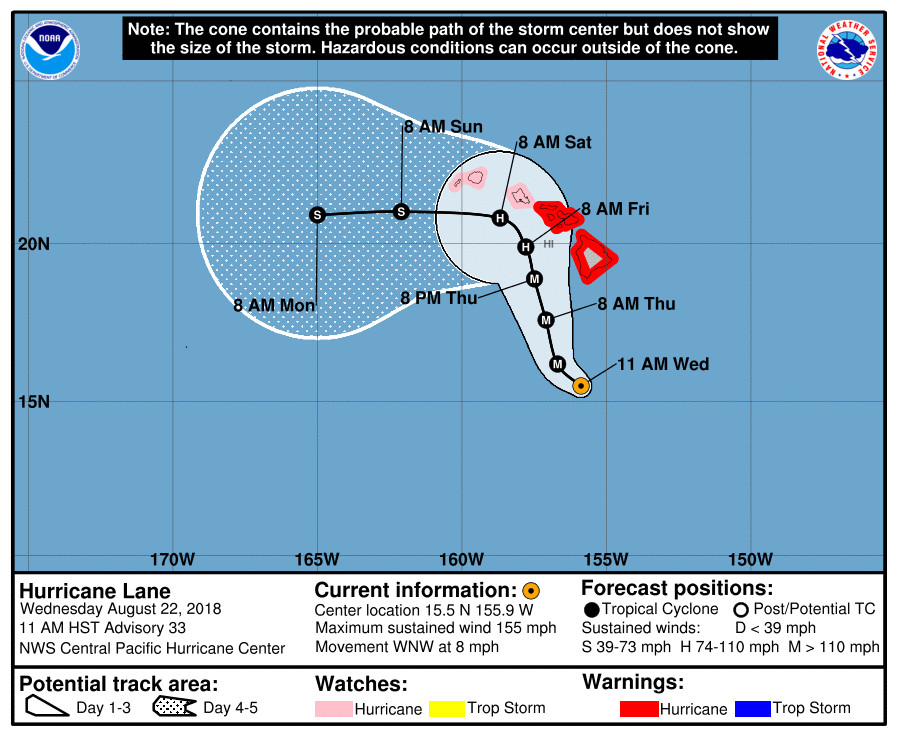 A High Surf Warning is in effect for south facing shores of the Big Island. Surf heights will reach 15 to 25 feet along the Ka'u and Puna coast. Surf along the Kona coast will quickly rise to 8 to 12 ft with locally higher waves possible through the day Thursday, forectasers say.
According to a Hawaii County Civil Defense message issued at 10 a.m., the following advisories have been issued:
A high surf warning is in effect for west facing shores of Ka'u and Kona.
Residents in low lying areas of Ka'u and Kona subject to wave impacts must take necessary precautions to protect life and property due to dangerous storm surge and large waves.
A flash flood watch is in effect for the island of Hawaii. Do expect possible heavy rain leading to flash flooding.
Hurricane force winds are possible on the west side of the island from South Point to north Kohala. The remainder of the island could experience tropical storm force winds.
Due to the Hurricane Warning, civil defense says the following closures are in effect:
All schools and the University of Hawaii campuses are closed until further notice.
All beach parks, from South Point north to Kohala, are closed until further notice. All pavilion and camping permits for these parks have been cancelled.
South Point Road from the Kamaoa Road junction to South Point is closed to all traffic.
All County offices and facilities are operational, including transfer stations and landfills.
All residents should review preparedness plans and take early precautionary measures at this time.
"The Division of Boating and Ocean Recreation (DOBOR) advises all boat owners in unprotected harbors from Milolii to Mahukona to take all measures to secure their vessels. This includes removal, if possible. Complete all actions before nightfall," civil defense repeated. "The Department of Education, in coordination with the American Red Cross and Hawaii County Parks and Recreation, have identified shelters in all districts that will be opened if necessary. You will be notified if any of the shelters are opened."
The University of Hawai`i at Hilo will remain closed on Thursday, August 23, 2018 for precautionary measures in anticipation of dangerous storm conditions from Hurricane Lane. All offices and off-campus locations will remain closed, and classes and events cancelled, including sporting events.
From the 11 a.m. HST NWS Central Pacific Hurricane Center discussion:
Lane continues to be a very impressive hurricane. As of the 1800 UTC analysis time, the cloud pattern had improved over the last several hours with clearing and warming in the eye, and convection becoming more symmetric around the eyewall. Satellite intensity estimates from PHFO, JTWC, and SAB were unanimous at 6.5, and CIMSS-ADT had 6.3. A 1613z SSMIS pass showed the inner core remains very well defined, and there has been a considerable amount of lightning in the eyewall over the past several hours. In deference to the recent trends, we elected to maintain Lane at 135 kt for this advisory. Since the analysis time, the eye has cooled again somewhat and deep convection around the center has become a little more asymmetric.

The initial motion has slowed a bit and is now 295/7. Lane continues to be steered toward the west-northwest by a deep layer ridge to the northeast of the tropical cyclone. By 36 hours, the ridge is expected begin building to the southeast and south of Lane, which will begin to impart a more northward motion through at least 48 hours. By 72 hours, the track guidance begins to show a leftward turn, as the low level circulation of Lane decouples in the face of 35 to 40 kt of shear. Exactly when this critical turn will happen is very difficult to forecast, so confidence in this portion of the track is unfortunately rather low. However, our most reliable global models, the ECMWF and GFS, suggest this may happen a little later than previously forecast. Thus, the track forecast has been shifted to the northeast between 48 and 72 hours to be in better agreement with the global models.

The UW-CIMSS shear analysis shows that Lane is located within an area of moderate southwesterly shear. The tropical cyclone is expected to begin moving under increasing shear in the coming days which is expected to start a long-awaited weakenening trend. Around 72 hours or so, the shear is expected to weaken the core of the tropical cyclone enough to initiate more rapid weakening that is shown for the remainder of the forecast period. Our intensity forecast is at the high end of the guidance, in best agreement with the ECMWF.

KEY MESSAGES:

1. Lane is forecast to move dangerously close to the main Hawaiian Islands as a hurricane tomorrow through Saturday, potentially bringing damaging winds. As Lane will be slow-moving as it nears the islands, prolonged heavy rainfall and life-threatening flash flooding will be possible. Large and damaging surf can be expected along exposed shorelines, along with localized storm surge.

2. As Lane approaches the islands from the southeast, initial impacts will be felt on the Big Island and Maui County, where a Hurricane Warning is in effect. Impacts on Kauai County and Oahu are also possible, and a Hurricane Watch is in effect there.

3. Do not focus on the exact forecast track or intensity for Lane, and be prepared for adjustments to the forecast. Life threatening impacts can extend well away from the center of a hurricane.

FORECAST POSITIONS AND MAX WINDS

INIT 22/2100Z 15.5N 155.9W 135 KT 155 MPH
12H 23/0600Z 16.2N 156.7W 125 KT 145 MPH
24H 23/1800Z 17.6N 157.1W 115 KT 130 MPH
36H 24/0600Z 18.9N 157.5W 100 KT 115 MPH
48H 24/1800Z 19.9N 157.8W 85 KT 100 MPH
72H 25/1800Z 20.8N 158.7W 65 KT 75 MPH
96H 26/1800Z 21.0N 162.1W 50 KT 60 MPH
120H 27/1800Z 20.9N 165.0W 40 KT 45 MPH