(BIVN) – At 11 a.m. HST (2100 UTC), the center of Hurricane Lane was located 195 miles south southwest of Kailua-Kona and 160 miles southwest of South Point. Lane is slowly moving toward the northwest near 7 mph.
The Central Pacific Hurricane Center says a slow northward motion is expected to begin today, adding that "a turn toward the west is expected Saturday and Sunday, with an increase in forward speed. On the forecast track, the center of Lane will move over, or dangerously close to portions of the main Hawaiian islands later today through Friday."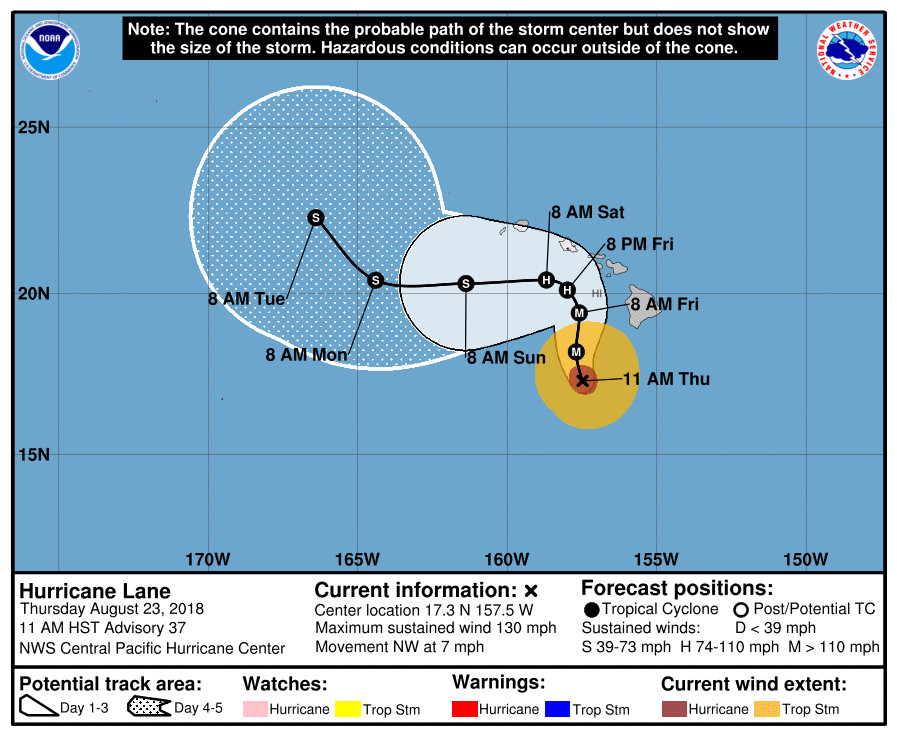 Maximum sustained winds are near 130 mph, making Lane a powerful category 4 hurricane on the Saffir-Simpson Hurricane Wind Scale. Some weakening is forecast during the next 48 hours, the CPHC says, but Lane is expected to remain a hurricane as it draws closer to the islands.
"NOAA Buoy 51002 located about 250 miles southwest of the Big Island reported a peak wind of 107 mph (172 km/h) as the northwest eyewall of Lane passed over," forecasters reported. "The buoy is now reporting light winds in the
eye of the hurricane."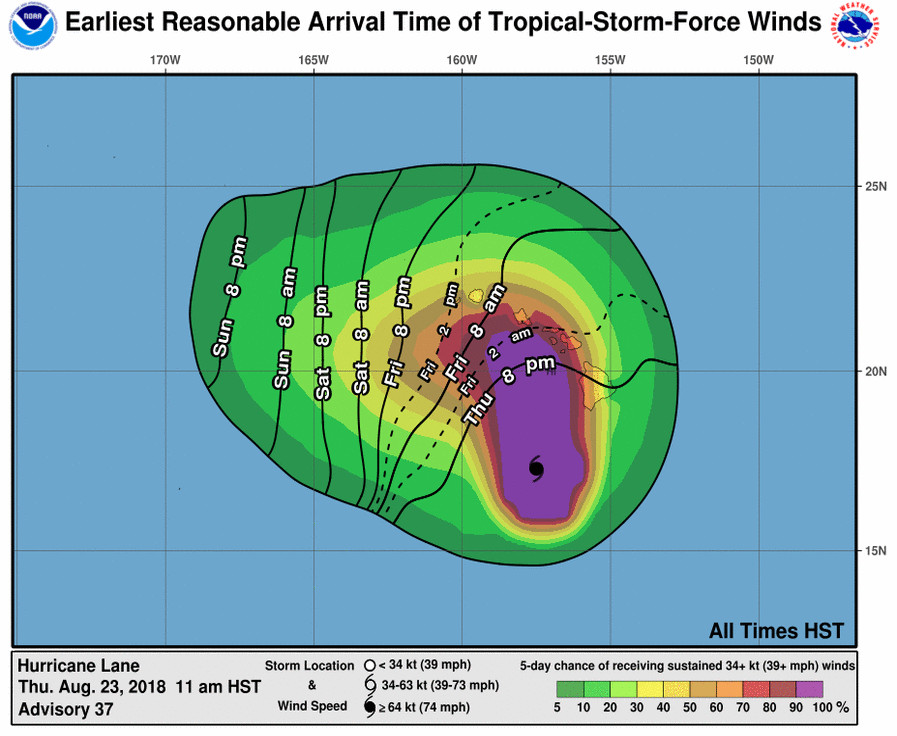 An assortment of alerts (Flash Flood Warning, Flash Flood Watch, High Surf Warning) remain in effect for the Big Island.
Police say avoid Kaalaiki Road, closed due to flooding, just above Na'alehu town in Ka'u.
"All non-emergency County operations are suspended, including transfer stations," Hawaii County Civil Defense says. "The Hele On bus service will remain open. All County Parks are closed through Friday and will be re-assessed for weekend use. All pavilion and camping permits for these parks have been cancelled. All State facilities and services are closed."
The University of Hawai`i at Hilo will remain closed through Sunday, August 26.
The Hawaii Volcanoes National Park's Kahuku Unit will remain closed Friday.
According to the National Weather Service, these are the main hazards affecting land:
WIND: Tropical storm conditions are expected on portions of the Big Island today, with hurricane conditions expected in some areas by tonight. Tropical storm conditions are expected to begin over portions of Maui County later today, with hurricane conditions expected in some areas by Friday. Tropical storm conditions are expected to begin on Oahu late tonight, with hurricane conditions expected Friday into Friday night. Tropical storm or hurricane conditions are possible on Kauai on Saturday.

RAINFALL: Rain bands will continue to overspread the Hawaiian Islands well ahead of Lane. Excessive rainfall associated with this slow moving hurricane will continue to impact the Hawaiian Islands into the weekend, leading to significant and life-threatening flash flooding and landslides. Lane is expected to produce total rain accumulations of 10 to 20 inches, with localized amounts in excess of 30 inches over the Hawaiian Islands. Nearly 20 inches of rain has already fallen on portions of the Big Island.

SURF: As Lane is slow-moving, large swells generated by the hurricane will severely impact the Hawaiian Islands over the next couple of days. These swells will produce very large and damaging surf along exposed west and south facing shorelines. A prolonged period of high surf will likely lead to significant coastal erosion.

STORM SURGE: The combination of a dangerous storm surge and large breaking waves will raise water levels by as much as 2 to 4 feet above normal tide levels along south and west facing shores near the center of Lane. The surge will be accompanied by large and destructive waves.
The forecast for Hurricane Lane has been a challenge for meteorologists. According to the 11 a.m. Central Pacific Hurricane Center discussion written by Robert Ballard:
This remains a rather low confidence and challenging forecast due to changes in the steering flow and intensity of Lane with time. The tropical cyclone is moving slowly toward the northwest, to the southwest of a mid-level ridge located several hundred miles to the east of Hawaii. The ridge is still expected to build clockwise around the cyclone, imparting a more northward motion today that is expected to continue for the next 24 hours or so. This will bring the hurricane perilously close to the main Hawaiian Islands. As Lane approaches, strong shear and possibly some terrain interaction is expected to begin destroying the core of the tropical cyclone. At this point, Lane will weaken more rapidly and take a turn toward the west as the low level circulation decouples. When exactly this will occur is the million dollar question. The consensus guidance and the 12z ECMWF run shifted a bit closer to the main Hawaiian Islands, and the forecast track has been adjusted to better agree with the consensus. I have adjusted the intensity forecast upward a bit to be in better agreement with the ECMWF.

1. It is vital that you do not focus on the exact forecast track or intensity of Lane, and be prepared for adjustments to the forecast. Although the official forecast does not explicitly indicate Lane's center making landfall over any of the islands, this remains a very real possibility. Even if the center of Lane remains offshore, severe impacts could still be realized as they extend well away from the center.

2. Lane will pass dangerously close to the main Hawaiian Islands as a hurricane on Friday, and is expected to bring damaging winds. These winds can be accelerated over and downslope from elevated terrain, and will be higher in high rise buildings.

3. The slow movement of Lane also greatly increases the threat for prolonged heavy rainfall and extreme rainfall totals. This is expected to lead to major, life-threatening flash flooding and landslides over all Hawaiian Islands.

4. Large and damaging surf can be expected along exposed shorelines, especially along south and west facing coasts, with localized storm surge exacerbating the impacts of a prolonged period of damaging surf.