(BIVN) – Hurricane Lane continues to creep towards the Hawaiian Islands, soaking the Big Island with torrential rain as it approaches.
Lane, still a Category Four Hurricane with maximum sustained winds are near 130 mph, is currently 175 miles southwest of South Point. All schools and non-emergency government operations are shut down today.
"Hurricane Lane has stalled causing conditions of heavy rain and flooding continuing since last night," Hawaii County Civil Defense said in a Thursday morning message. "Dangerous driving conditions and flooding are occurring from Waipio Valley south to Volcano. You are asked to stay off the roads due to extreme hazards created by the heavy rainfall. This heavy rainfall is expected to continue due to Hurricane Lane stalling."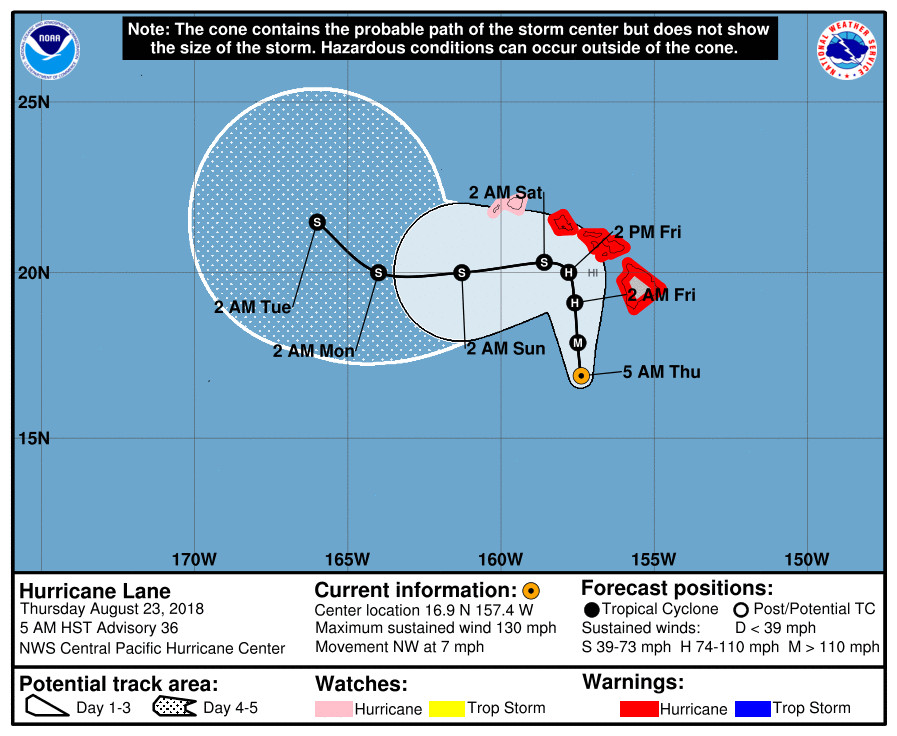 "The positive side of this is that all immediate threats of rain, wind, and surf to the west side of the island have diminished for now," civil defense added.
"All motorists and residents on the windward side, from Waipio Valley south to Volcano, are advised to remain on the alert for continuing, dangerous flooding conditions," the officials stated. "Due to the flash flooding conditions, there are several road closures on major highways, as well as secondary roads, in effect at this time. Be aware that additional closures can occur without warning."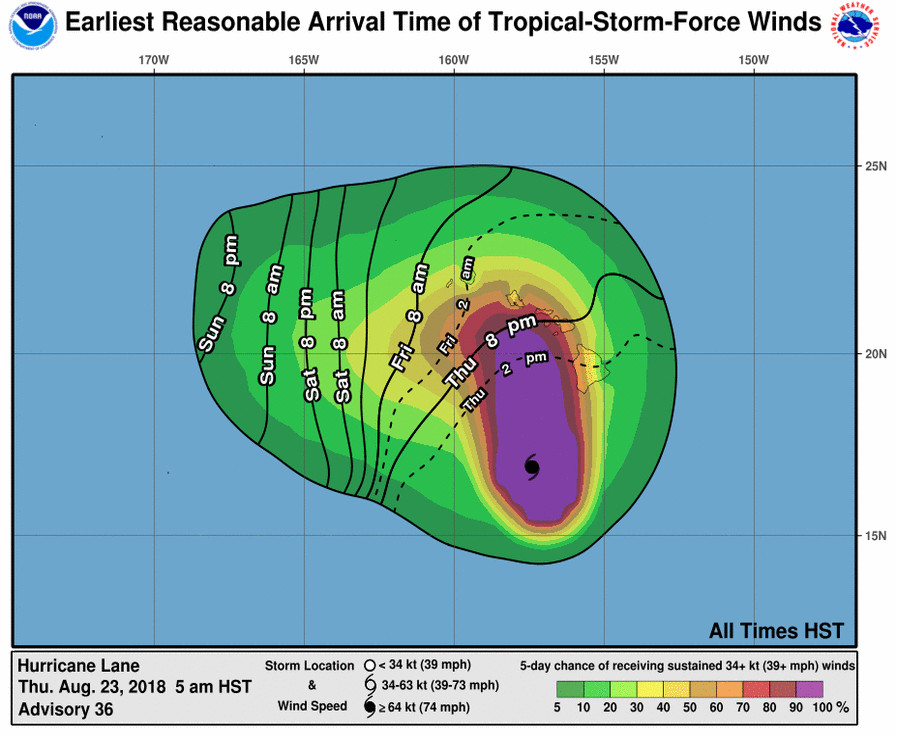 Earlier this morning, officials reported that Highway 19 at mile 13 was closed due to a landslide near Honomu. Department of Transportation estimated 2 hours for clearing to reopen. There are no detours in this area.
Laupahoehoe Point Road was also added to the list of closed roads.
Lane is expected to produce total rain accumulations of 10 to 20 inches, the National Weather Service says, with localized amounts in excess of 30 inches over the Hawaiian Islands. Over 12 inches of rain has already fallen on portions of the Big Island.
Here is the 5 a.m. HST discussion from the Central Pacific Hurricane Center:
Lane's satellite appearance has degraded somewhat since the previous advisory as southwesterly shear impacts the vertical integrity of the cyclone. However, the eye is still evident in traditional infrared imagery and remains surrounded by a solid ring of cold cloud tops. Water vapor imagery shows Lane's circulation becoming elongated, with outflow severely restricted in the southwest semicircle. The subjective Dvorak current intensity estimates from GTW/TAFB/HFO/SAB ranged from 6.0/115 kt to 6.5/127 kt for this advisory, while data-T numbers were as low as 5.5/105 kt. Using a blend, the initial intensity for this advisory is set at 115 kt.

Lane is currently moving toward the northwest into an increasingly hostile environment between a deep-layer ridge to the east, and a trough aloft to the northwest. The initial motion for this advisory is 320/6 kt, with southwesterly shear estimated to be around 25 kt by UW-CIMSS.

The track and intensity forecast are extremely dependent on one another in the current forecast scenario, with Lane expected to move generally toward the north while it remains a hurricane, and generally toward the west once it weakens. Confidence in the forecast is reduced because it is uncertain how Lane's core will be impacted by its potential interaction with island terrain, and the subsequent rate of weakening. Regardless of whether Lane's center moves over one of the Hawaiian Islands, an increasing amount of southwesterly shear along the forecast track will lead to significant weakening. If Lane's core were to move over one of the islands as has been consistently depicted by GFS/HWRF, then the cyclone would weaken even more rapidly. EMX2 is on the left side of the guidance and indicates less interaction with island terrain, and therefore a slightly slower rate of weakening.

Based on a preponderance of evidence presented by the guidance, the updated forecast indicates a faster rate of weakening than indicated earlier, especially on days 2 and 3. The expectation is that Lane will weaken due to the combined and cumulative effects of debilitating shear and the interruption of the circulation due to proximity to the high mountains of Maui and the Big Island. The official intensity forecast now closely follows IVCN, SHIPS and the ECMWF-based SHIPS. The track forecast anticipates this weakening, with Lane turning sharply toward the west on day 3. Until then, the forecast track is shifted slightly to the right of the previous forecast through Friday, bringing Lane northward and very close to the Big Island and Maui County. This is similar to the multi-model consensus HCCA, which includes GFS and HWRF as weighted members. A slow forward speed is expected as this occurs, with Lane then moving more quickly toward west as it becomes shallow and carried by the low-level trade wind flow.

NOAA Buoy 51002 to the southwest of the islands is in the path of Lane, and recently reported a wind gust to 56 kt and significant wave heights near 23 ft. Associated data were used to refine wind and seas radii in the northwest quadrant.

KEY MESSAGES:

1. Lane will pass dangerously close to the main Hawaiian Islands as a hurricane today and Friday, and is expected to bring damaging winds. These winds can be accelerated over and downslope from elevated terrain, and will be higher in high rise buildings.

2. The slow movement of Lane also greatly increases the threat for prolonged heavy rainfall and extreme rainfall totals. This is expected to lead to life-threatening flash flooding and landslides over all Hawaiian Islands.

3. Large and damaging surf can be expected along exposed shorelines, especially along south and west facing coasts, with localized storm surge exacerbating the impacts of a prolonged period of damaging surf.

4. Do not focus on the exact forecast track or intensity of Lane, and be prepared for adjustments to the forecast. Although the official forecast does not explicitly indicate Lane's center making landfall over any of the islands, this could still occur. Even if the center of Lane remains offshore, severe impacts could still be realized as they extend well away from the center.

FORECAST POSITIONS AND MAX WINDS

INIT 23/1500Z 16.9N 157.4W 115 KT 130 MPH
12H 24/0000Z 17.9N 157.5W 105 KT 120 MPH
24H 24/1200Z 19.1N 157.6W 95 KT 110 MPH
36H 25/0000Z 20.0N 157.8W 75 KT 85 MPH
48H 25/1200Z 20.3N 158.6W 60 KT 70 MPH
72H 26/1200Z 20.0N 161.3W 45 KT 50 MPH
96H 27/1200Z 20.0N 164.0W 40 KT 45 MPH
120H 28/1200Z 21.5N 166.0W 40 KT 45 MPH