(BIVN) – State departments and utilities provided a preliminary update on Hurricane Lane's impacts to Hawai'i Island, thus far.
Hurricane Lane did not make landfall on the Big Island, and at this hour the Central Pacific Hurricane Center says the storm is rapidly weakening, 115 miles west of Kailua-Kona. Lane is now a Category One Hurricane with maximum sustained winds near 85 mph. NOAA GOES Floater satellite imagery shows Lane being torn apart as it heads north northeast.
"Rain bands from Lane will continue to affect the main Hawaiian Islands with excessive rainfall possible into the weekend," the Central Pacific Hurricane Center said at 2 p.m. "These rains could lead to additional major flash flooding and landslides. Lane is expected to produce total rain accumulations of 10 to 20 inches in some areas. Localized storm total amounts up to 40 inches are possible, mainly on the windward side of the Big Island where over 30 inches of rain has already fallen in some areas."
This image (below) posted by the National Weather Service shows some of the rain totals.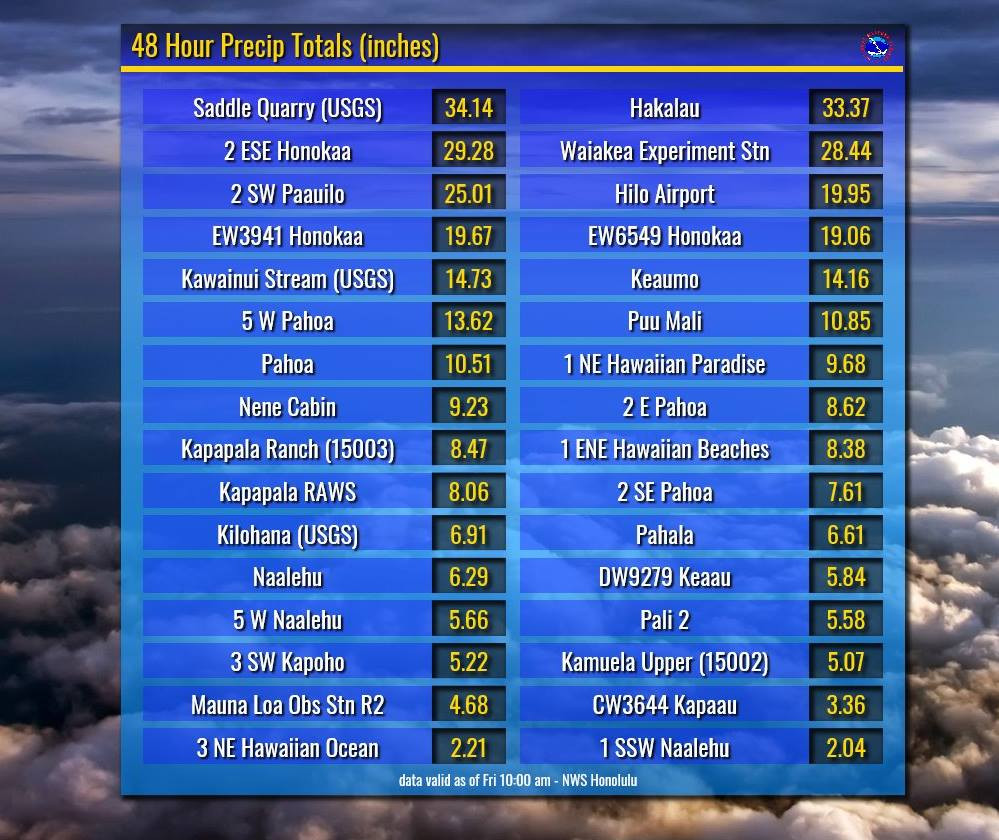 The Hawai'i Electric Light Company says employees are responding to power outages caused by torrential rains, strengthening winds, and catastrophic flooding. HELCO says about 9,500 customers around the island experienced power outages related to heavy rain and fallen trees. Electric service has been restored to the majority of these customers, the utility says.
"We'd like to remind everyone that downed power lines can be dangerous. It's important to not approach or touch a downed power line as it may have electricity running through it," said Kristen Okinaka, HELCO public information officer. "If you see a power line on the ground, or hanging low, please stay away and call us to report it."
The Hawai'i Department of Transportation had this update, as well:
Airports
Hilo Airport and Ellison Onizuka International Airport at Keahole do not have any reported damages.
Harbors
Commercial harbors on Hawaii Island have been on "Zulu" from 11 a.m. Wednesday, Aug. 22, 2018.
Harbors staff and United States Coast Guard were not able to conduct in water assessments at Hilo Harbor or Kawaihae Harbor due to visibility at first light. A water assessment was conducted at Hilo Harbor beginning at 11 a.m. Friday, Aug. 24, 2018 and results are being passed to the Captain of the Port.
Highways
Bayfront Highway in Hilo remains closed due to flooding on the road.
Kohala Mountain Road opened as of 11:45 a.m. Friday, Aug. 24, 2018.
Akoni Pule Highway (Highway 270) north of Hawi was closed due to a landslide involving several 20-30-foot tall trees. Road was opened; however, a second landslide blocked access at MM 25 at 8:50 a.m. Friday, Aug. 24, 2018.
Highway 19 near Honomu experienced more than 14 landslides causing four complete road closures. Road is currently closed at mile markers 3.5, 6, 15.54, 19, 21.76, 28.5.
Saddle Road/Daniel K. Inouye Highway between mile markers 8.9 and 11.1 were closed due to water and debris crossing the road. The road was reopened to single lane guided access as of 6:15 a.m. Friday, Aug. 24, 2018.
The Hawai'i Department of Health issued a statement today, alerting the public to wastewater discharges at the Wailuku (5:45 a.m. spill) and Pua (6:38 a.m. spill) pump stations. The public is advised to remain out of the waters of Wailuku River and Hilo Bay due to wastewater discharges.
Health officials said the spill status is "ongoing" and had no estimate as to the volume of discharged wastewater.
As a reminder, DOH says the entire state of Hawaii is under a Brown Water Advisory due to the weather conditions from Hurricane Lane.