(BIVN) – The rain from passing Hurricane Lane has finally ended but the 2018 Central Pacific Hurricane Season is not over yet.
Already, new storms are forming in the Eastern Pacific and drifting towards the west.
Tropical Storm Miriam is expected to strengthen into a hurricane, the National Hurricane Center says, before turning off to the north, far to the east of Hawaii, posing no threat to the islands.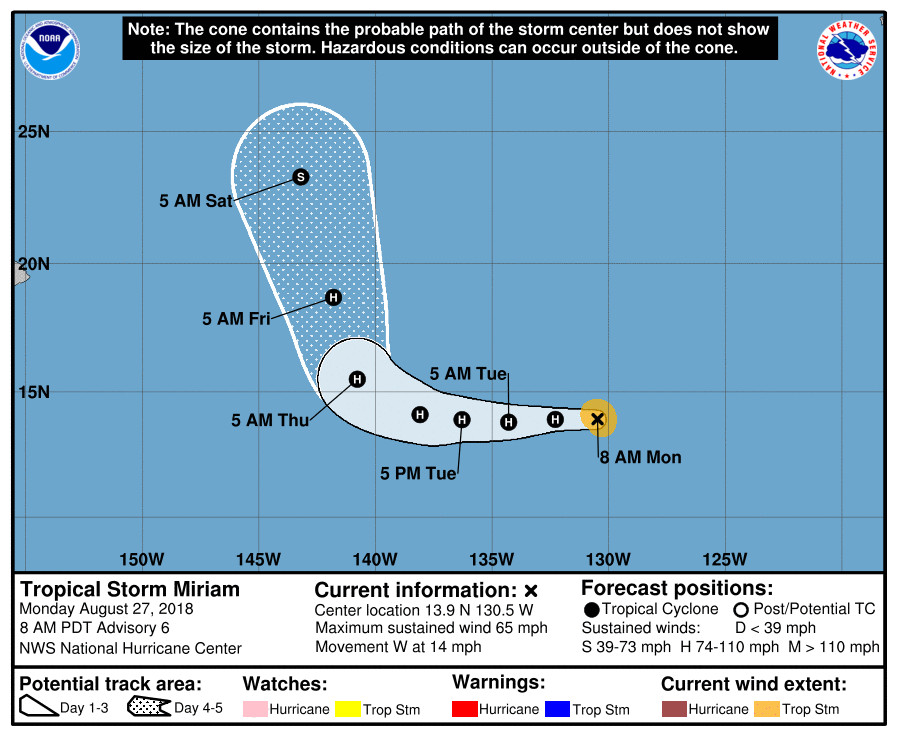 "The cyclone should remain on a westward heading over the next 48 hours while it is steered by a large deep-layer ridge to the north," forecasters wrote at 5 a.m. "After that time, a large mid- to upper-level low to the northeast of the Hawaiian Islands is expected to produce a break in the ridge between 140W-150W. This should cause Miriam to turn northwestward, then north-northwestward between days 3 through 5. The track guidance is in good agreement on this scenario, but there are some differences in Miriam's forward speed after recurvature begins."
There is a 90% chance that another storm will form behind Miriam in the next 5 days.
"Showers and thunderstorms associated with an area of low pressure located about 450 miles southwest of Manzanillo, Mexico, are showing some signs of organization," the National Hurricane Center said this morning. "Environmental conditions are expected to become more conducive for the development of this disturbance, and a tropical depression is likely to form within the next day or two while the system moves generally west-northwestward at around 10 mph."
Meanwhile, 520 miles west southwest of Honolulu, "resilient" Lane has strengthened back into a tropical storm again, for the moment. Tropical Storm Lane is expected to turn off toward the northwest, and become a post-tropical remnant low by Tuesday.