(BIVN) – No incandescent lava was visible in the fissure 8 cone during the USGS Hawaiian Volcano Observatory morning overflight Monday. A photo of the vent located in Leilani Estates was posted to the USGS website today (image below).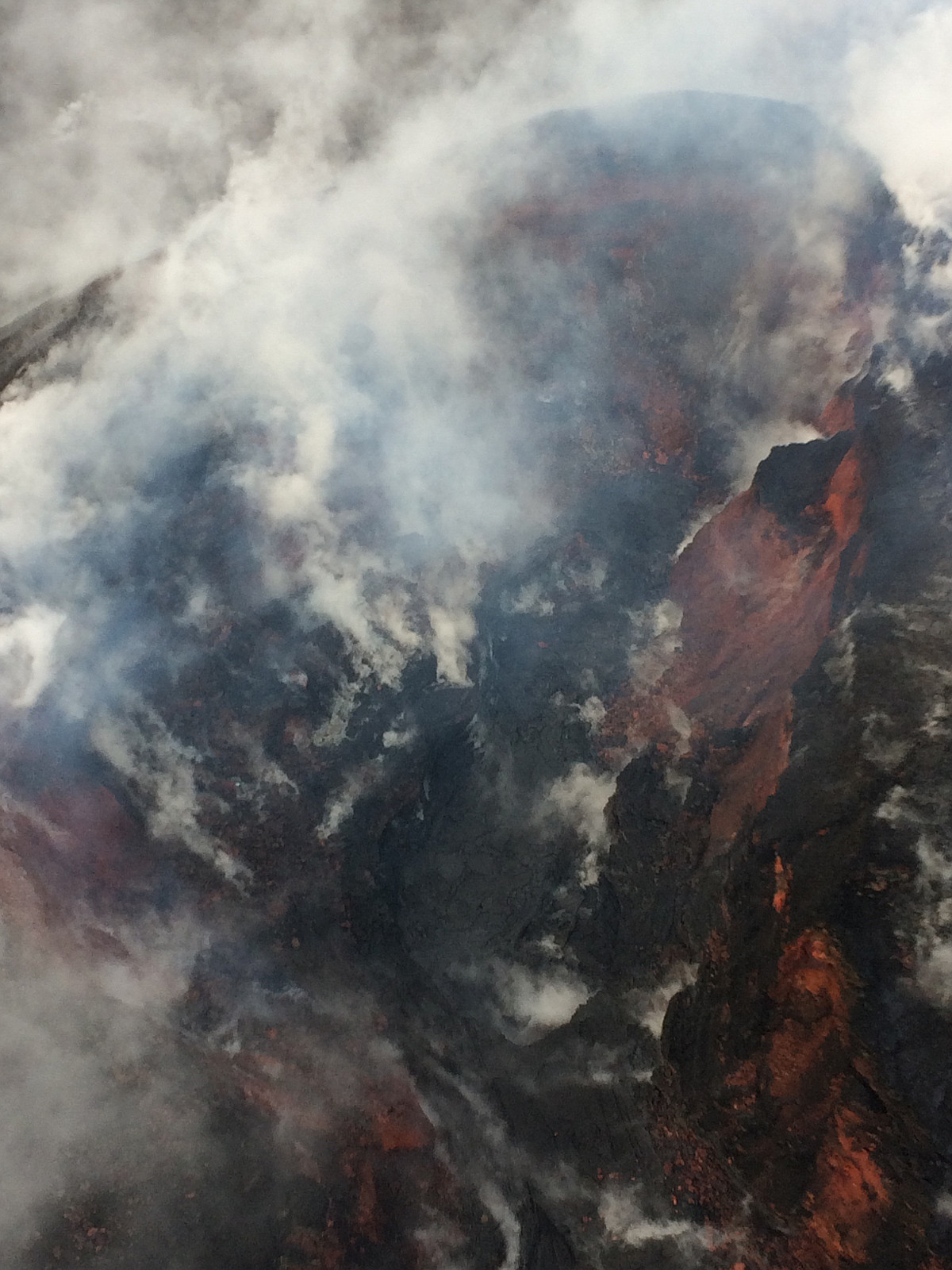 USGS reported on Saturday that the Hawaii County Fire Department observed a small lava pond, deep within the fissure 8 cone, during an overflight. The threat from passing Hurricane Lane prevented the scientists from making any additional observations.
Today, that lava pond was apparently gone. Instead, steam persists on the cone and flow field, USGS said, "due to heavy rainfall over the past several days from water seeping into still-hot rock."
Only one small ocean entry near Ahalanui was visible during this morning's overflight, USGS added.
Over the past few weeks, Kilauea Volcano has been quiet, with seismicity and ground deformation at the summit and the lower East Rift Zone reported as "negligible". Sulfur dioxide emission rates have also been drastically reduced.
UPDATE – From the USGS Hawaiian Volcano Observatory on Monday:
Seismicity and ground deformation are negligible at the summit of Kīlauea Volcano. On the volcano's lower East Rift Zone (LERZ), a small lava pond was visible deep within the fissure 8 cone on Saturday morning (8/25) but lava was no longer visible in the cone this morning. A single small lava dribble was oozing lava into the ocean from the Kapoho Bay lobe from an HVO overflight this morning and a sand bar still blocks the Pohoiki boat ramp. Sulfur dioxide emission rates at both the summit and LERZ are drastically reduced; the combined rate is lower than at any time since late 2007. On Tuesday (8/21), the SO2 emissions from the LERZ were too low to measure although SO2 smells were noticed.

The hurricane/tropical storm had little effect on the eruption aside from minor rockfalls at the summit and increased steaming from Puʻu ʻŌʻō and LERZ vents; however, HVO lost communication with several monitoring stations on the east side of the island in the last two days but the losses only slightly reduce our ability to assess volcanic conditions. Whiteout conditions could occur on the new lava field due due to steam produced by heavy rainfall on still-hot lava flows.

The Hawaiian Volcano Observatory (HVO) will continue to closely monitor Kīlauea's seismicity, deformation, and gas emissions for any sign of reactivation, and maintain visual surveillance of the summit and LERZ as best we can. Ground and drone crews are in the field today but continue to be hampered by weather conditions.

HVO will continue to issue daily updates and additional messages as needed. The next update will be issued tomorrow morning unless significant changes occur.