(BIVN) – Hurricane Norman is currently 1,205 miles east of Hilo, with maximum sustained winds have decreased to near 110 mph with higher gusts. The National Hurricane Center says continued slow weakening is forecast for the next 72 hours, and Norman is expected to turn toward the west-northwest anticipated as it draws closer to Hawai'i on Thursday.
"The NHC forecast has been consistently indicating that Norman will move generally W toward the islands along 20N into midweek, then turn toward the NW as it approaches the islands, with the center remaining offshore to the NE," the National Weather Service in Honolulu reported this morning. "In this scenario, breezy winds will turn to the N/NE on Thursday before weakening Friday, with light winds persisting into the weekend. Significant uncertainty surrounds this aspect of the forecast, and large forecast revisions may be necessary."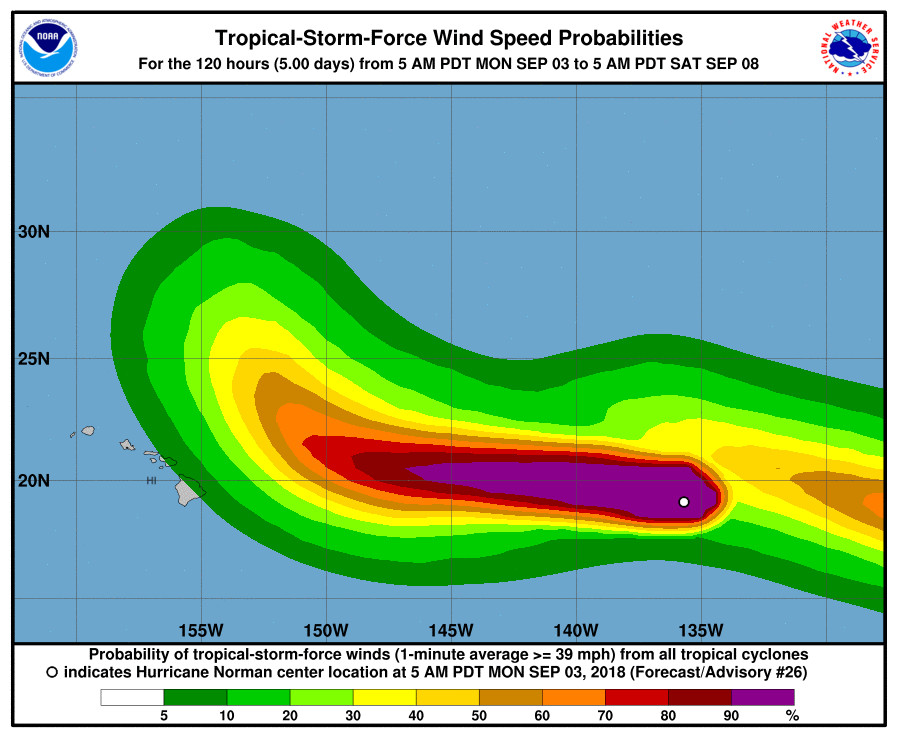 Norman is already weakening. "The eye is no longer apparent on infrared imagery, and the cloud tops are warming throughout the central dense overcast," the National Hurricane Center said in a 5 a.m. HST discussion. Continued weakening is likely over the next several days due to a combination of marginal sea surface temperatures, light or
moderate shear, and a dry mid-level environment. "The new forecast is very similar to the previous one, except lower in the short term to account for the current intensity," the forecasters said.
A weakness in the ridge from 150W-155W should cause Norman to turn more northwestward after day 3, forecasters say. "Model guidance is showing considerable spread at long range, with the UKMET and its ensemble closer to Hawaii, while almost all of the other guidance is much farther northeast. There continues to be a westward shift in the
guidance, so the official forecast has been shifted westward at long range. It should be noted, however, that there isn't much support for the UKMET solution in the rest of the guidance, so it seems to be an outlier at this time," the National Hurricane Center said at 5 a.m.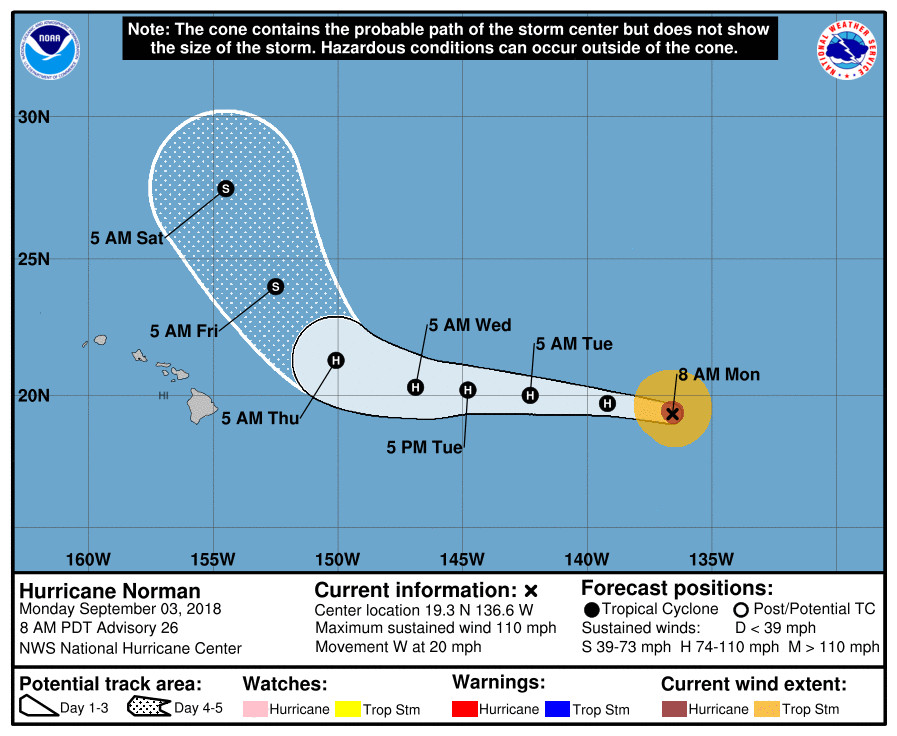 A High Surf Advisory and/or Warning will likely be imposed to all exposed east facing showers later this week, the National Weather Service in Honolulu wrote.