(BIVN) – A High Surf Warning is now in effect for east facing shores of Hawai'i Island, as Hurricane Norman drifts west, 620 miles east of Hilo.
Norman is a Category One hurricane, with maximum sustained winds are near 80 mph. "Some increase in intensity is expected during the next 24 hours, with Norman expected to remain a hurricane into Thursday," the Central Pacific Hurricane Center reported at 5 p.m. HST. "A continued westward motion with a decrease in forward speed is expected tonight. Norman will turn toward the west-northwest on Wednesday, then turn toward the northwest on Wednesday night and Thursday."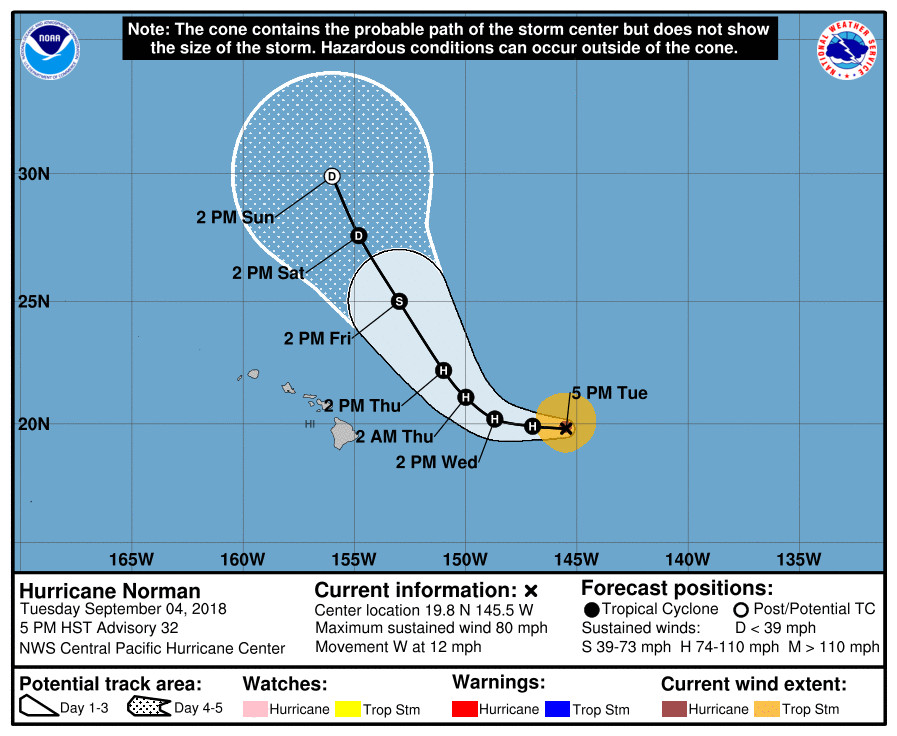 According to the National Weather Service on Honolulu:
A large east swell associated with Hurricane Norman is expected to start spreading across the eastern end of the island chain tonight. Surf along the east facing shores of the Big Island and Maui will likely see surf rise to advisory levels this evening and to warning levels by Wednesday. Surf along east facing shores of Molokai, Oahu, and Kauai will likely see surf rise to advisory levels Wednesday, and to Warning levels by Thursday. The swell is expected to peak Thursday into Thursday night.
Wave heights will increase to 6 to 8 feet this evening, 8 to 12 feet late tonight, 10 to 15 feet Wednesday, and to 12 to 18 ft late Wednesday and Thursday, forecasters say.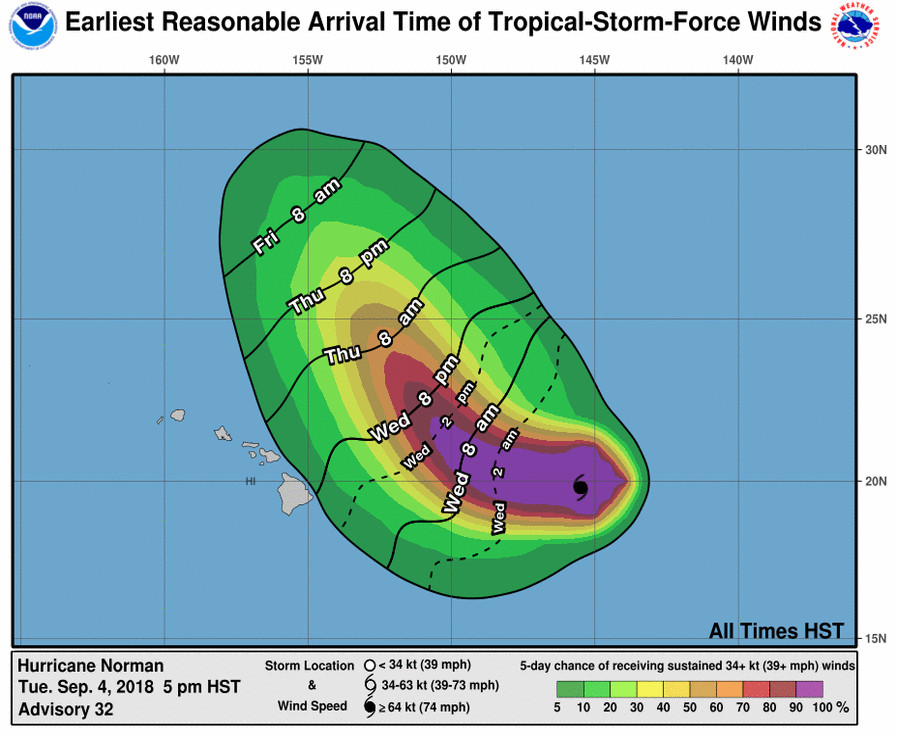 Due to the forecasted weather conditions, Hawai'i County Civil Defense says the following public safety measures and recommendations are now in effect:
Boat owners should take measures to secure their vessels until the danger passes.
Oceanfront residents are urged to be on alert for high and dangerous surf conditions.
Complete preparations before nightfall.
Be prepared as conditions can change rapidly!
More information on hurricane preparedness can be found here: http://www.hawaiicounty.gov/emergency-preparedness
From the Central Pacific Hurricane Center's 5 p.m. HST discussion:
After being cloud-filled and ragged through most of the day, the eye has become more distinct this afternoon, and outflow has improved in the southern quadrant. At 2330Z, subjective Dvorak current intensity estimates ranged from 3.5/55 kt at SAB to 4.0/65 kt at HFO and JTWC. Given the improvement in the satellite presentation from the Dvorak fix time and from a 2234Z CIMSS SATCON estimate of 66 kt, the current intensity has been held at 70 kt, though the system could be stronger. A pair of ASCAT passes from earlier in the day were used to fine tune the wind radii.

Norman continues to move toward the due west (270 degrees), and its forward speed has slowed to 10 kt. Norman will continue to decelerate tonight as it moves west toward a weakness in the deep ridge sitting to the north and northeast. On Wednesday, Norman will begin a long-awaited turn toward the northwest when it reaches a break in the ridge aloft, and a general northwest motion will continue from Wednesday night through the weekend as Norman interacts with a deep trough to the northwest. The track was nudged slightly left of the prior forecast and remains in the middle of a tightly clustered guidance envelope through the next 48 hours. While the guidance spread increases beyond 48 hours, all show the general northwestward motion of Norman, keeping the system to the northeast of the Hawaiian Islands. The official forecast continues to be near the middle of the guidance envelope near TVCE and HCCA through the forecast.

Norman is expected to remain a hurricane for the next couple of days. While SSTs will remain marginal in the 26.5 to 27 C range, dynamical models show a brief increase in intensity during the next 24 hours. This is likely due to slightly improved outflow as Norman nears a break in the ridge aloft. However, statistical models show little change or slow weakening. By Wednesday night, all guidance is in good agreement that Norman will start to weaken under the effects of increasing southwesterly vertical wind shear, cooler SSTs, and a drier surrounding airmass. This weakening will persist through day 5, when Norman is forecast to become a remnant low. The intensity forecast follows similar trends of the prior advisory and favors the lower end of the dynamical guidance, closest to HMNI and ICON.

A couple of hours ago, the NOAA Gulfstream IV aircraft completed a mission to sample the environment around Norman, with particular interest in sampling the strength of the ridge to the north of the hurricane. These data, which are greatly appreciated, will be ingested into the 00Z forecast models that will be available shortly.

FORECAST POSITIONS AND MAX WINDS

INIT 05/0300Z 19.8N 145.5W 70 KT 80 MPH
12H 05/1200Z 19.9N 147.0W 75 KT 85 MPH
24H 06/0000Z 20.2N 148.7W 75 KT 85 MPH
36H 06/1200Z 21.1N 150.0W 70 KT 80 MPH
48H 07/0000Z 22.2N 151.0W 65 KT 75 MPH
72H 08/0000Z 25.0N 153.0W 50 KT 60 MPH
96H 09/0000Z 27.6N 154.8W 30 KT 35 MPH
120H 10/0000Z 29.9N 156.0W 25 KT 30 MPH…POST-TROP/REMNT LOW