(BIVN) – Hurricane Norman, 760 miles east of Hilo over the waters of the Central Pacific, is moving west near 17 mph with maximum sustained winds are near 85 mph. Little change in strength or direction is forecast during the next 48 hours, the Central Pacific Hurricane Center says, and Norman is expected to remain a hurricane through Wednesday night.
"Hurricane Norman is forecast to pass northeast of the islands later in the week, and may bring a slight increase in windward showers on Thursday," the National Weather Service in Honolulu said this morning. "Otherwise, light winds and limited rainfall are expected beginning Friday, then continuing through the weekend."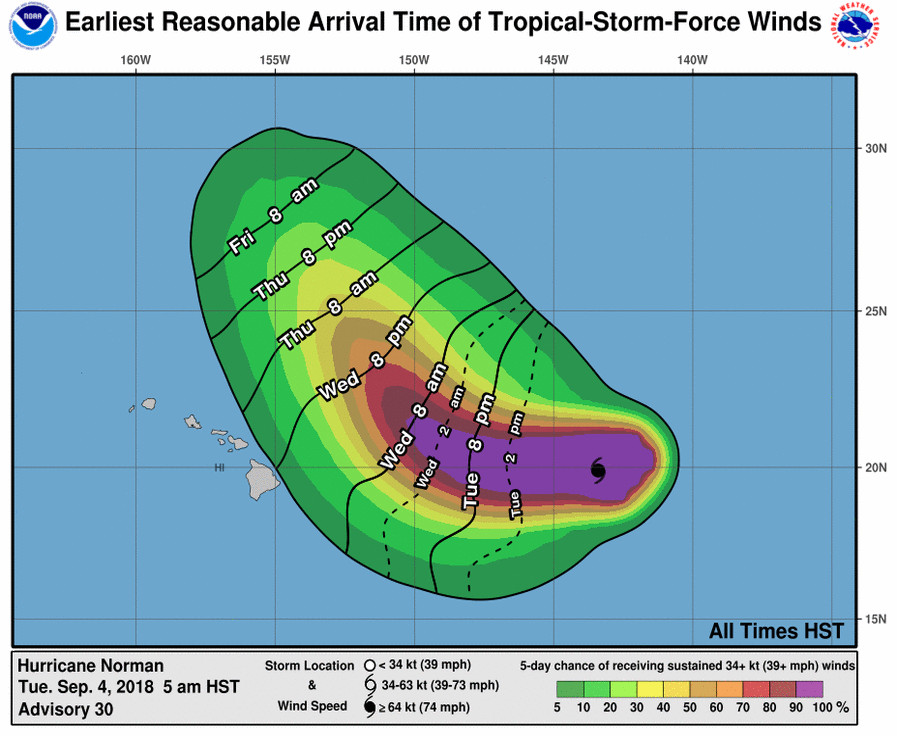 Forecasters wrote:
The latest CPHC forecast indicates that Norman will slow in forward speed as it draws closer to the islands, and then make a turn toward the NW well E of the islands. Based on this forecast (which is subject to change), our trade winds will turn to the NE and strengthen slightly Wednesday and Wednesday night, then weaken Thursday and Thursday night as Norman makes its closest approach several hundred miles NE of the islands. Moisture associated with Norman would be at its greatest over the islands on Thursday, and may bring an increase in mainly windward showers.
"The east swell produced by Norman will also likely result in large surf along east facing shores of Maui and the Big Island starting later today," the National Weather Service said. "As a result, a High Surf Advisory (HSA) has been issued for east facing shores of these islands starting at noon HST today. This HSA will likely be expanded to include east facing shores of most of the islands west of Maui starting tonight or Wednesday. In addition, a High Surf Warning will likely be required for some east facing shores, especially the Big Island and Maui, starting Wednesday or Wednesday night."
Surf along long east facing shores will increase to 6 to 8 feet later today, 8 to 12 feet tonight, and 10 to 14 feet on Wednesday.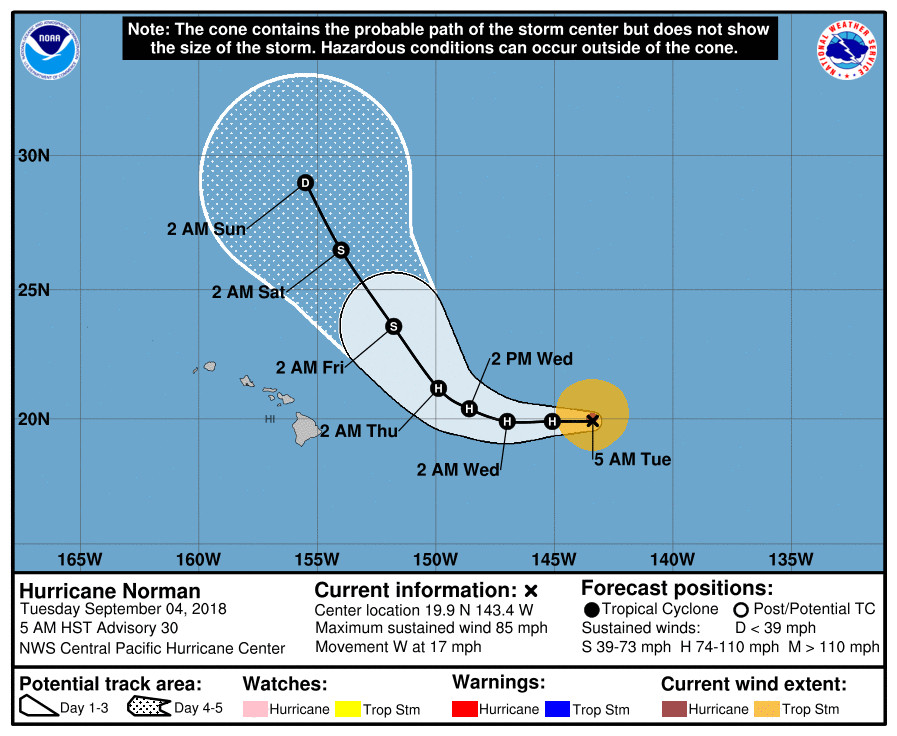 According to the Central Pacific Hurricane Center discussion posted at 5 a.m. HST:
Norman has been holding its own during the night. The overall satellite presentation has remained generally steady during the last several hours, with some recent development of new deep convection very close to the estimated low-level circulation center. A recent 1122Z AMSR microwave pass showed a rather well-defined eye. Subjective Dvorak current intensity estimates came in at 4.5/77 kt from PHFO/SAB, and 4.0/65 kt from JTWC. We have held the initial intensity unchanged at 75 kt for this advisory.

The hurricane is now tracking due west, with an initial motion estimate of 270/15 kt. Westward motion is expected to continue today and tonight, with a considerable decrease in forward speed as Norman nears the southwestern periphery of a strong subtropical ridge centered to the northeast. Thereafter, the cyclone will gradually turn to the west-northwest then to the northwest as it moves around the end of the ridge and is increasingly steered by a large deep-layered trough over the North Pacific. The reliable guidance envelope shows very good agreement with this scenario, including the location and timing of the northwest turn. The new official forecast is shifted ever so slightly to the left through the first 48 hours mainly due to the more westward initial motion, and is simply an update of the previous forecast track thereafter. This is in best agreement with the FSSE guidance, and is also very close to the consensus HCCA and TVCE guidance.

The CIMSS initial vertical wind shear estimate was only 9 kt from the south-southwest, and SHIPS guidance shows light wind shear persisting for another 36 hours as Norman continues tracking around the subtropical ridge. Norman is also now moving into an area of slightly higher ocean heat content as per the current CIRA analysis. Intensity guidance generally shows little change through the next couple of days, with some of the guidance including CTCI and HWFI showing an intensity increase between the 12- and 36-hour forecast times. After 48 hours, a rapid increase in wind shear, a drier surrounding airmass, and progressively cooler sea surface temperatures should cause steady weakening. The new intensity forecast has been adjusted upward slightly from 12 to 48 hours to better match the guidance envelope, with a similar weakening trend to the previous advisory thereafter.

FORECAST POSITIONS AND MAX WINDS

INIT 04/1500Z 19.9N 143.4W 75 KT 85 MPH
12H 05/0000Z 19.9N 145.1W 75 KT 85 MPH
24H 05/1200Z 19.9N 147.0W 80 KT 90 MPH
36H 06/0000Z 20.4N 148.6W 80 KT 90 MPH
48H 06/1200Z 21.2N 149.9W 75 KT 85 MPH
72H 07/1200Z 23.6N 151.8W 55 KT 65 MPH
96H 08/1200Z 26.5N 154.0W 40 KT 45 MPH
120H 09/1200Z 29.0N 155.5W 30 KT 35 MPH