(BIVN) – Hawai'i County Civil Defense issued a new message on Wednesday in advance of Hurricane Norman, which is still expected to pass Hawai'i Island to the northwest in the coming days.
"The National Weather Service reports that a High Surf Warning has been issued for the north and east facing shores of Hawaii Island, from South Point to Upolu Point," emergency officials reported, adding that winds may also increase in localized areas today.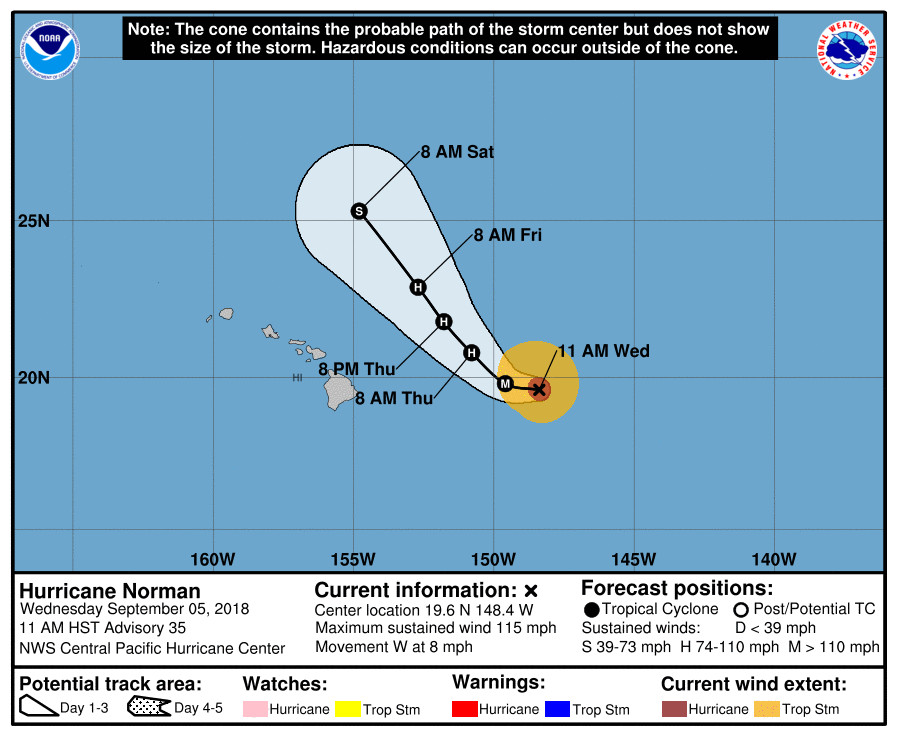 At 3:30 p.m. Hurricane Norman was centered about 390 miles east of Hilo, tracking west northwest around 8 mph, according to the National Weather Service in Honolulu.
The Central Pacific Hurricane Center expects Hurricane Norman to move toward the west northwest this evening, then toward the northwest tomorrow. "Showery low clouds around Norman are expected to spread over the Big Island and Maui late tonight," the National Weather Service reported at 3:45 p.m. HST. "If Norman passes northeast of the islands over the weekend as forecast, that would block the trade winds. Light winds and muggy conditions with afternoon clouds and showers would result."
Due to the forecasted weather conditions, civil defense says the following closures and recommendations are now in effect:
All County beach parks on the north and east side of the island, from South Point to Upolu Point, will be closed tomorrow. All permits and reservations for these parks have been cancelled.
Boat owners should take measures to secure their vessels until the danger passes.
Oceanfront residents are urged to be on alert for high and dangerous surf conditions.
Complete preparations before nightfall.
Be prepared as conditions can change rapidly!
County officials say all closures will be updated in real time on this map.
"Civil Defense is monitoring the storm and will keep you informed of any changes that may affect your safety," the county stated. "Do take this time to assure that emergency plans are updated."
Meterologists are also keeping an eye on Hurricane Olivia, which is was about 2,030 miles east of Hilo moving toward the west. "Olivia could approach the islands early next week," the National Weather Service reported. "Island weather next week will depend on what happens with Hurricane Olivia."