(BIVN) – Norman is still a category three hurricane, but is weakening east of the Hawaiian islands and tracking toward the west-northwest.
At 5 a.m., Hurricane Norman was 305 miles east northeast of Hilo, with sustained winds of 115 mph. Norman is forecast to continue to move toward the northwest on Friday and Saturday, and along the forecast track, the center of Norman is expected to pass 200 to 300 miles to the northeast of the main Hawaiian Islands, the Central Pacific Hurricane Center says. "Although the GFS and ECMWF are slightly left of the official track, none of the reliable guidance would lead to a direct impact from Norman on the main Hawaiian Island," the forecasters said at 5 a.m. HST. "However, as the tropical cyclone will remain in our general vicinity for the next couple of days, people should continue to monitor the progress of this system."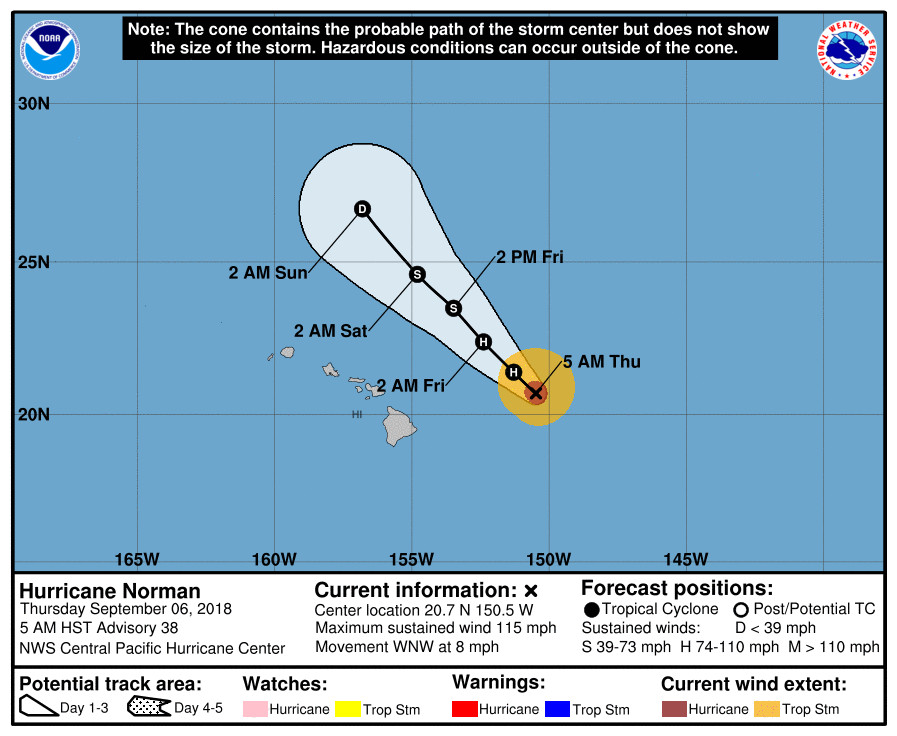 A High Surf Warning is in effect for the north and east facing shores of Hawaii Island, from South Point to Upolu Point. Winds may also increase in localized areas today, forecasters say.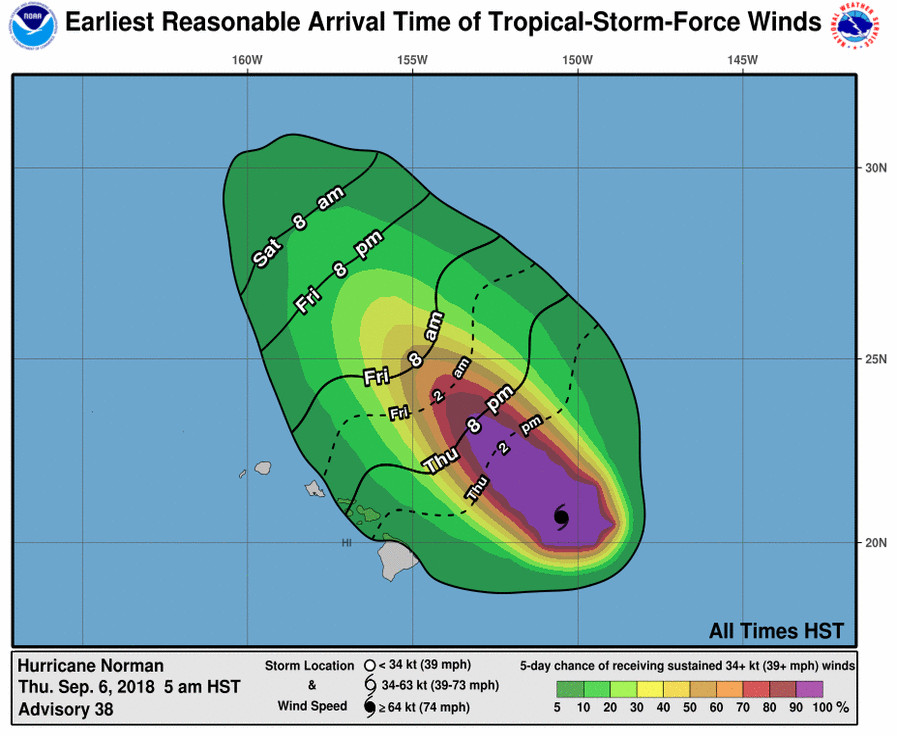 Due to the forecasted weather conditions, Hawai'i County Civil Defense reports the following closures and recommendations:
All County beach parks on the north and east side of the island, from South Point to Upolu Point, will be closed today. All permits and reservations for these parks have been cancelled.
Boat owners should take measures to secure their vessels until the danger passes. (Hilo Area)
Oceanfront residents are urged to be on alert for high and dangerous surf conditions through Friday.
All schools and roads are open at this time.
"Civil Defense is monitoring the storm and will keep you informed of any changes that may affect your safety," a Thursday morning message stated. "Do take this time to assure that emergency plans are updated."
Behind Hurricane Norman, the forecasted track for Major Hurricane Olivia is not as favorable early on. Hurricane Olivia will approach the islands from the east early next week, but its still too early to know what impacts, if any, Olivia might have on Hawai'i.