(BIVN) – Hurricane Olivia is 1,110 miles east of Hilo and has made a westward turn, heading toward the Central Pacific Ocean at 15 mph.
With maximum sustained winds near 85 mph, Olivia is forecast to remain a hurricane for the next couple of days. Hurricane-force winds extend outward up to 30 miles from the center and tropical-storm-force winds extend outward up to 115 miles, the National Hurricane Center says.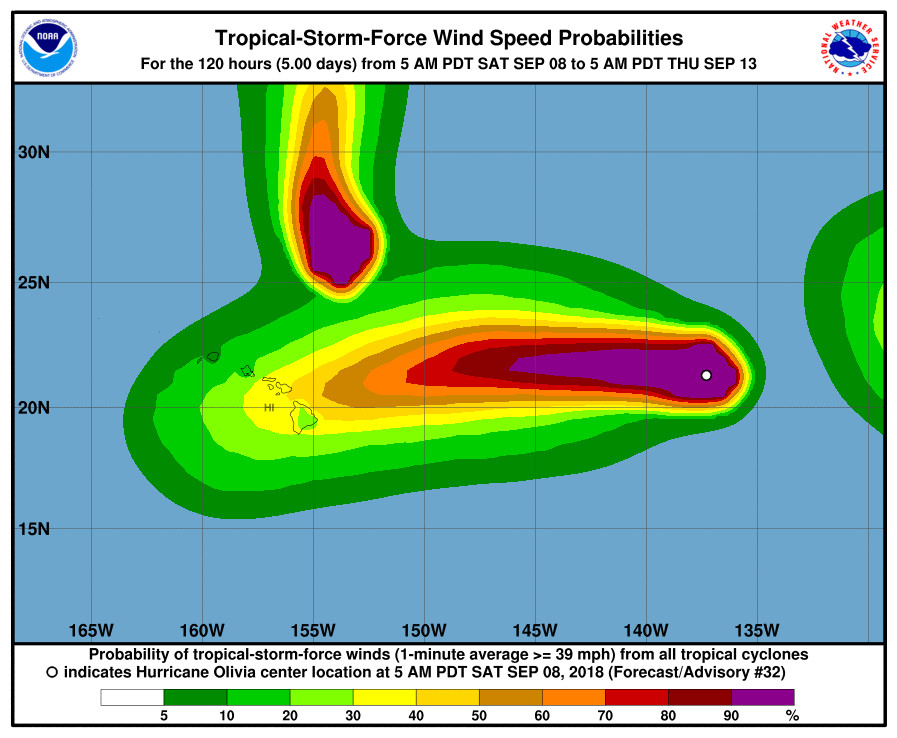 Although there are no coastal watches or warnings in effect, forecasters say interests in Hawaii should monitor the progress of Olivia this weekend and use this time to enact your hurricane action plan.
The National Weather Service in Honolulu wrote this morning that the forecast has Olivia "approaching the islands Tuesday afternoon, then moving through the area Tuesday night through Wednesday night. The Central Pacific Hurricane Center will begin issuing advisories on Olivia this afternoon as it moves into the basin. Interests are reminded to continue to monitor the latest forecasts over the coming days, as forecast changes to the track and intensity of Olivia will be likely this far out in the forecast. As a result, it remains too early to determine any expected impacts to the islands next week."
"A low, long period east swell generated by distant Hurricane Olivia will begin to fill in behind the fading Norman swell on Sunday," the National Weather Service added. "This swell will continue to build early next week, likely producing warning level surf during mid week. The seas and surf forecast over the middle part of next week will be highly dependent on the track and intensity Olivia takes as it nears the area."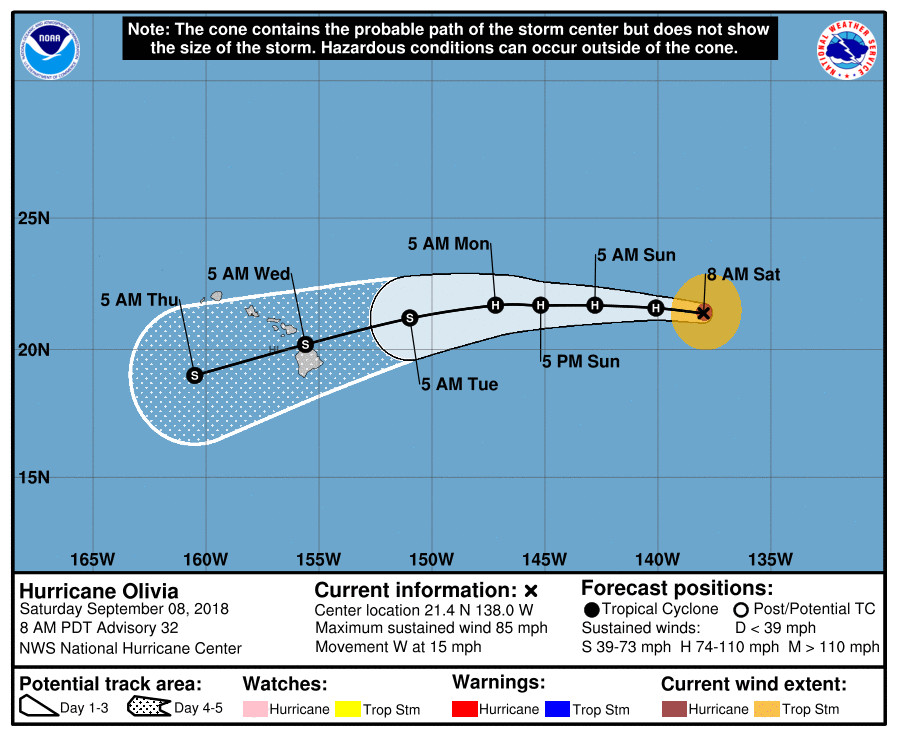 From the 5 a.m. National Hurricane Center discussion:
Satellite images indicate that Olivia continues to slowly weaken. The eyewall convection has warmed during the past several hours, with some breaks noted in the northwestern quadrant. A blend of the various intensity estimates gives a value of 75 kt for this advisory. Olivia is forecast to stay a hurricane for the next couple of days while the system is experiencing light shear, balanced by very dry air aloft and marginal but warming SSTs. While the forecast is flat-lined through 48 hours, don't be surprised if the system's intensity fluctuates upward at times, as many eastern Pacific cyclones have done so this season within a marginal environment. After the weekend, most of the guidance indicates that westerly shear should increase, which will likely cause weakening while Olivia approaches the Hawaiian Islands. The new intensity forecast is basically an update of the previous one and is close to the consensus.

Olivia has turned westward and is moving 275/13. A building subtropical ridge should steer the hurricane basically due westward for the next couple of days, and the model guidance is in good agreement during this time. Thereafter, a mid-level ridge over Hawaii will impart some northerly steering flow on Olivia, which should cause the cyclone to move west-southwestward toward the main Hawaiian Islands. There isn't great agreement on how fast it will turn, however, due to the forecast depth of Olivia. The guidance generally indicates a stronger system will turn more southwestward, like the GFS or UKMET solutions, while a weaker system would have less of a turn, like the ECMWF or HWRF solutions. The model consensus has barely budged since the previous advisory, so little change has been made. Since the track seems to be dependent on the intensity at long range, this isn't a particularly confident forecast.

KEY MESSAGES

1. Olivia is forecast to approach the main Hawaiian Islands from the east early next week, but it is too soon to determine the exact location and magnitude of any impacts. Interests in Hawaii should monitor the progress of Olivia this weekend and use this time to enact your hurricane action plan.

2. Do not focus on the exact track or intensity forecast, or any specific landfall location, as errors can be large at extended time ranges. Tropical storm or hurricane conditions could be felt anywhere in the islands as significant impacts could extend well away from the center.

FORECAST POSITIONS AND MAX WINDS

INIT 08/1500Z 21.4N 138.0W 75 KT 85 MPH
12H 09/0000Z 21.6N 140.1W 65 KT 75 MPH
24H 09/1200Z 21.7N 142.8W 65 KT 75 MPH
36H 10/0000Z 21.7N 145.2W 65 KT 75 MPH
48H 10/1200Z 21.7N 147.2W 65 KT 75 MPH
72H 11/1200Z 21.2N 151.0W 60 KT 70 MPH
96H 12/1200Z 20.2N 155.6W 55 KT 65 MPH
120H 13/1200Z 19.0N 160.5W 45 KT 50 MPH