(BIVN) – Hurricane Olivia has gotten stronger tonight, with maximum sustained winds measured by Hurricane Hunter aircraft near 85 mph with higher gusts.
Olivia is 545 miles east northeast of Hilo, and is moving west at 9 mph. Hurricane Olivia is expected to turn toward the west-southwest starting late Monday. Little change in strength is forecast through late Monday, with gradual weakening possible starting some time on Tuesday, the Central Pacific Hurricane Center says.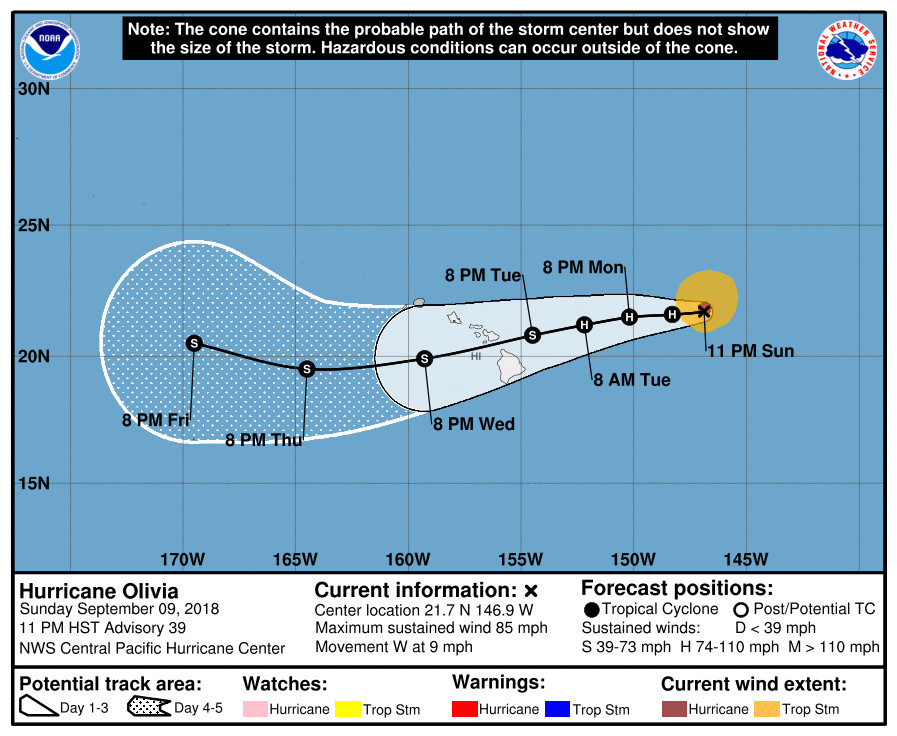 This evening, a Hurricane Olivia Local Statement was issued by the National Weather Service. The statement provided this situation overview:
Damaging tropical storm force winds may begin in some parts of the islands as early as Tuesday afternoon and evening. Gusts over hurricane force are possible as Olivia moves across the island chain. It is too early to specify where the most significant impacts will occur. However, it is important to remember that the mountainous terrain of Hawaii can produce localized areas of strongly enhanced winds and rainfall, even well away from the tropical cyclone center.

Hurricane Olivia is expected to continue moving to the west with a slight decrease in forward speed over the next 12 to 24 hours. A west- southwest motion is expected to begin later Monday. Based on the latest forecast track, Olivia will be approaching the main Hawaiian Islands later Tuesday and Tuesday night.

Large swells and surf generated by Hurricane Olivia will be the initial threat. Surf will continue building tonight through Tuesday as Olivia approaches, and may become damaging on some exposed east facing shores later Tuesday or Wednesday as swell heights peak.

As Olivia gets closer to the islands, the chance for flooding rainfall increases as well, starting Tuesday. Preliminary storm total rainfall amounts are in the 10 to 15 inch range, with isolated areas up to 20 inches. Much of this rainfall will be focused on windward areas, many of which already received significant amounts of rain from recent Hurricane Lane. Therefore, flooding is anticipated to be a very significant threat, especially in those areas.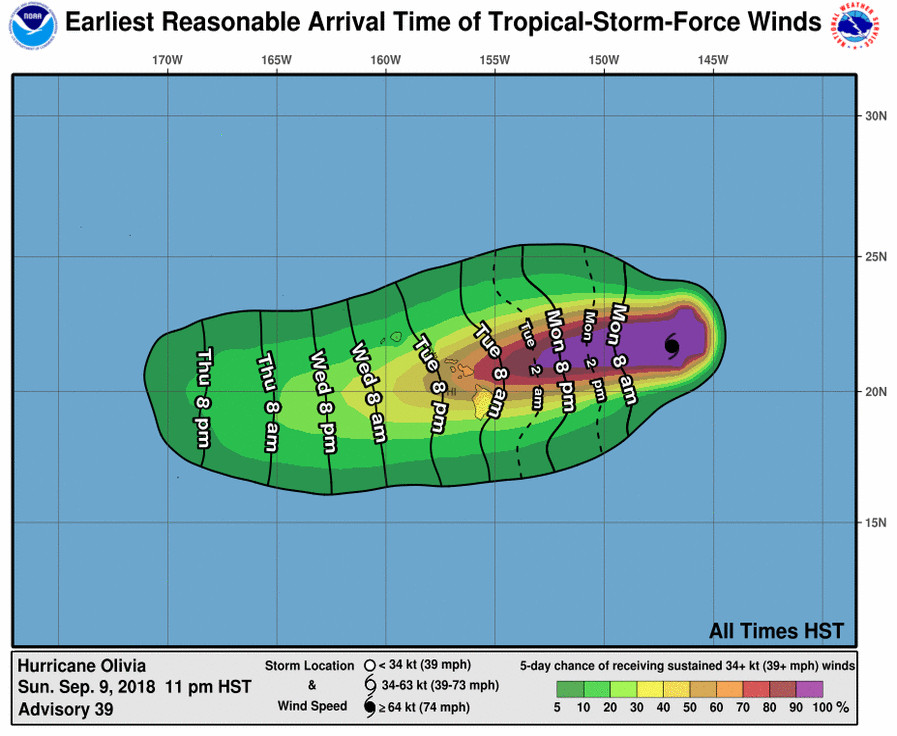 The National Weather Service will have an updated Hydrologic Outlook by 4 a.m. HST on Monday, which will eventually be replaced by a Flash Flood Watch as Hurricane Olivia moves closer to the islands.
Forecasters also provided this additional preparedness information:
Now is the time to check your emergency plan and emergency supplies kit and take necessary actions to protect your family and secure your home or business.

When making safety and preparedness decisions, do not focus on the exact forecast track since hazards such as flooding rain, damaging wind gusts, storm surge, and tornadoes extend well away from the center of the storm.

If in a place that is vulnerable to high wind, such as near large trees, a manufactured home, upper floors of a high-rise building, or on a boat, plan to move to safe shelter.

If you live in a place particularly vulnerable to flooding, such as near the ocean or a large inland lake, in a low-lying or poor drainage area, in a valley, or near an already swollen river, plan to move to safe shelter on higher ground.

Always heed the advice of local officials and comply with orders that are issued. Do not needlessly jeopardize your life or the lives of others.

When securing your property, outside preparations should be concluded as soon as possible before conditions deteriorate. The onset of strong gusty winds or flooding can cause certain preparedness activities to become unsafe.

Be sure to let friends and family members know of your intentions for weathering the storm and your whereabouts. Have someone located away from the threatened area serve as your point of contact. Share vital contact information with others. Keep cell phones handy and charged.

Check on those who may not be fully aware of the situation or who are unable to make personal preparations.

If you are a visitor, know the name of the county in which you are located and where it is relative to current watches and warnings. If staying at a hotel, ask the management staff about their onsite disaster plan. Listen for evacuation orders, especially pertaining to area visitors.

Closely monitor weather.gov, NOAA Weather Radio and local news outlets for official storm information. Listen for possible changes to the forecast.