(BIVN) – Olivia, a category 1 hurricane with maximum sustained winds near 75 mph, is 660 miles east northest of Hilo and moving west at 14 mph.
A west-southwest motion is expected to begin Monday night or Tuesday, the Central Pacific Hurricane Center reported at 11 a.m. On the forecast track, Olivia will be approaching the main Hawaiian Islands later Tuesday and Tuesday night.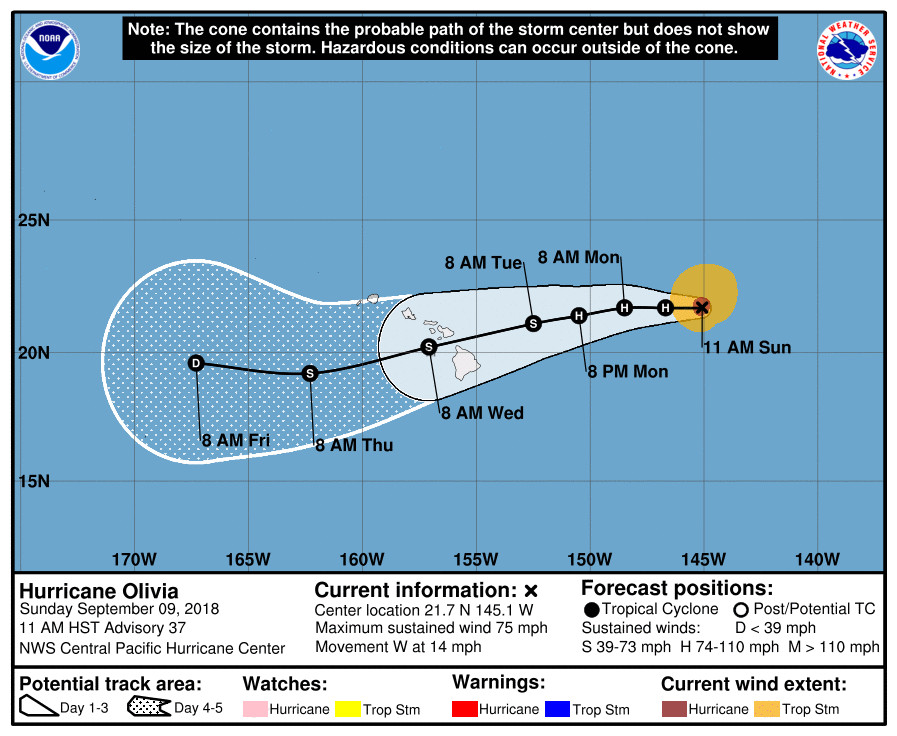 "Given its latest forecast track, which takes aim at northern Big Island, the trade winds will continue to strengthen across the area through Tuesday," the National Weather Service in Honolulu stated. "Tropical Storm forecast conditions are possible as early as Tuesday, lasting through Wednesday, meaning the potential for winds strengthening to between 39 and 73 mile per hour, heavy rains, and dangerous high surf and minor storm surge across vulnerable low-lying coastal areas especially for the exposed east facing shores. Again, this forecast package is based on the latest track of Olivia, which will likely change in the coming 24 to 48 hours. Therefore, you are urged to continue monitoring for the latest forecasts."
"As confidence continues to rise over the coming days, more specifics will become available for each island and the expected impacts," the NWS forecasters said. "You are encouraged to take advantage of the pleasant weather expected through Monday to ensure you are ready to activate your hurricane action plan."
Hawaii County Civil Defense issued another message on Sunday, saying that there are no warnings or advisories in effect at this time.
"The County will not be distributing sandbags until active flooding occurs," officials said in the message. "Please take the necessary precautions to prepare your property if you live in a flood prone area, and secure your vessels in harbors. This is also a good time to make sure your emergency plans are updated."
On Saturday, the Coast Guard Captain of the Port set port condition WHISKEY – the alert condition in which winds above 39 mph are expected within 72 hours – for Hawaii, Maui and Honolulu County ports in advance of Hurricane Olivia.
From the 11 a.m. HST Central Pacific Hurricane Center discussion, written by Robert Ballard:
There are conflicting signals in the aircraft reconnaissance data and the satellite imagery this morning. Over the past few hours, a persistent eye feature has redeveloped and deep convection has been blowing up around the center. In fact, Dvorak Data-T numbers climbed back up to 4.5 from all 3 satellite fix agencies. However, the highest flight level wind was only 65 kt, and the SFMR winds were even lower. Given Olivia's recent improved presentation on satellite and a central dropsonde pressure of 988 mb, I would be hard-pressed to lower the intensity below hurricane strength, and decided instead to leave the current intensity at 65 kt, but this is somewhat uncertain and may be generous.

The initial motion estimate is 270/12. The forecast philosophy has not changed, although the devil is in the details. Olivia is moving to the south of a deep layer ridge which is building westward in tandem with the tropical cyclone. Stronger ridging is expected to develop west of Olivia in about 48 hours, sending the system on a slightly more south of due west, or west-southwest track. The consensus guidance remains fairly tightly clustered and changed little with this advisory. However, there are some plausible outliers, like the ECMWF which is on the north side of the guidance and has actually shifted a bit northward once again. The GFS remains on the southern side of the guidance spread. This uncertainty speaks to the need to not focus on the exact forecast track as Olivia moves across the islands. The U.S. Air Force Reserve Hurricane Hunters are currently flying another synoptic mission to better assess the steering flow around Olivia.

Olivia is slowly moving toward warmer, though still marginal, sea surface temperatures and is in an environment of weak shear. This is expected to maintain intensity through the next 36 hours, perhaps with additional fluctuations. Shear is expected to start increasing over the tropical cyclone in 36 to 48 hours as an upper level trough north of the main Hawaiian Islands builds south. This should start to impart a weakening trend, which will be gradual at first, then more rapid in the days 3-5 period. Our intensity forecast remains on the higher side of a tightly clustered guidance envelope.

KEY MESSAGES:

1. It is important to not focus on the exact forecast track and intensity when planning for Olivia. Persons on all the main Hawaiian Islands should continue to monitor the progress of Olivia, and use this time to prepare for the increasing likelihood of direct impacts from this system this week.

2. Regardless of the exact track and intensity that Olivia takes as it approaches the islands, significant effects often extend far from the center. In particular, the mountainous terrain of Hawaii can produce localized areas of strongly enhanced winds and rainfall, even well away from the tropical cyclone center.

FORECAST POSITIONS AND MAX WINDS

INIT 09/2100Z 21.7N 145.1W 65 KT 75 MPH
12H 10/0600Z 21.7N 146.7W 65 KT 75 MPH
24H 10/1800Z 21.7N 148.5W 65 KT 75 MPH
36H 11/0600Z 21.4N 150.5W 65 KT 75 MPH
48H 11/1800Z 21.1N 152.5W 60 KT 70 MPH
72H 12/1800Z 20.2N 157.1W 50 KT 60 MPH
96H 13/1800Z 19.2N 162.3W 40 KT 45 MPH
120H 14/1800Z 19.6N 167.3W 30 KT 35 MPH