(BIVN) – Olivia has not weakened since it was downgraded to a Tropical Storm earlier this evening. As of 11 p.m., maximum sustained winds are still blowing near 70 mph with higher gusts. Gradual weakening is forecast during the next 48 hours, the Central Pacific Hurricane Center says, but Olivia is expected to remain a tropical storm as it moves over the Hawai'ian islands. A Tropical Storm Warning remains in effect for Hawai'i Island.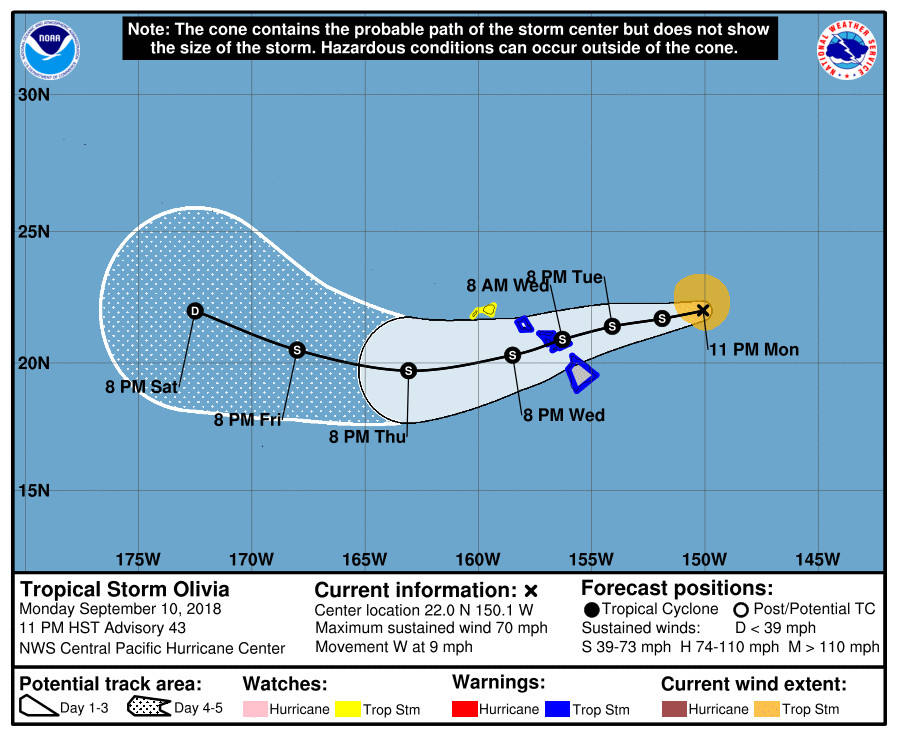 "Tropical storm conditions are expected over Maui County and the Big Island starting late Tuesday or Tuesday night," forecasters said Monday night. "Olivia is expected to produce total rainfall accumulations of 10 to 15 inches, with isolated maximum amounts of 20 inches possible. This rainfall may produce life-threatening flash flooding. Large swells generated by Olivia will impact the main Hawaiian Islands over the next couple of days. This will cause surf to build, mainly along exposed east facing shores, and surf may become damaging."
Olivia is 360 miles east northeast of Hilo, and moving toward the west near 9 mph. A turn to the west and west-southwest is expected early Tuesday. "Expect impacts to spread from east to west across the Hawaiian Islands as Olivia closes the distance," the National Weather Service in Honolulu said. "Northeast winds will shift to a more northerly direction ahead of the storm and increase in intensity starting Tuesday afternoon. Wind speeds will continue to ramp up through Wednesday as the center of Olivia passes through the islands. Heavy flooding rainfall will arrive over the islands from Tuesday night through Thursday night."
A High Surf Warning is already in effect for east facing shores of the Big Island. A Flash Flood Watch is also in effect.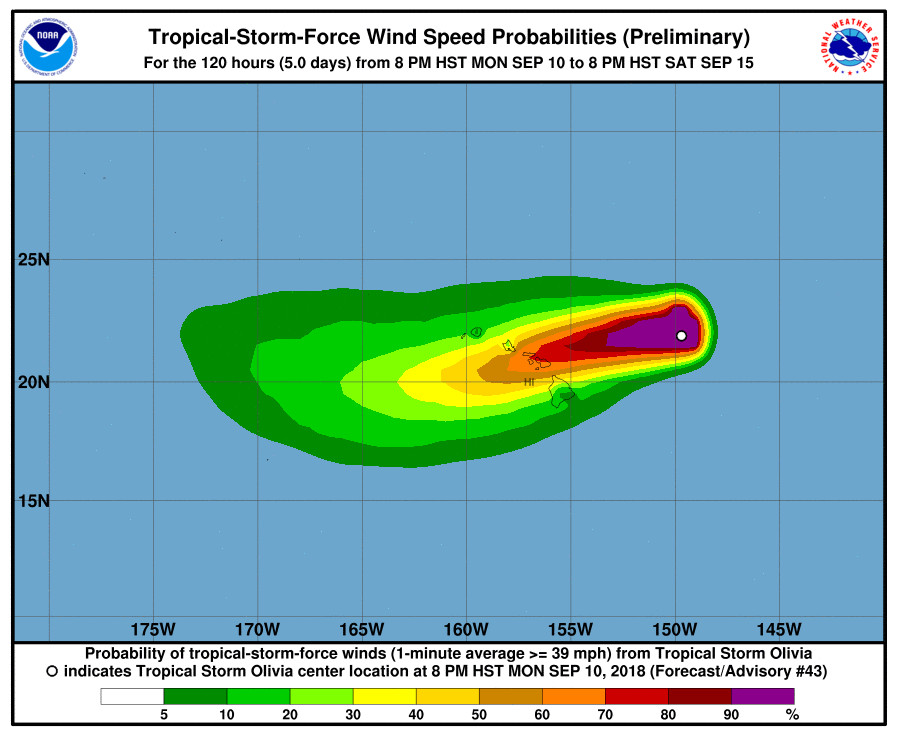 On Monday, the Hawai'i County Mayor Harry Kim signed an Emergency Proclamation for Olivia.
"Emergency shelters have been designated throughout the island," a Hawaii County Civil Defense message issued at 6:30 p.m. stated. "If shelters are needed, an additional message will be sent out with more details."
Civil defense also said the county will not be distributing sandbags until active flooding occurs. "Please take the necessary precautions to prepare your property if you live in a flood prone area," the county said.
Due to the latest forecast of Tropical Storm Olivia, the Hawaii State Department of Education will resume afterschool activities on Hawaii Island tomorrow, Sept. 11. The DOE advises parents and guardians that public school schedules and afterschool programming may be modified across the islands this week as Hurricane Olivia approaches the state.
From the Central Pacific Hurricane Center's 11 p.m. discussion:
Hurricane Hunters from the 53rd Weather Reconnaissance Squadron are again penetrating Olivia's core this evening, and found the low- level center further east than anticipated. Some conflicting data exists as to the current intensity, as the central pressure has risen, but winds in the northwest quadrant were stronger than earlier today. A blend of the data supports maintaining the initial intensity at 60 kt for this advisory.

The initial motion estimate for this advisory is 280/8 kt, with Olivia still being steered by a mid-level ridge centered to the distant northeast. Track guidance continues to indicate that a mid- level ridge building to the northwest of Olivia will induce a motion toward the west and west-southwest, with this expected to begin on Tuesday. At 72 hours and beyond, an upper level low is expected to develop between the ridge and Olivia, imparting a west-northwest motion on the tropical cyclone. The updated track forecast is shifted just slightly to the south of the previous, mostly after day 2, so the track forecast near the islands has changed little. Notable along-track differences between the GFS and ECMWF/HWRF exist, with the ECMWF/HWRF continuing to bring Olivia over the islands about 6-12 hours faster. The official forecast is on the north side of the guidance envelope, is close to the multi-model consensus TVCE, with the short-term forward speed a blend of the GFS and ECMWF/HWRF.

Shear is expected to increase over the next 24 to 48 hours while SSTs increase to greater than 28C. The shear is expected to induce slow but steady weakening, and the updated intensity forecast is close to the previous and closely follows the multi-model intensity consensus IVCN.

KEY MESSAGES:

1. Resist the temptation to make comparisons between Lane and Olivia. Although Lane was a stronger tropical cyclone near the islands, it did not bring direct core impacts to the state. In some areas, Olivia could bring significantly worse impacts than those brought by Lane. Those impacts could include intense flooding rainfall, damaging winds, and large and dangerous surf.

2. It is important to not focus on the exact forecast track and intensity when planning for Olivia. Regardless of the track that Olivia takes as it approaches the islands, significant impacts can be expected away from the center. In particular, the mountainous terrain of Hawaii can produce localized areas of strongly enhanced wind gusts and rainfall.

FORECAST POSITIONS AND MAX WINDS

INIT 11/0900Z 22.0N 150.1W 60 KT 70 MPH
12H 11/1800Z 21.7N 151.9W 55 KT 65 MPH
24H 12/0600Z 21.4N 154.1W 50 KT 60 MPH
36H 12/1800Z 20.9N 156.3W 45 KT 50 MPH
48H 13/0600Z 20.3N 158.5W 45 KT 50 MPH
72H 14/0600Z 19.7N 163.1W 40 KT 45 MPH
96H 15/0600Z 20.5N 168.0W 35 KT 40 MPH
120H 16/0600Z 22.0N 172.5W 30 KT 35 MPH

$$
Forecaster Birchard