(BIVN) – Olivia has been downgraded to a tropical storm, but Hawaii is still bracing for the possible impacts as the storm continues to track towards the islands.
On the forecast track, Tropical Storm Olivia will be moving over the main Hawaiian Islands late Tuesday night into Wednesday. Maximum sustained winds are currently at 70 mph with higher gusts, with gradual weakening forecast during the next 48 hours. Olivia is expected to remain a tropical storm as it moves across the islands. A Tropical Storm Warning is in effect for Hawaii Island, as well as Maui County and Oahu. A Tropical Storm Watch has been issued for Kauai and Niihau.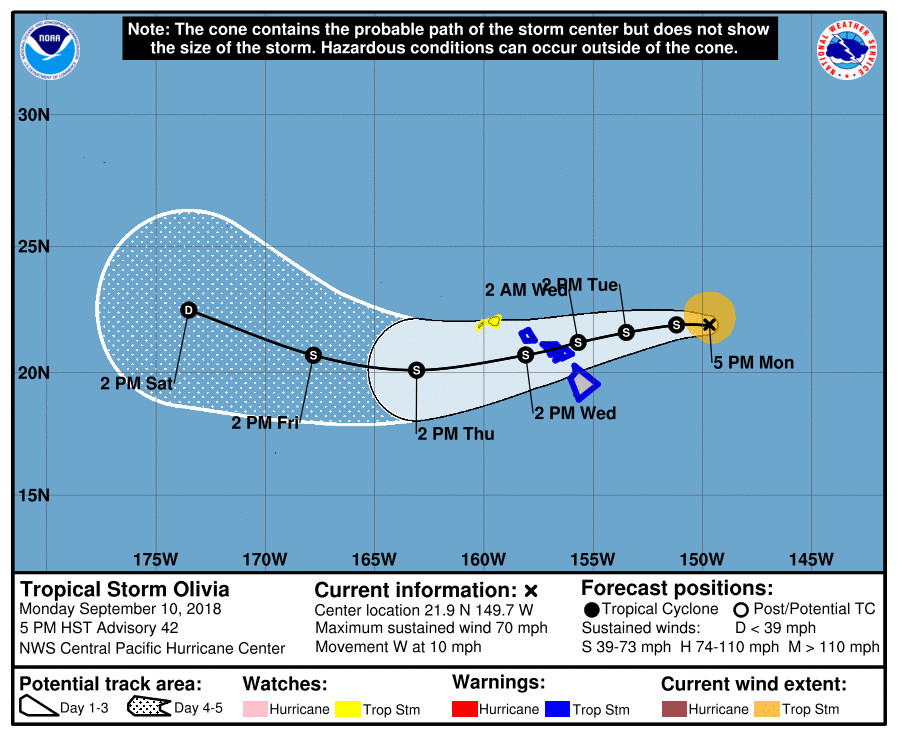 Tropical storm conditions are expected over Maui County and the Big Island starting late Tuesday or Tuesday night, the Central Pacific Hurricane Center says. The most damaging winds are expected to occur in Maui County and on Oahu, given the forecast track. However, flooding rain remains possible for the Big Island. Also, forecasters warn that the mountainous terrain of Hawaii can produce localized areas of highly enhanced winds, even well away from the tropical cyclone center.
Government agencies are already putting emergency plans into action.
The National Weather Service in Honolulu has issued a Flash Flood Watch for all the Hawaiian Islands from Tuesday evening through late Thursday night. "Olivia is forecast to produce total rainfall amounts of 10 to 15 inches," the forecasters wrote in the Watch message. "Isolated maximum amounts of 20 inches may occur along the windward sections of Maui County and the Big Island. Rain events of this size can cause widespread flooding and can affect areas that do not usually flood. Low spots in roads will become dangerous and impassable due to severe runoff. Debris in streams and gulches may clog bridges and culverts resulting in dangerous flooding. Numerous landslides are expected, especially along the Hana Highway on Maui and the Mamalahoa Highway on the Big Island."
The National Weather Service in Honolulu has issued a High Surf Warning for east facing shores of Hawaii County and Maui County, which is in effect until 6 p.m. HST Wednesday. Large swells generated by Olivia will spread from east to west across the Hawaiian Islands over the next couple of days.
Surf heights will be 5 to 8 feet tonight along east facing shores, building to 10 to 14 feet Tuesday, then rising to 12 to 20 ft Tuesday night.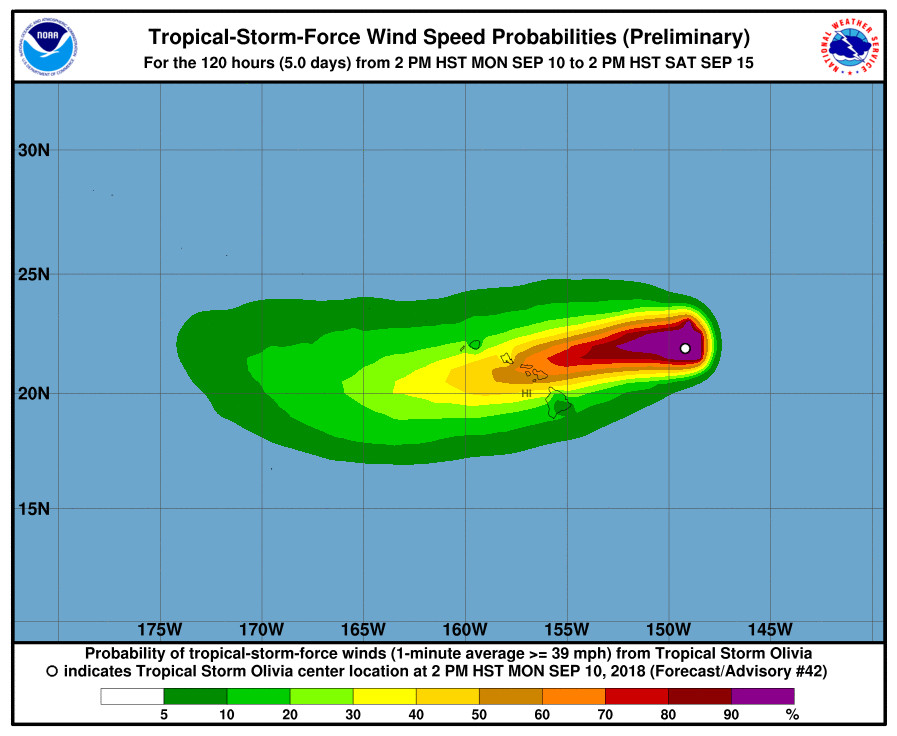 From the 5 p.m. Central Pacific Hurricane Center discussion:
Air Force Reserve Hurricane Hunters indicated that Olivia was on a slow weakening trend as they departed the tropical cyclone earlier this afternoon. Bursts of convection have been occurring, but an 0058 UTC SSMI and 0155 UTC AMSU pass are showing disorganized banding mainly to the northeast of the center. This seems to indicate that Olivia is beginning to feel the effects of stronger shear. There was a fairly wide spread of satellite intensity estimates. However, used a blend of these along with the recent reconnaissance data to come up with the intensity estimate of 60 kt.

Olivia has been moving 280/9 over the last few hours. This slightly north-of-west motion may be due to the tropical cyclone beginning to feel the effects of the increasing shear. All reliable track guidance are unanimous in maintaining a westward motion overnight, then a slightly south of due west motion is expected to begin in 12 to 24 hours, as a very strong deep layer ridge develops west of the main Hawaiian Islands. Beyond 72 hours, an upper level low is expected to develop to the north of Olivia and drop south. This upper low is expected to impart a west-northwest motion on the tropical cyclone, and in fact the two systems may merge in four to five days, if enough of the low level circulation remains in the face of strong shear.

Shear is expected to increase over the next 24 to 48 hours as Olivia continues generally westward. Even though the sea surface temperatures warm to greater than 28C along the track beyond 48 hours, the shear should allow weakening to continue. The intensity guidance has been backing off on the weakening trend some in the 3 to 5 day time period, likely due to interaction with the upper low. Toward the end of the forecast period, Olivia may be starting to lose tropical characteristics.

KEY MESSAGES:

1. Resist the temptation to make comparisons between Hurricane Lane and Hurricane Olivia. Although Lane was a stronger tropical cyclone near the islands, it did not bring direct core impacts to the state. In some areas, Olivia could bring significantly worse impacts than were felt by Lane.

2. It is important to not focus on the exact forecast track and intensity when planning for Olivia. Persons on the main Hawaiian Islands should finish their preparations for direct impacts from this system starting as early as Tuesday night. Those impacts could include intense flooding rainfall, damaging winds, and large and dangerous surf.

3. Regardless of the exact track and intensity that Olivia takes as it approaches the islands, significant effects often extend far from the center. In particular, the mountainous terrain of Hawaii can produce localized areas of strongly enhanced wind gusts and rainfall, even well away from the tropical cyclone center.

FORECAST POSITIONS AND MAX WINDS

INIT 11/0300Z 21.9N 149.7W 60 KT 70 MPH
12H 11/1200Z 21.9N 151.2W 55 KT 65 MPH
24H 12/0000Z 21.6N 153.5W 50 KT 60 MPH
36H 12/1200Z 21.2N 155.7W 50 KT 60 MPH
48H 13/0000Z 20.7N 158.1W 45 KT 50 MPH
72H 14/0000Z 20.1N 163.1W 40 KT 45 MPH
96H 15/0000Z 20.7N 167.8W 35 KT 40 MPH
120H 16/0000Z 22.5N 173.5W 30 KT 35 MPH

$$
Forecaster R Ballard