(BIVN) – After initially telling residents that Hawai'i County would not be distributing sandbags "until active flooding occurs", officials are providing access to piles of sand ahead of the arrival of Tropical Storm Olivia.
Olivia is quickly approaching Hawai'i, moving west at 17 mph. In Hilo, Tuesday's blue skies offer little hint that a tropical storm is 220 miles to the northeast. Maximum sustained winds are near 60 mph with higher gusts, and Olivia is expected to weaken further during the next 48 hours. Increasing shear over Olivia is separating the low level circulation center from the storm's deep convection."Seeing as how the wind field on the south side of Olivia is rather compact," the Central Pacific Hurricane Center stated at 11 a.m., "it is possible we may be able to discontinue the Tropical Storm Warning for the Big Island later today if the westward motion continues."
The storm still poses a threat for the rest of the state. Today, Governor David Ige formally requested a Presidential Disaster Declaration as Tropical Storm Olivia gets closer to the islands. "The declaration asks President Donald Trump to declare the State of Hawai'i a major disaster in the event that heavy rains and wind from Olivia cause significant damage and losses," the state says. "The governor is asking for direct federal support from Department of Defense assets for strategic airlift between the islands; temporary power generation at evacuation centers; technical assistance related to points of distribution and debris management action planning. In addition, the governor is asking for immediate access to federal resources for search and rescue, potential medical evacuations, mass care and sheltering commodities and additional temporary power generation capabilities."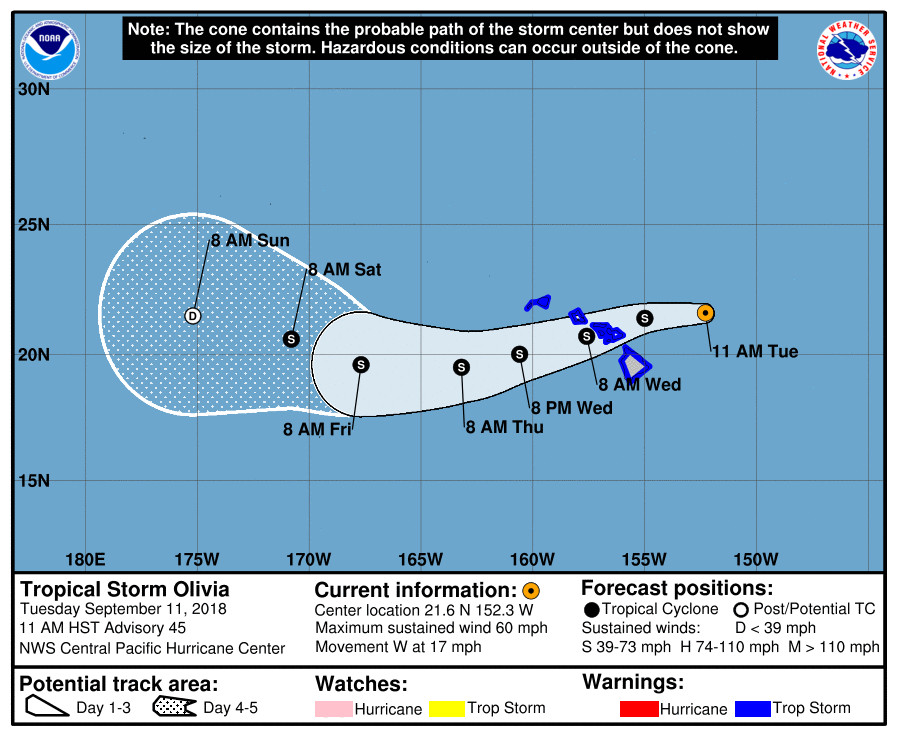 On the current forecast track it looks like Maui will bear the brunt of Tropical Storm Olivia.
Although forecasted rainfall totals for Hawai'i Island have been reduced, the Department of Public Works has delivered piles of sand to multiple locations throughout the Big Island, following a "high volume of requests for sandbags in preparation for Tropical Storm Olivia."
As of 10 a.m. this morning, "residents can go to any of these locations to fill their own sandbags," Hawai'i County Civil Defense said in a morning message. "Please note that shovels and sandbags will NOT be provided so you must bring your own materials. If you are not able to purchase sandbags at a local retailer, heavy duty trash bags will also work."
Sand is being provided at the following locations:
Shultz Siding 630 E Lanikaula St., Hilo
Mamalahoa Hwy and Jardin Rd.
Honokaa Base Yard 45-3386 Mamane St.
Cherry Trees (near Ke Ola Mau Loa Church) 65-1096 Mamalahoa Hwy
N Kohala Base Yard 55-486 Hoea Rd.
Waikoloa Community Park 68-1845 Puu Nui St.
Ane Keohokalole Hwy south of Kealakehe Pkwy (Kailua side of Kealakehe HS)
Captain Cook Base Yard 79-7320 Kuakini Hwy
Yano Hall in Captain Cook 82-6156 Mamalahoa Hwy
Waiohino Base Yard 95-1627 Kamaoa Rd.
Pahala Park and Community Center 96-1149 Kamani St.
Puna Base Yard 17-384 Volcano Rd.
Puna Airfield Strip 15-2501 Keaau Pahoa Rd.
Sand piles located in Base Yards will only be available during business hours.
County officials are urging residents to "please only take what you need. If you reuse County sandbags, be sure they have been stored in a cool, dry place out of direct sunlight."