(BIVN) – The Hawaiʻi County Department of Water Supply is making an effort to educate everyone about its mission.
The video below was recently produced by the water department, and uploaded to YouTube with the title: Water, Our Most Precious Resource.
The video also appears on the water department's revamped website.
Water Supply Manager and Chief Engineer Keith Okamoto made a presentation to the Hawaii County Charter Commission on October 12. "Basically, if we do our job right," Okamoto said, "bottom line, we get taken for granted."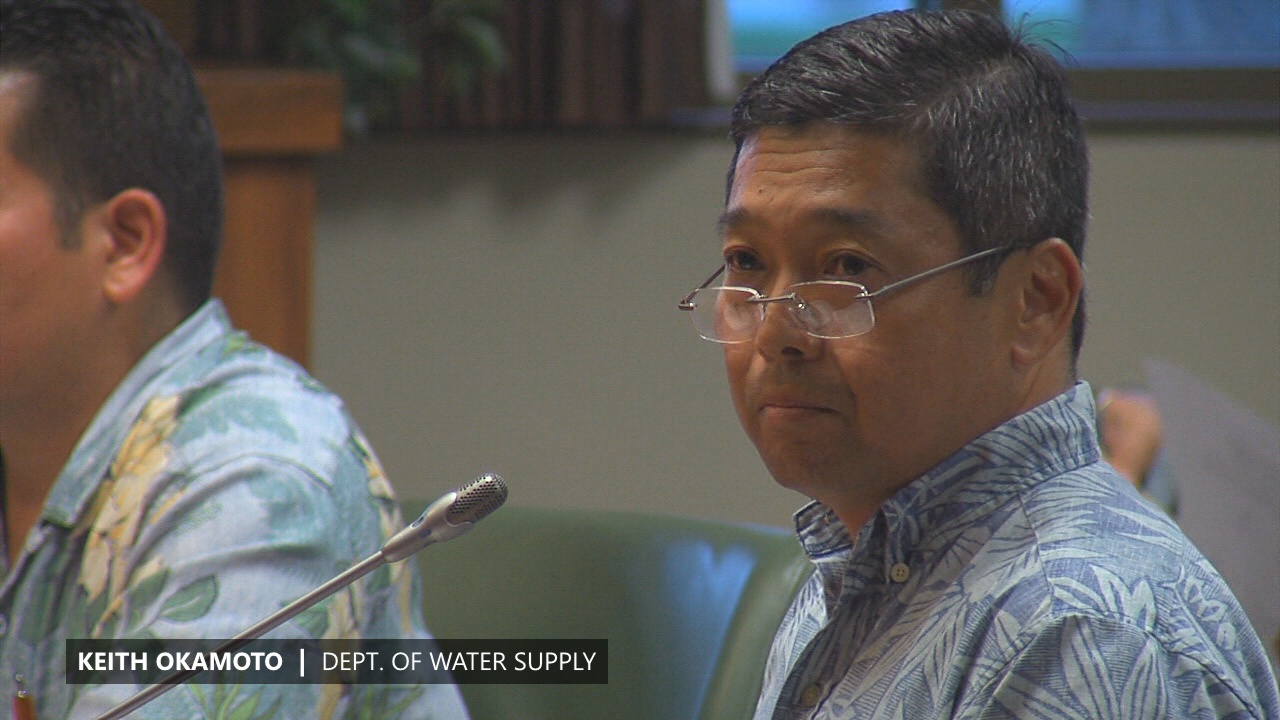 "We like to think that when you get your water bill," Okamoto told the commission, "it is probably less than your cell bill, HELCO bill, telephone, cable bill, things like that. And currently, we're still only sending out a bill every two months."
Written testimony, signed by Okamoto and Water Board chair Craig Takamine, stated:
It is critical to keep water supply self-sufficient. Maintenance and operation of water systems assures safe, viable, reliable water is available to support healthy growing communities. The water fund needs to be independent of good or bad economic conditions to ensure this fundamental resource supports the existing customer base with reasonable rates.
The Water Supply campaign to educate comes as the charter commission considers a proposal to revamp the way the county handles its water resource. Environmental Management Commission Chair Rick Bennett suggested a charter amendment to dismantle the Department of Water Supply, in favor of creating a Department of Water Sustainability.
"There needs to be coordination," Bennett said. "Water is a very finite resource. As we look towards another decade or two of declining rainfall, we need to be thinking about water in our future, otherwise there isn't any."
The amendment, according to Bennett, would also:
Promote water conservation aggressively as well as the reuse of all reclaimable waters.
Institute policies and programs to protect surface, ground and near shore waters of Hawaii Island.
Coordinate with other departments in this regard.
Bennett also proposed creating an Office of Sustainable Water, which would include an executive position under the Managing Director to "oversee and coordinate all county policies that affect all water and coastal water resources to protect the economy and wise use of water resources."
"We chose to step back and look at the larger picture," Bennett added, "not just how that department influences water quality but how the policies of all the departments… parks and recreation, planning, building… and we found that all of these departments, through their policies, can have profound influence on the water quality of this island. There are literally big holes in the bucket."
"Our recommendation to the Charter Commission was to create a policy that caused the departments to coordinate," Bennett explained. "Have a person in the mayor's office who oversees that. And then, the most controversial part, was to take the Department of Water Supply, bring it into the family and to increase the scope of their responsibility for water conservation – which by large is not happening – and then water reuse."
At the October 12 charter commission meeting, testifiers defended the semi-autonomous water department. Former Water Supply employee Kanani Aton and Mayor Harry Kim spoke in support of keeping things as they are.
The Department of Water Supply also responded, in writing:
Since the inception of semi -autonomous water management in Hawaiʻi, efforts to amend or remove it from City and County Charters have surfaced before. For the most part, these efforts were not carried forth for very good reason. Decision makers of the past have learned that water infrastructure requires extensive long-range planning beyond the usual term limits of both the Legislative and Executive Branches of government. While the overall political systems of both these branches are sufficient to carry forth all other public service within 2 – 8 year term limits, successful water management needs a much longer span of oversight to stay ahead of current and future demands for water infrastructure.
"Unfortunately", Bennett says, the "charter amendment probably won't get off the ground at all, but our job was to start the conversation."
The charter commission did question the make-up of the Water Board, which oversees the administration of the department.
"One of the earliest pieces of testimony we received as Commission," said commissioner Michelle Galimba, "was from a man who was suggesting that we put into the Charter more … demanding qualifications for people on the water board. I think they specifically were asking for … an engineering degree, in relation to the pump failures that happened" in Kona last year.
"I've been with the Department for over 20 years," Okamoto responded, "and I've gone through numerous water boards and I think it's actually a benefit when you have a mix, and you don't put certain requirements on the board members because you have these varying perspectives that are all legitimate. We have technical staff on board, all we need is direction from the water board saying – hey, this is a priority, we want you to … seek outside professional assistance, which is what we did on this last go-around with the Kona situation."