(BIVN) – There is a new weapon in the fight against the fungal disease killing native trees in Hawaiʻi. Meet Cobra, a Belgian Malinois, and a detector of Rapid 'Ōhi'a Death.
"Cobra over here has been really a quick learner, and has quickly shown us that she can detect Rapid 'Ōhi'a Death," Dr. Susan Cordell of the US Forest Service explained. "This is a project by one of our scientists here at the Institute of Pacific Island Forestry, Kealoha Kinney, and he's always thinking outside the box."
Cordell said Kinney has been working with a group in Florida for the last year here or more, and brought them out to Hawaiʻi. "This has been a really exciting week," Cordell said.
Over the last few years, the fungal disease – of which there are two strains, Ceratocystis huliohia and the more aggressive Ceratocystis lukuohia – has impacted hundreds of thousands of acres of native 'ōhi'a forests on Hawai'i Island.
This proof of concept project was funded by Hawaiʻi Department of Agriculture and led by US Forst Serviceʻs Institute of Pacific Island Forestry in partnership with USDA Agricultural Research Service, Redland Ahead Florida-based non-profit Redland Ahead, and Florida International University.
"We have been here for a better part of the week trying to train Cobra to detect the scent of Rapid 'Ōhi'a Death," said Julian Mendel of Florida International University. "What we're doing here today is just a little trial. This is a part of our training process. We have some infected samples that we've collected from the forest that are in special sealed containers – that doesn't allow the biological material to get out – but we can have the VOCs (the volatile organic compounds) being exposed that [Cobra] can then pick up."
The Florida team gave us a demonstration of Cobraʻs abilities.
"So we've actually hidden one of our target aids in one of these 'ōhi'a trees that are here on on the facility," Mendel said, as dog trainer Lourdes Edlinis followed Cobra to the spot.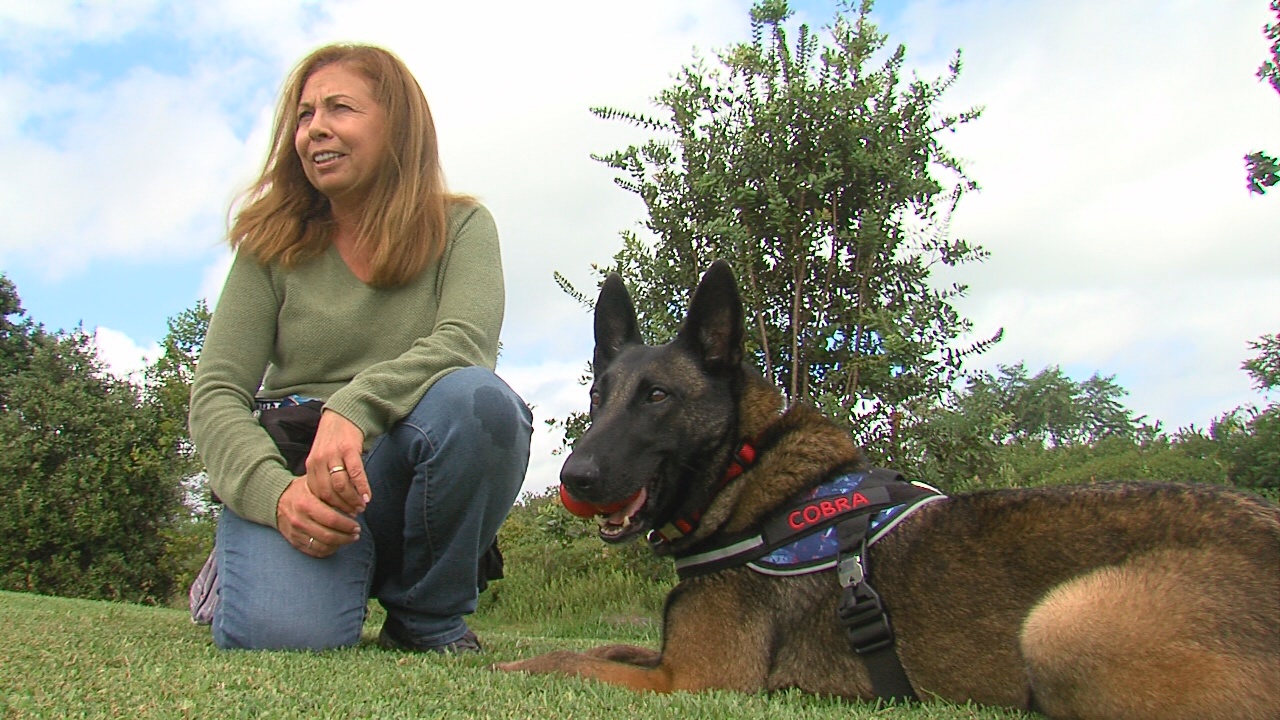 Cobra sniffed her way to the stashed sample, and then sat patiently. "So, she's found it and she's waiting for her reward," Mendel said. "And that's what it's all about, to them is just a game. It's a fun hide-and-seek game for the dog. And they don't even know that they're doing such an important job for us here on the ground."
Officials say preliminary trials show great potential for using dogs for early identification of trees impacted by Rapid 'Ōhi'a Death, also known as ROD.
"The great thing about this is it gives us a detection tool that we don't have right now," Cordell said. "Right now, the way we detect ROD is we see a visible sign when the trees are dying. And at that point, it's too late to do anything. We also have to have manpower – people out in the field, searching or using aerial imagery or drones to find these populations – and then going out and sampling, bringing back the samples, and testing if it's positive or negative, because 'ōhi'a also dies from a lot of other factors. So, to be able to differentiate Rapid 'Ōhi'a Death from other sorts of natural death can be challenging."
"The dog will just detect the ROD-affected trees so that it already it's a much better detection tool than we have to date," Cordell added. "It just really gives us a leg up on detection from preventing movement of Rapid 'Ōhi'a Death into other parts of the forest or other islands that where ROD has not been found yet. So, that's really
valuable."
Cordell also said that "if the trees are or have have ROD in them but they're not showing symptoms yet, we may be able to apply some kind of pesticide to be able to help save those trees. That might be expensive on a landscape scale in terms of a whole forest, but for landowners and for parks and those kinds of places where 'ōhi'a might have some very special value, I think that's a really added benefit. So I think we're just at the beginning of understanding how fantastic this discovery is."