NOTE: We will be updating this page with election results as they come in.
UPDATE: (11:30 p.m.) Summary Report #4
U.S. SENATE
69.3% – (D) HIRONO, Mazie K.
28.1% – (R) CURTIS, Ron
U.S. REPRESENTATIVE, DIST 1
70.4% – (D) CASE, Ed
22.2% – (R) CAVASSO, Cam
01.8% – (L) TIPPENS, Michelle Rose
01.1% – (G) BURD, Zachary B.
00.7% – (N) GRIFFIN, Calvin C.
U.S. REPRESENTATIVE, DIST 2
74.0% – (D) GABBARD, Tulsi
21.7% – (R) EVANS, Brian
GOVERNOR / LIEUTENANT GOVERNOR
61.5% – (D) IGE, David / GREEN, Josh
33.0% – (R) TUPOLA, Andria / KERNS, Marissa Dipasupil
02.5% – (G) BREWER, Jim / ING, Renee
01.0% – (N) TERUYA, Terrence K. / ROBOTTI, Paul F.
STATE SENATOR, DIST 1
79.2% – (D) KAHELE, Kaialii
11.4% – (L) ARIANOFF, Kimberly A.
STATE SENATOR, DIST 3
71.8% – (D) KANUHA, Dru
18.8% – (L) LAST, Michael L.
STATE REPRESENTATIVE, DIST 2
76.4% – (D) TODD, Christopher L.T.
15.4% – (R) MANIPOL-LARSON, Grace
STATE REPRESENTATIVE, DIST 3
69.5% – (D) ONISHI, Richard H.K.
20.1% – (L) FOGEL, Fred F.
STATE REPRESENTATIVE, DIST 7
71.5% – (D) TARNAS, David
21.6% – (R) BELEKANICH, Tom
OHA, AT-LARGE TRUSTEE
12.3% – WAIHEE, John D., IV
09.7% – AHU ISA, Lei (Leina'ala)
08.9% – LEE, Brendon Kalei'aina
08.6% – AILA, William J., Jr.
08.5% – AKANA, Rowena Noelani
07.7% – HANOHANO, Faye (Pua)
HAWAII COUNTY COUNCIL, DIST 7
49.4% – VILLEGAS, Rebecca (Shute)
38.1% – DRYSDALE, Kelly
STATE QUESTION
Shall there be a convention to propose a revision of or amendments to the Constitution?
COUNTY QUESTION
1. HAWAI'I: Public Notice and Voting Requirements for the Salary Commission
Shall Article XIII of the County Charter be amended to require the Salary Commission to publish notification in two daily newspapers in the County, hold at least one public hearing, and provide a detailed report of its findings and conclusions for public inspection, all at least thirty (30) days prior to adopting any increase or decrease of a County elected official or appointed officer's salary, and to further require that the Salary Commission approve by a two-thirds vote of its entire membership any salary increase or decrease greater than ten percent?
2. HAWAI'I: Fiscal Impact Statements for Amendments to the Hawai'i County Charter
Shall Article XV of the County Charter be amended to require that any proposed amendment to the County Charter be accompanied by a Fiscal Impact Statement that describes the immediate and potential future effects that proposed amendment would have on County revenues, expenditures, taxes, and fiscal liabilities, and that the Fiscal Impact Statements be provided to voters no less than sixty (60) calendar days prior to the election where the proposed change is to be voted on by posting on the County website and by being made available for inclusion in any voter information pamphlet on County ballot propositions?
ORIGINAL STORY
(BIVN) – Today is the 2018 General Election in Hawaiʻi and across the United States of America.
Polls in Hawaiʻi close at 6 p.m., and state officials say anyone in line at 6 p.m. will be allowed to vote.
Hawaiʻi Governor David Ige, alongside Josh Green for Lieutenant Governor, looks to keep his seat in the face of a challenge from Republican candidate Andria Tupola and her hopeful Lieutenant Governor, Marissa Kerns. Also on the ballot for governor, Green Party candidate Jim Brewer (with Renee Ing for Lt. Governor) and Non-Partisan Terrance Teruya (with Paul Robotti for Lt. Governor).
Two races for federal office: Democratic U.S. Senate incumbent Mazie Hirono faces a challenge from Republican Ron Curtis, while incumbent U.S. Representative Tulsi Gabbard (D) looks to return to the House over Brian Evans (R).
In the 1st District State Senate race: Sen. Kai Kahele (D) faces Kimberly Arianoff (L). The District 3 State Senate race comes down to Democrat Dru Kanuha and Libertarian Michael Last.
State Representative for District 2: Incumbent Democrat Chris Todd faces a challenge from Republican Grace Manipol-Larson.
State Representative for District 3: Incumbent Democrat Richard Onishi faces a challenge from Libertarian Fred Fogel.
State Representative for District 7: David Tarnas (D) is running against Tom Belekanich (R).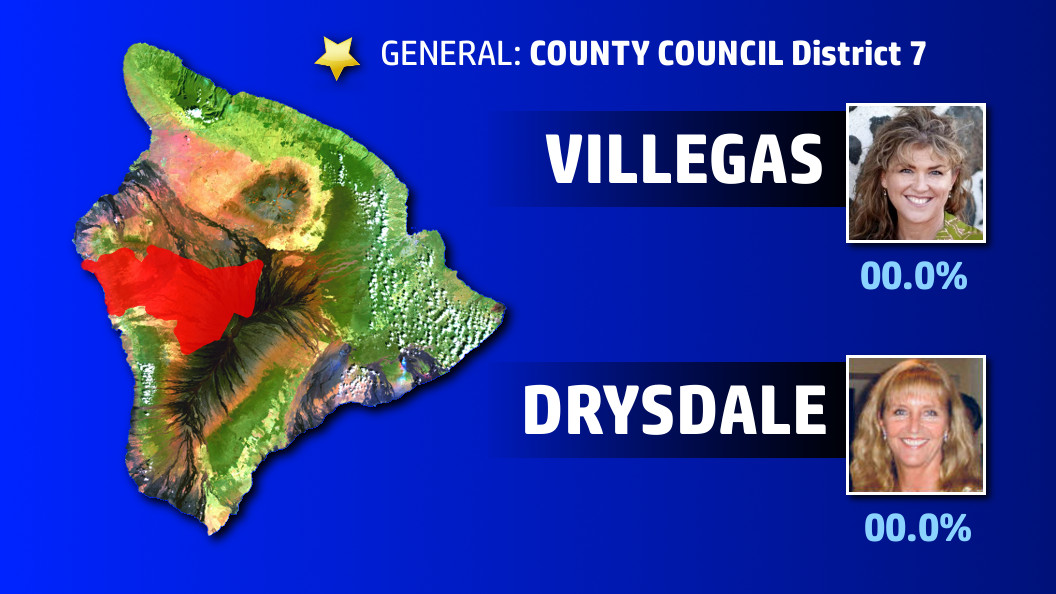 There is a non-partican runoff for Hawaiʻi County Council district 7 between Rebecca Villegas and Kelly Drysdale.
There are At-Large Trustee seats up for the Office of Hawaiian Affairs. On the ballot are Lei Ahu Isa, William Aila, Rowena Akana, Faye Hanohano, Brendon Lee, and John Waihee.