(BIVN) – The 11th Annual Hawaiʻi Island Veterans Day Parade was held in Downtown Hilo on Saturday morning. The parade's theme, "Celebrate Service", focused on the increased involvement of veterans and the community to serve those in need.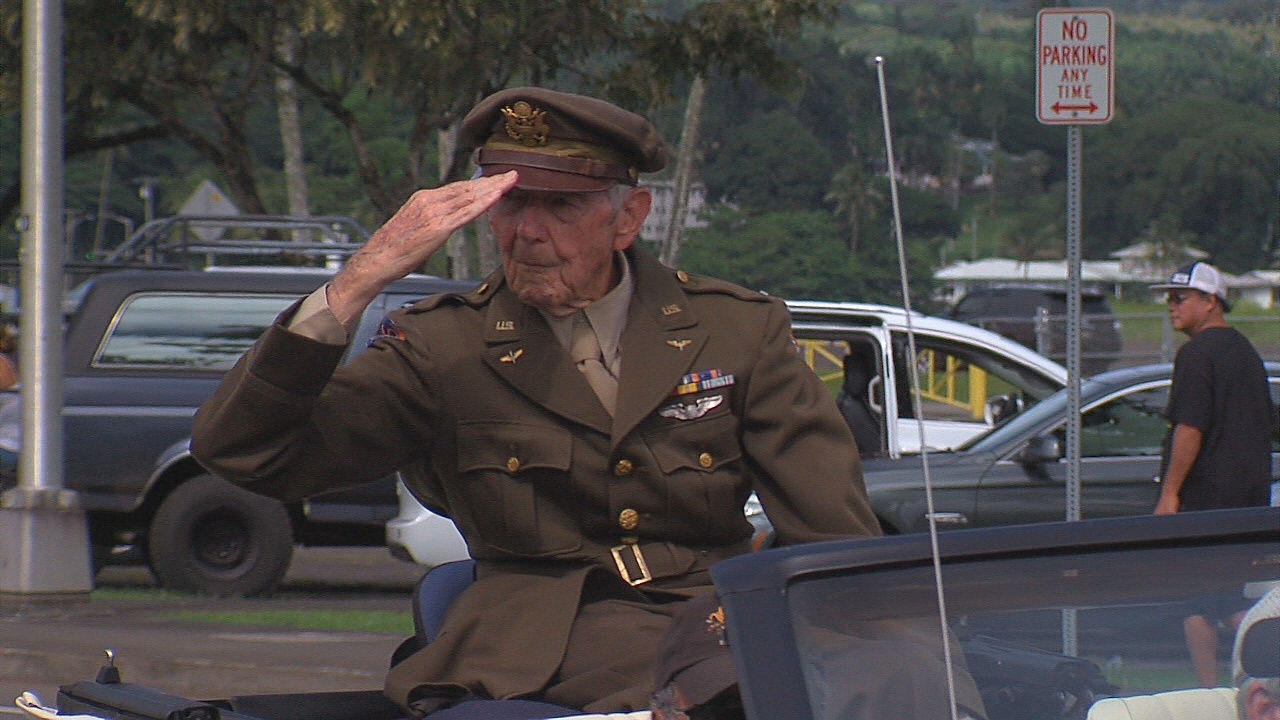 This year's Grand Marshal was Lt. Walter Hughes. According to the parade website:
The free world owes a huge debt of gratitude to Lt. Walter Hughes and all veterans of World War II. Lt Hughes was a B-24 bomber pilot for the Army Air Corps and completed 35 bombing missions over Germany. The war became very personal for Walter on Feb. 21 1942 when a Japanese submarine surfaced and shelled an oilfield at Ellwood California. Several shells exploded in a field where some of Walter's dairy herd were grazing. Walter was born in 1922 and still thrills crowds with his sharp salutes and by wearing his original Army Air Corps uniform at every Veterans Day parade.
The Community Parade Marshal for the 2018 Hawaiʻi Island Veterans Day Parade was Hope Services Hawaii, the non-profit that is "on a mission to End Homelessness in Hawaii." HOPE Services offers support services for Veteran Families with Outreach services, Case management serves, assistance obtaining VA benefits and other public benefits and needed services within the community, parade organizers say.
This year's Business Parade Marshal was netcom enterprises, a Hawaiʻi-based Corporation that provides Cloud Services for Voice and Data solutions with offices in Hawaiʻi, Washington and Oregon. CEO Jeff Gray is a veteran of the US Army.
The parade began at Wailoa State Park, marched up Pauahi Street to Kilauea Avenue, to Waianuenue Avenue and then Kamehameha Avenue. There were just under 80 units, according to the parade website. There were also four pilots doing fly bys in honor of Grand Marshal Lt. Walter Hughes.