(BIVN) – A public meeting was held Wednesday night on a 2016 report produced by the Study Group for the Feasibility of a Non-Commercial Marine Fishing Registry, Permit, or License System for Hawai'i, and the event drew a crowd.
Local fishermen from across East Hawaiʻi filed into the Mokupāpapa Discovery Center, where a tightly controlled informational session adhered to a strict schedule of breakout talks accompanied by poster board presentations. Tension was in the air, as many attendees suspected the feasibility study was designed to steer authorities in the direction of implementing new fishing fees, even as moderators tried to assure the crowd that the study was neutral on the issue.
According to the Hawaiʻi Department of Land and Natural Resources, which oversees the Division of Aquatic Resources (DAR) that would ultimately implement such regulations:
The Study Group was jointly convened by Conservation International Hawai'i and the Western Pacific Regional Fishery Management Council, and consisted of fisheries resource managers, experts, and representatives from various fishing organizations and interest groups. The Study Group examined the potential benefits and impacts of different forms of a non-commercial marine fishing registry, permit, or license system and specifically focused on the ability of such a system to meet three primary fishery management objectives: (1) provide additional and more robust data to support fisheries management, (2) foster more two-way dialogue between fishers and managers, and (3) create sources of independent, continuous funding to support effective fisheries management and enforcement. The process included interviews with fisheries managers from other coastal states, a detailed economic feasibility analysis, and consultation with legal experts, including an expert in native Hawaiian law.
DLNR says that in order for it to establish such a license, "it would first need authority from the state legislature. DAR would then proceed to work through a rule-making process that involves extensive opportunities for public input."
In a Frequently Asked Questions page, the DLNR says "license revenues would be deposited into an existing sport fish special fund, and could not be used for any purpose other than to benefit fishers. This includes education, enforcement, and management projects."
When it comes to questions about Native Hawaiian rights, the DLNR answers: "A license must not impose an unreasonable burden on the exercise of traditional and customary Native Hawaiian rights. The State may consider fee waivers or other measures to ensure that Native Hawaiian rights are protected in accordance with the State constitution."
The Hawaiʻi DLNR also says "the right to fish is subject to the State's right and responsibility to manage the resources as provided in the State constitution."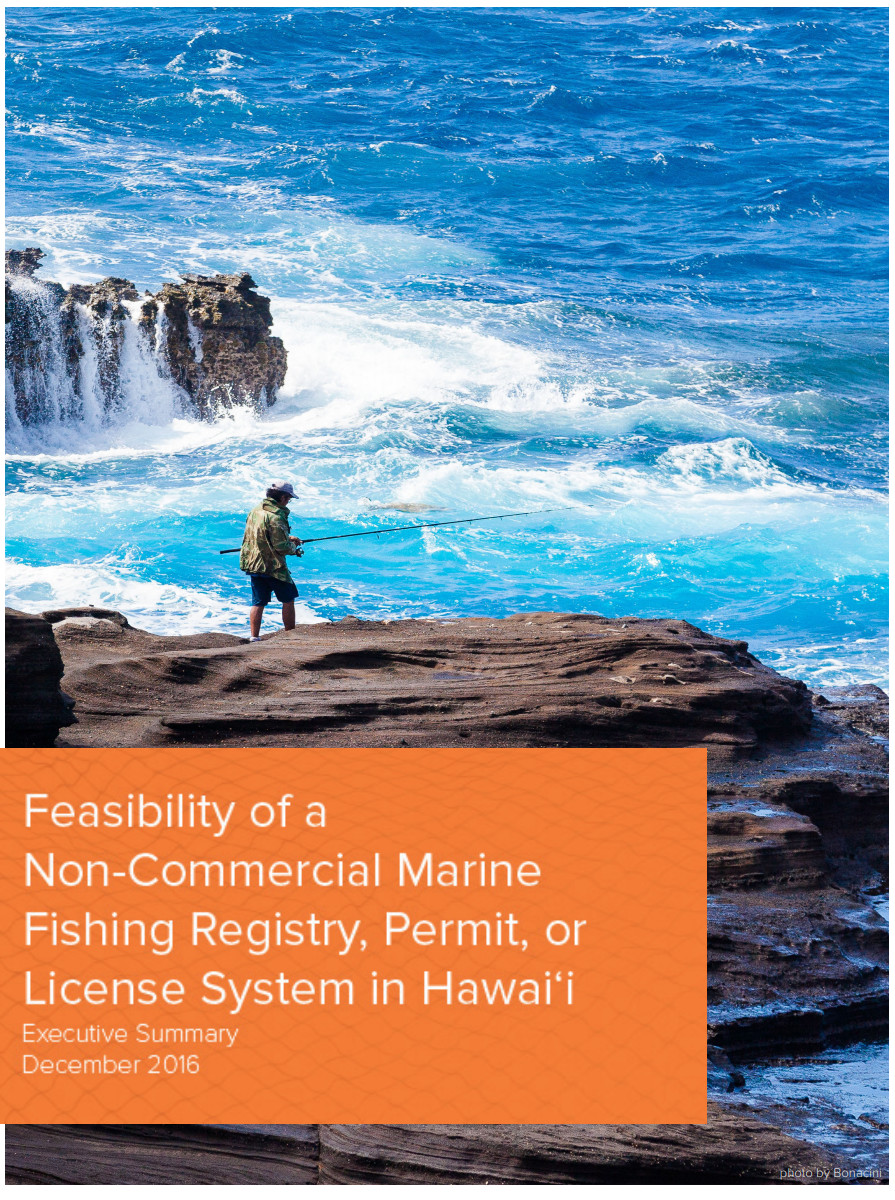 The final report was finished and made available in December 2016. The summary of the report along with its many appendices can be found here on the DLNR website.
The meeting in Hilo was preceded by a meeting in Kona the night before, held at the Natural Energy Laboratory of Hawaiʻi Authority Gateway Center.