(BIVN) – The former site of the old Hilo jail will soon be home to a new Medium Security Housing Unit at the Hawaiʻi Community Correctional Center.

A draft environmental assessment has been published, with an anticipated finding of no significant impact.

According to the project summary found in the document:
With increasingly aged and crowded jail facilities, the Hawaii Department of Public Safety (PSD) is moving forward with an overall program to improve its corrections infrastructure. This includes alleviating crowding that exists at the Kauai Community Correctional Center (KCCC), Maui Community Correctional Center (MCCC), and Hawaii Community Correctional Center (HCCC) to provide safe, secure, and humane environments for the care and custody of adult male and female offenders. PSD is proposing to develop Medium Security Housing Units for inmates who are currently housed at KCCC, MCCC and HCCC. The proposed Medium Security Housing Unit at HCCC will accommodate up to 144 inmates to address the crowded conditions; provision of such housing is not intended to increase the HCCC inmate population beyond its current number. Instead, inmates housed in cramped conditions and in spaces not well suited for inmates would be accommodated in a housing unit designed and constructed to state and national standards. The housing unit would help achieve a safe, secure, and humane environment for the care and custody of male and female offenders and is representative of PSD's overall program of improving its facilities.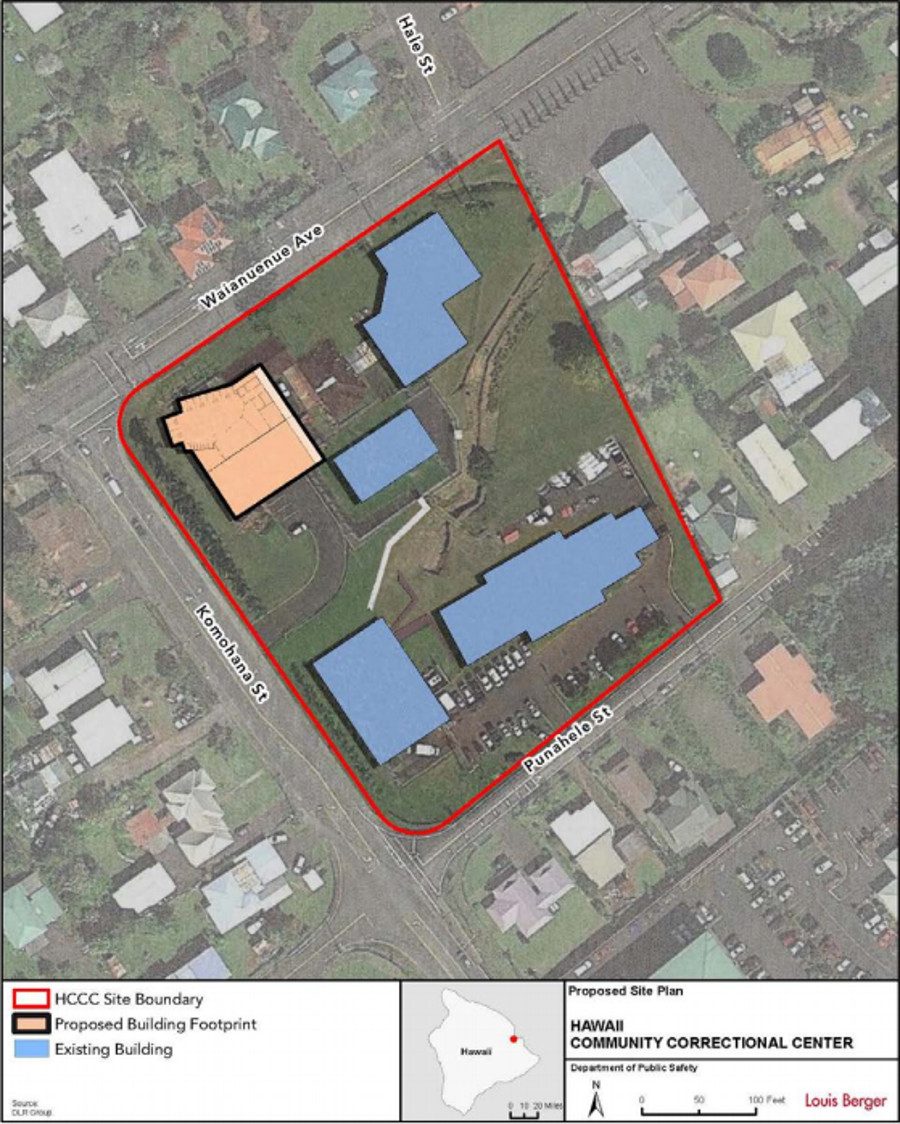 According to the draft EA, Hawaii Community Correctional Center (HCCC) opened in Hilo as a 22 bed facility in 1975. The jail currently has a design capacity of 206 beds. "Unlike other CCCs, it has a Work Furlough Center located on a site outside of Hilo," the EA says. "The CCC was sited next to the original county jail in a Hilo location that, at the time, was largely undeveloped. As of November 30, 2018, HCCC housed approximately 387 inmates or 71 percent above its operational capacity of 226 beds (PSD, 2018)."

HCCC acts as the local detention center for the Third Circuit Court, the document explains:
As a jail, HCCC operates substantially different than a prison. A jail is a facility where individuals are held for trial. These may be persons who either could not meet their bail or may not have qualified for bail according to the courts. In certain cases, a jail may also house individuals who have been to court, convicted, and sentenced to short term incarceration – usually less than a year. However, inmates housed at CCCs are under the jurisdiction of the Courts and not PSD and detainees in jail can only be released, placed in outside programs, or assigned to other alternatives to incarceration by the Courts.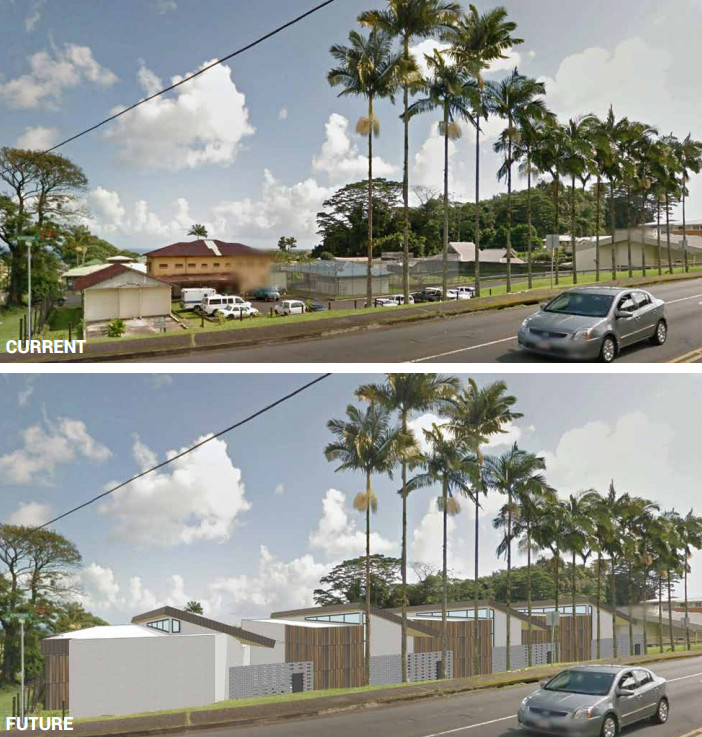 HCCC "is one of the most severely crowded facilities in Hawaii," the document sates. "Most of the facility's support and program components are rated functionally and operationally inadequate to support the current population. Various studies conducted for PSD over the past decade confirmed the necessity to alleviate HCCC crowding. Based on the analysis of existing conditions, all buildings comprising HCCC need replacement and/or major renovation or repair. Furthermore, most of the support and program components were rated as inadequate or marginal functionally and operationally as they are significantly undersized to serve the current population."

The proposed project has an estimated project cost of $15 million, the draft EA says, including planning, design, and construction. Construction is preliminarily scheduled to begin in 2020 and be completed in 2021, public safety officials say.