(BIVN) – The Pacific has its first named storm of the 2019 hurricane season.
As of Wednesday morning, Tropical Storm Alvin was located in the about 450 miles southwest of Manzanillo, Mexico, and was moving toward the west near 14 mph.

A westward to west-northwestward motion with some decrease in forward speed is expected over the next few days, as Alvin slowly makes its way in the direction of the Central Pacific. However, Alvin is forecast to weaken in just a few days without reaching hurricane strength. It is not expected to be a threat to Hawaiʻi.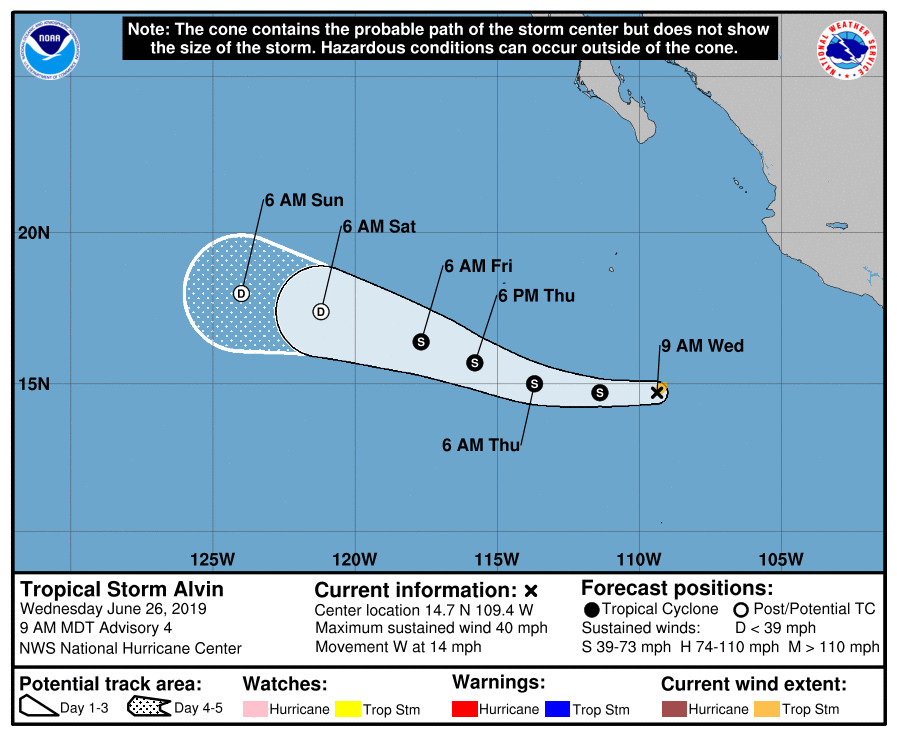 The National Weather Service's National Hurricane Center wrote this in its morning discussion:
Visible and passive microwave imagery this morning indicate that the center of the tropical cyclone is located farther south than previously estimated, possibly due to a reformation of the center. The center of the cyclone is now embedded near the deepest inner-core convection, and some overall improvement in the convective pattern is evident. Satellite intensity estimates indicate that the cyclone has reached tropical storm strength, and the initial intensity of 35 kt is based on the latest Dvorak estimate from SAB. Alvin's formation marks the 3rd latest date of the development of the first named storm in the eastern Pacific basin during the satellite era (since 1966).

Alvin has turned a little south of due west and the initial motion estimate is 260/12 kt. The new NHC forecast track over the first couple of days has been adjusted southward, in large part due to the more southerly reformation of the center. Despite this, the overall track forecast philosophy has not changed. Alvin is expected to move westward and then west-northwestward with a gradual decrease in forward speed over the next few days along the southwestern periphery of a subtropical ridge.

There remains about a 24-36 hour window for some additional strengthening to occur over warm SSTs in a low-shear and sufficiently moist environment. This environment, combined with the improving structure of the storm, supports raising the intensity forecast a little in the near term. The new NHC forecast is in good agreement with the dynamical models and the intensity consensus. After 36 hours, the forecast track takes Alvin over progressively cooler waters and into a drier and higher-shear environment. This should result in steady weakening, with the cyclone likely becoming devoid of deep convection by 72 hours, and dissipating by day 5.