(BIVN) – Hurricane Barbara continued to intensify on Tuesday, nearing category 5 strength, with maximum sustained winds near 155 mph with higher gusts.
The National Hurricane Center in Miami says little change in strengthen is
expected tonight, and some additional strengthening could occur. A steady to rapid weakening trend is forecast to begin by Wednesday afternoon, and the storm is expected to degenerate into a post-tropical low by the time the cyclone moves west of 140W longitude and into the central Pacific basin.
The National Weather Service in Honolulu made mention of Barbara in its 3 p.m. discussion, saying that the "official track currently will have Barbara crossing into the Central Pacific Hurricane Center's area of responsibility sometime on Saturday, most likely Saturday afternoon or evening, as a weaker system. Its still too early to determine the details of how Barbara will impact our local weather, due to uncertainty in the strength and track as she moves closer to the islands. The global models indicate an increase in moisture, and that trend has been reflected in the forecast."
"Forerunners from the swell produced by East Pacific Tropical Cyclone Barbara may arrive along east facing shores of the Big Island, and possibly Maui, starting late Friday," the National Weather Service added. "It is too early to know the exact height of this swell, so we will continue to monitor future tropical cyclone advisories and model guidance to determine any potential impacts that may occur along exposed shorelines."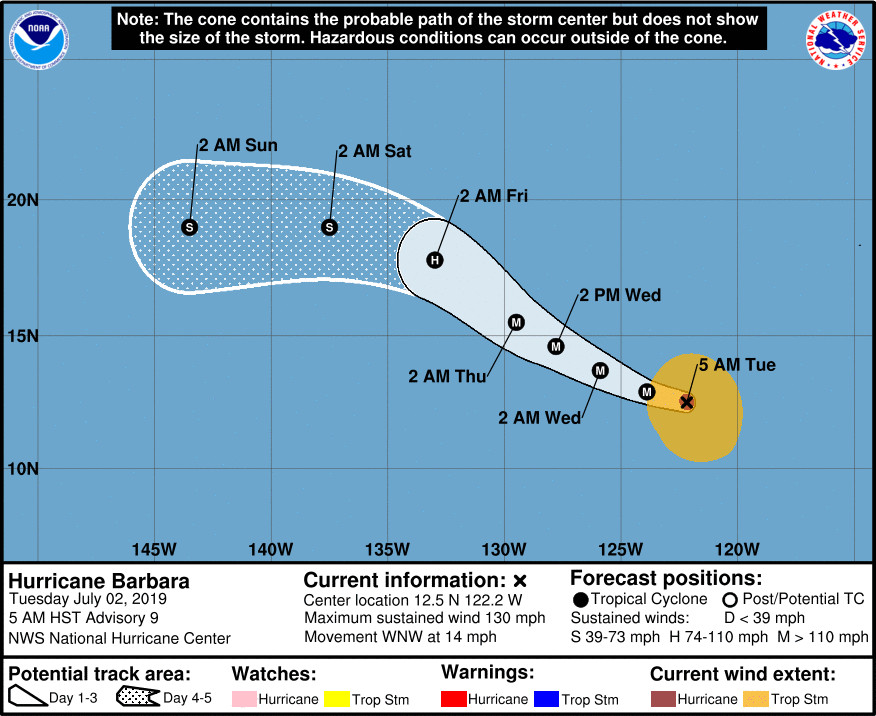 Currently, hurricane-force winds extend outward from Barbara up to 45 miles from the center and tropical-storm-force winds extend outward up to 185 miles.
The National Hurricane Center's 5 p.m. HST discussion:
GOES-17 visible and infrared satellite images, along with passive microwave satellite data, indicate that Barbara has continued to rapidly intensify. A 15-nmi diameter clear eye with temperatures warmer than 21 deg C has developed in the center of a circular CDO feature consisting of cloud tops colder than -70 deg C. Satellite intensity estimates have been vacillating between T6.8/135 kt from UW-CIMSS ADT to T7.0/140 kt from TAFB, NHC objective-AODT, and CIMSS SATCON. Since the T7.0/140-kt estimates have only been intermittent, the intensity has been raised to a solid 135 kt, or just below the category-5 threshold.

The initial motion estimate is 285/12 kt. There is no change to previous forecast discussions. Barbara is forecast to remain south of a pronounced deep-layer ridge throughout the forecast period, resulting in west-northwestward to northwestward motion through 48 hours, followed by a turn toward the west by 72 hours when Barbara is expected to be a rapidly weakening and vertically shallow cyclone. The latest NHC track guidance is tightly packed around the previous forecast track, so the new official forecast track is essentially just an update and an extension of the previous advisory track, and closely follows a blend of the consensus models HCCA, TVCE, and TVDG.

Barbara has probably peaked in intensity, although another 5-kt increase in strength tonight during the convective maximum period is a distinct possibility, which would bring the powerful hurricane to category 5 status. However, all of the available intensity guidance is unanimous in indicating a weakening trend will begin in 12 hours or so due to the development of cold upwelling beneath the hurricane, coupled with a likely eyewall replacement cycle. The 26-deg-C SST isotherm lies east-west along 17N latitude, and Barbara is forecast to move over much cooler waters by 48 hours, at which time more prodigious cold upwelling beneath the cyclone is expected to develop, causing a rapid weakening trend to ensue. Increasing southwesterly to westerly vertical wind shear in excess of 20 kt is forecast to develop by 96 hours, resulting in Barbara degenerating into a post-tropical low by the time the cyclone moves west of 140W longitude and into the central Pacific basin. The new NHC official intensity forecast is similar to the previous advisory, and is a little lower than the intensity consensus models HCCA and IVCN.
NOTE: Beginning this hurricane season, all National Hurricane Center eastern Pacific advisory products that utilize local time, and the corresponding graphical products, will use Hawaiian Standard Time (HST) instead of Pacific Daylight Time (PDT) or Standard Time (PST) if the final forecast point is west of 140W. Since Barbara's day 5 official forecast point is now west of 140W, advisory products are now being issued in Hawaiian Standard Time.

FORECAST POSITIONS AND MAX WINDS

INIT 03/0300Z 13.1N 124.6W 135 KT 155 MPH
12H 03/1200Z 13.7N 126.0W 130 KT 150 MPH
24H 04/0000Z 14.7N 127.8W 120 KT 140 MPH
36H 04/1200Z 15.9N 129.5W 105 KT 120 MPH
48H 05/0000Z 17.1N 131.3W 90 KT 105 MPH
72H 06/0000Z 18.9N 135.3W 60 KT 70 MPH
96H 07/0000Z 19.2N 140.7W 35 KT 40 MPH…POST-TROPICAL
120H 08/0000Z 19.0N 147.0W 30 KT 35 MPH…POST-TROP/REMNT LOW