(BIVN) – Tropical Storm Barbara is fading fast, the National Hurricane Center in Miamai says, and will likely be declared post-tropical later tonight.
As of 5 p.m., Barbara was 1,230 miles east of Hilo, and moving west near 14 mph. Maximum sustained winds have decreased to near 50 mph with higher gusts.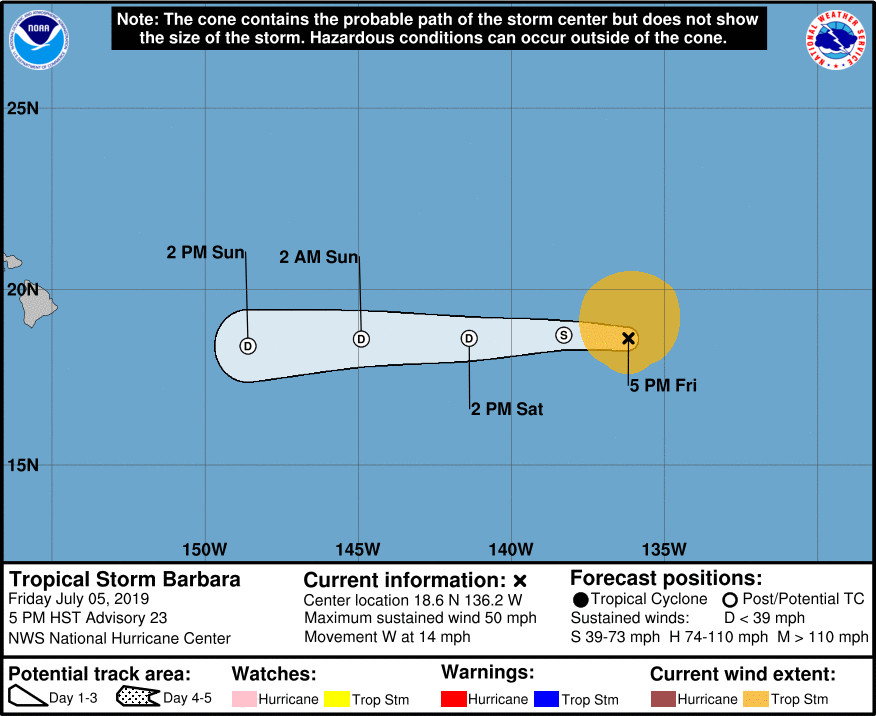 Although Barbara is about to lose its status as a tropical storm, the United States Coast Guard is still urging caution as the storm's remnants head towards Hawaiʻi Island. In a media release, the USCG wrote:
Barbara is forecast to cross the 140 W meridian as a weak tropical storm or remnant low Saturday morning and is expected to reach the Big Island of Hawaii as a remnant low-pressure system or tropical wave Monday morning, bringing trade winds of 28 to 35 mph and tropical rain to the windward side. The remnants of Barbara may cause rain, localized flooding, and storm surge. Small craft advisories for the usual trade wind areas and potential high surf warnings for east-facing Big Island coastlines, including the port of Hilo, are anticipated.
The Coast Guard says it will provide safety messaging and port condition updates as necessary for this and future storms, adding that all commercial harbors are currently open.
According to a Friday afternoon update from the National Weather Service in Honolulu:
Both the GFS and ECWMF align well with the latest forecast track from NHC, and show the remnant low weakening into a surface trough as it pushes over or just south of the Big Island Monday. The surface trough is then expected to continue to track westward to the south of the state Monday night through Tuesday night. Based on this track, breezy trade winds appear likely Sunday night through Monday night, with the trades easing to moderate and locally breezy levels Tuesday and Tuesday night as the gradient relaxes.

Deep tropical moisture with precipitable water (PW) values of 2.0 inches or greater will begin to move into the Big Island Sunday night, then spread eastward across the rest of the island chain Monday and Monday night. Drier air will then begin to work into the region from east to west Tuesday and Tuesday night. Overall, with trade winds prevailing through the period, we should see wet conditions over windward areas as the deepest tropical moisture moves through, with showers reaching leeward areas more regularly. Some of the rainfall could be heavy, particularly over the Big Island and windward terrain of the remaining islands, with an isolated thunderstorm not out of the question.
The swell out of the east associated with Barbara will continue to fill in tonight and through the weekend, the NWS in Honolulu wrote. "Hilo buoy was indicating a steady rise from the east over the 12 to 16 second bands this morning, but since then the energy has leveled off this afternoon," the forecasters said. "As the swell continues build over the weekend, we will likely see advisory level surf for the Big Island and Maui by Saturday, then for all east facing shores by the end of the weekend."
Here is the 5 p.m. discussion from the National Hurricane Center:
Barbara is fading fast. The cyclone has been devoid of deep convection since this morning and unless it has an unexpected resurgence of thunderstorm activity during the next few hours, it will likely be declared post-tropical later tonight. Barbara's intensity is set at 45 kt, assuming that the winds have decreased a little in 6 hours since a pair of ASCAT passes showed 45-50 kt peak winds. High shear, low mid-level moisture, and cool SSTs should prevent Barbara from recovering during the next couple of days, so a steady spin down is forecast. This should cause the system to open into a trough within the next three days, if not sooner.

Barbara is now moving westward, with an initial motion of 275/12 kt. A low-level ridge to the north of the cyclone will keep it moving generally westward with a slight increase in speed for the next few days until Barbara dissipates. No major changes were made to the NHC track forecast, which is based primarily on a blend of the GFS and ECMWF models.

FORECAST POSITIONS AND MAX WINDS

INIT 06/0300Z 18.6N 136.2W 45 KT 50 MPH

12H 06/1200Z 18.7N 138.3W 35 KT 40 MPH…POST-TROPICAL

24H 07/0000Z 18.6N 141.4W 30 KT 35 MPH…POST-TROP/REMNT LOW

36H 07/1200Z 18.6N 144.9W 25 KT 30 MPH…POST-TROP/REMNT LOW

48H 08/0000Z 18.4N 148.6W 20 KT 25 MPH…POST-TROP/REMNT LOW

72H 09/0000Z…DISSIPATED