(BIVN) – Tropical Storm Erick, set to become a hurricane, was 1,310 miles east southeast of Hilo as of 5 a.m. HST Monday, while Tropical Storm Flossie strengthens behind it some 2,725 miles east southeast of Hilo.
Both storms are moving west and are expected to continue to move towards the Hawaiian Island over the next week. The National Hurricane Center says Erick "is expected to become a hurricane any time soon and then potentially a major hurricane on Tuesday." A weakening trend is forecast to begin by later in the week as it nears Hawaiʻi.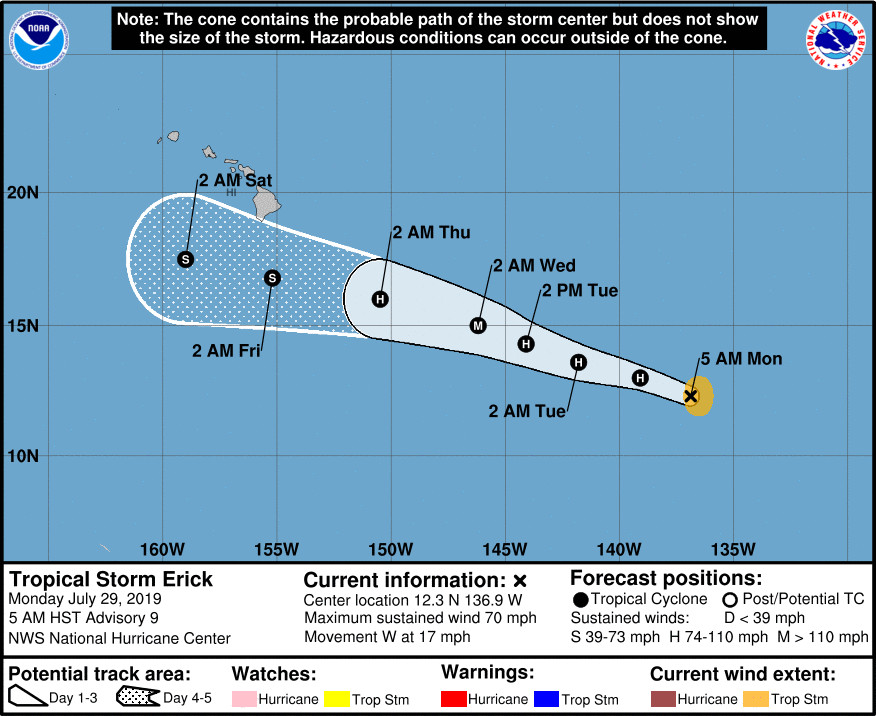 The current forecast track keeps the center of the Tropical Storm Erick just south of the Big Island, the National Weather Service in Honolulu says. "Even if the center of the storm passes south of the state some impacts from the storm may extend well north of the low center. For now we are forecasting an increase to moisture levels, clouds, and showers; starting over the Big Island by late Thursday and spreading westward to the smaller islands into the weekend. Additional local island by island impacts are highly dependent upon the size, intensity and track of Erick as it moves into the Hawaii region later this week. Our confidence in these additional impacts remains low at this time, as slight changes with Erick's path and intensity will turn into large changes in specific island forecasts."
Also, the National Weather Service says "swells generated by Erick will cause surf to reach the High Surf Advisory (HSA) levels along east facing shores of the Big Island starting Wednesday night, with warning level surf a possibility Thursday night and Friday."
Tropical Storm Flossie, following Erick, is also expected to become a hurricane.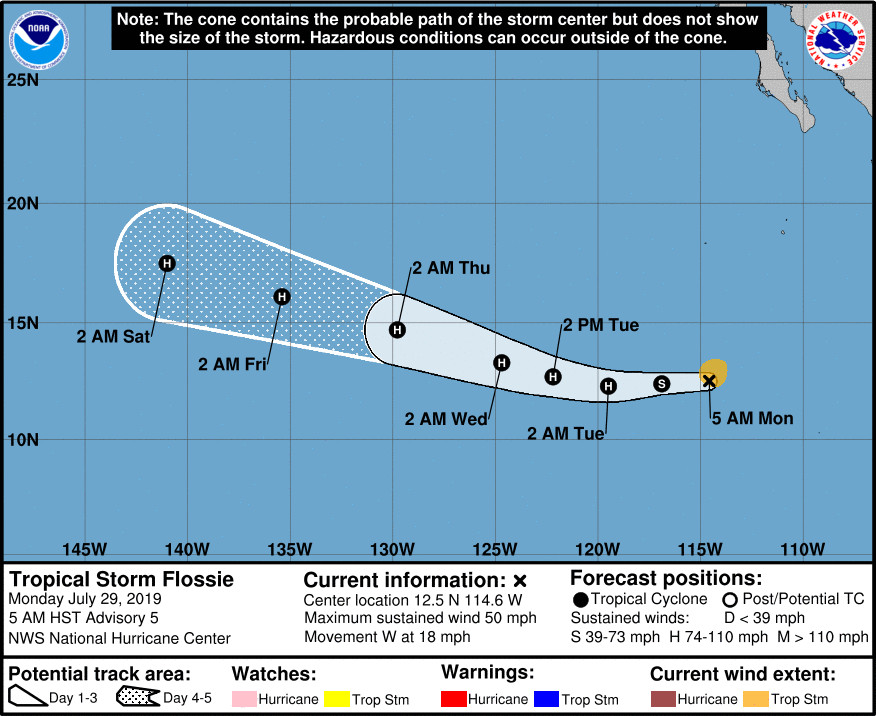 "Extended global models bring the center of the storm into the Hawaii region around August 5th," the National Weather Service in Honolulu wrote this morning. "August is typically the most active month for tropical cyclones in the Central Pacific. Prepare your family for hurricane season by storing at least 2 weeks of food, medicines, and water supplies in your home."