(BIVN) – As two powerful storm brew over the Pacific, emergency officials say "now is the time for preparation to avoid long lines at gas stations, grocery stores, and ATMs" across Hawaiʻi.
Category 4 Hurricane Erick continues to intensify, about 840 miles east southeast of Hilo. Meanwhile, Flossie has also strengthened into a hurricane 2,290 miles east southeast of Hilo.
While there are no coastal watches or warnings in effect, the National Weather Service in Honolulu has posted a Tropical Storm Watch for leeward and southern waters off the Big Island as of 11:30 a.m. HST.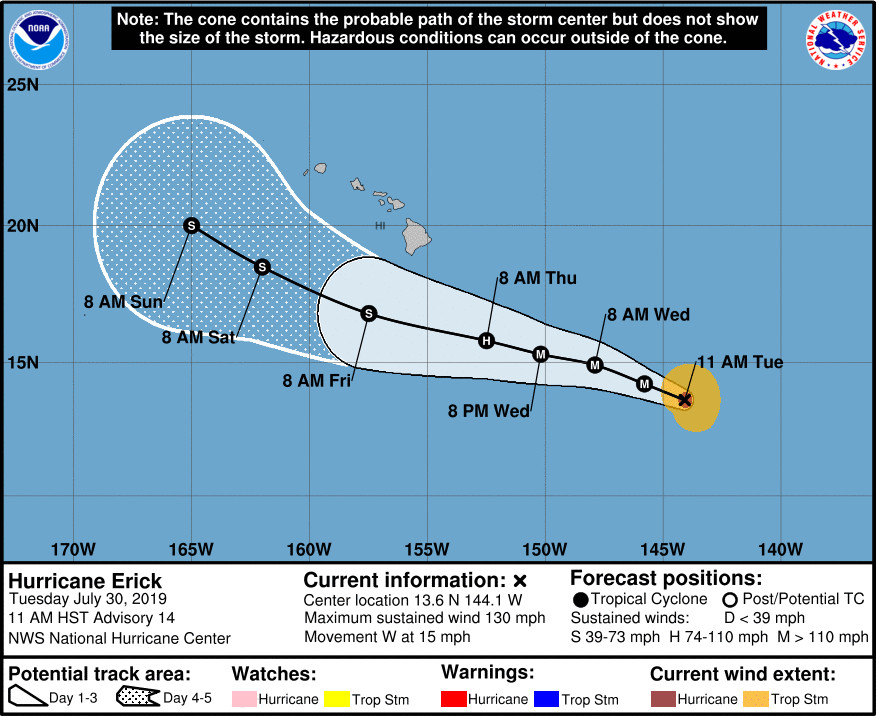 Hurricane Erick is expected to pass to the south of Hawaiʻi, forecasters say, and at the same time should rapidly weaken. "Once Erick encounters this
southwesterly shear, associated with a semi-permanent upper-level trough northwest of Hawaii, a rapid weakening trend is expected," the Central Pcific Hurricane Center wrote at 11 a.m. "In the meantime, slight intensification is anticipated, although an eyewall replacement cycle cannot be completely ruled out."
"The trade winds will strengthen on Thursday statewide as Tropical Cyclone Erick nears the islands," the National Weather Service in Honolulu said. "As of the 5 am HST advisory, the center of Hurricane Erick appears to pass south of the Big Island with some of the winds along the northern periphery reaching the Big Island coastal waters and/or southern end of the Big Island. This forecast may change in the coming days. Island impacts are highly dependent upon the size, intensity and track of Erick as it moves through the Hawaii region."
"Regardless of the winds, rain along the northern end of the Erick will get caught up in the trade wind flow and ushered over the windward sections of the Big Island and possibly Maui beginning Thursday into Thursday night," the Honolulu forecasters wrote. "By Friday, some of the showers will reach windward sections of the remaining islands. Some of the rainfall could potentially be heavy as PW will jump to over 2 inches, particularly for the Big Island. Drier air will start moving in Saturday and Saturday night bring a brief respite from the rain."
Additional strengthening of Hurricane Flossie is also expected during the
next few days.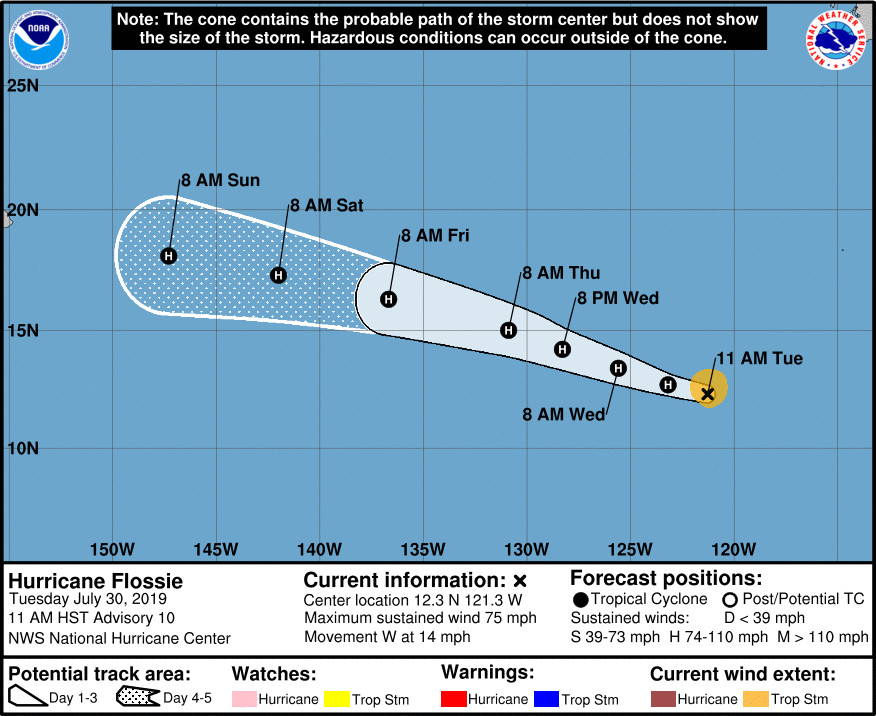 "Hurricane season brings the very real threat of high winds, rain, storm surge and potential flooding to the Hawaiian Islands. There could be significant impacts even if a hurricane doesn't hit us directly. I urge Hawai'i's residents and businesses to prepare now. Make an emergency plan, talk about it with your families and employees, and gather supplies to ensure that our communities are resilient," said Governor David Ige in a state media release.
The Hawaiʻi Emergency Management Agency is taking the opportunity to remind residents to prepare an "emergency kit" of a minimum of 14 days of food, water, and other supplies. The HI-EMA release says:
"We advocate for a 14-day recommendation because of Hawai'i's location in the Pacific during a disaster," said Thomas Travis, Administrator of HI-EMA. "Everyone who plans ahead and prepares an emergency kit helps not only themselves, but they also help their entire community deal with a disaster."

For homeowners, now is also the time to think about insuring one's property.

"Know what to do pre- and post-event to protect yourself and your family, and minimize significant financial impacts," advises Insurance Commissioner Colin Hayashida. "With the potential of a more active hurricane season, residents can be more prepared ahead of time by reading their insurance policies and taking an inventory of their home and valuables."

Hurricane season runs from June 1 to November 30. Last year's season brought on the storm named Lane, which, had it maintained its course towards the islands, would have resulted in devastating potential damage to residents and their property. It most likely would also have resulted in catastrophic destruction to our economy due to the isolated location of Hawai'i. With the shutdown of ports, goods and services would have been weeks or even months away.

HI-EMA suggests keeping your family's supplies fresh for the entire season by rotating, consuming, and replenishing them over time.
The emergency officials also recommend that residents and visitors take the following actions in preparation for a possible hurricane or tropical cyclone:
Talk with family members and develop a clear understanding of what you will do if a hurricane or tropical storm threatens. Prepare an action plan that includes details such as whether your family intends to shelter in place or evacuate.
Know if your home is in an inundation zone, flood zone, or susceptible to high winds and other hazards. Know if your home is retrofitted with hurricane resistant clips or straps.
Stay tuned to local media and their websites and/or apps regarding weather updates.
Sign up for local notification systems (i.e., HNL.Info).
Sign up for a community emergency response team.
Get to know your neighbors and community so you can help each other.
Walk your property and check for potential flood threats. Clear your gutters and other drainage systems. Remove and secure loose items. Keep your car's gas tank filled.
Prepare your pets by checking or purchasing a carrier and other preparedness items. A pet carrier is necessary for your pet's safety if you plan to evacuate to a pet-friendly shelter. Don't forget 14 days of food and water for your furry family members.
Set aside an emergency supply of any needed medication and keep a copy of your prescriptions in case you run out of medication after a disaster.
Secure your important documents in protective containers including copies of your insurance policies, a home inventory of valuables, and your agent's or insurer's contact information.
Visitors should download the GoHawaii App and read the Hawaii Tourism Authority's Travel Safety Brochure.
Build an emergency kit – now.