(BIVN) – Erick is now a major hurricane, 920 miles east southeast of Hilo as of 5 a.m. Tuesday morning.
"The eye of hurricane became much more distinct in infrared satellite imagery overnight, which indicates that rapid intensification has occurred," the Central Pacific Hurricane Center Honolulu said in its morning discussion.
Maximum sustained winds are near 115 mph (185 km/h) with higher gusts, making Erick a category 3 hurricane on the Saffir-Simpson Hurricane Wind Scale. Some additional strengthening is expected later today, forecasters say.
"By Wednesday, gradual weakening is possible, with a more rapid weakening trend expected on Thursday," forecasters say.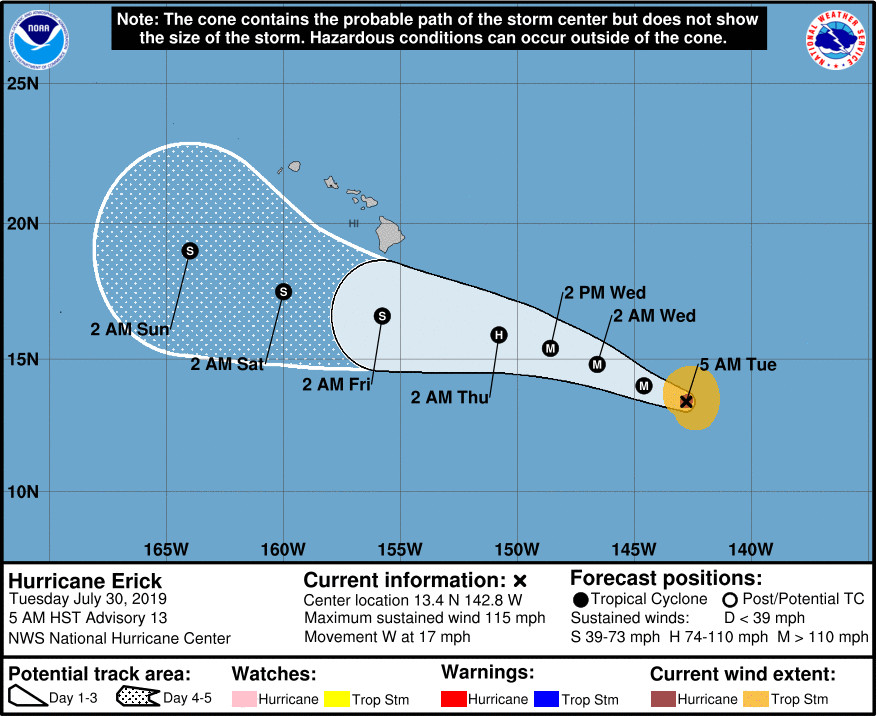 The Central Pacific Hurricane Center says "the circulation around a broad upper-level trough in the vicinity of the Hawaiian Islands will likely cause a significant increase in shear (at least 25 kt from the west) as Erick continues to move toward the west-northwest. Therefore, this advisory continues to show rapid weakening during the 2-3 day time frame. This weakening trend will likely persist during days 4 and 5."
Earlier this morning, the National Weather Service in Honolulu wrote:
Hurricane Erick will continue to move westward over the next several days, and the center of the system is forecast to move just south of the Big Island on Friday bringing enhanced clouds and showers into the state. Erick`s current forecast track will bring up deep tropical moisture over the islands with higher humidity and Precipitable Water levels above 2 inches forecast through the weekend. Deepening moisture and instability favors increasing shower trends starting over the eastern slopes of the Big Island starting late Thursday night, with clouds and showers spreading westward into the smaller islands on Friday. Additional impacts such as higher surf, strong winds or locally heavy rainfall are possible even with the center of this tropical system passing south of the Big Island. These additional local island impacts are highly dependent upon the size, intensity and track of Erick as it moves through the Hawaii region. A wet weather pattern for sure.
Forecasters also say swells from Erick "will likely produce surf above the High Surf Advisory (HSA) levels along east facing shores of the Big Island starting Wednesday night, with warning level surf possible Thursday and Friday."
Lurking behind Erick is Tropical Storm Flossie, which is likely to become a hurricane later today.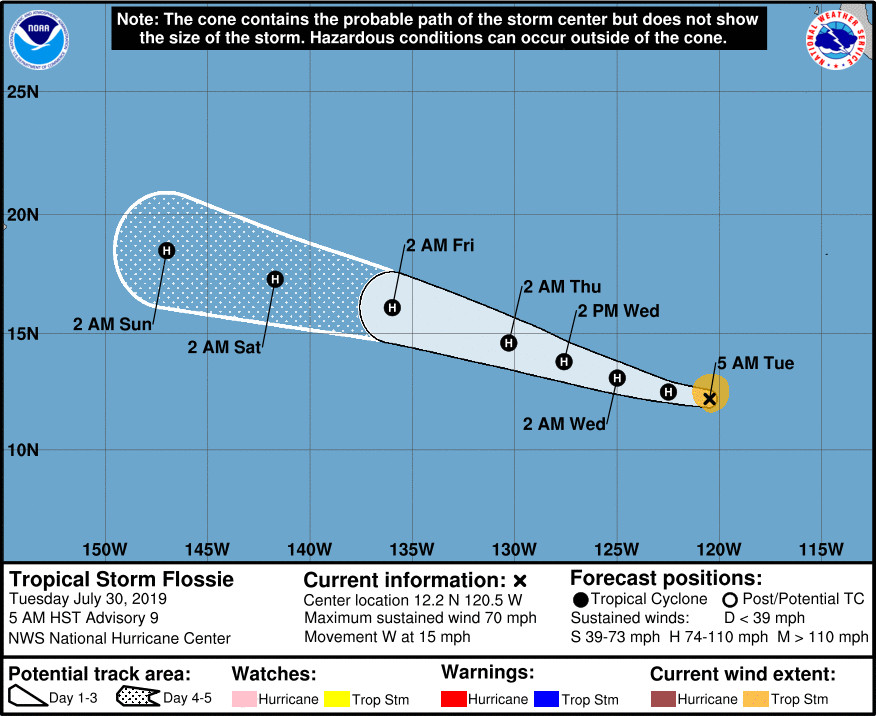 "Extended range global models bring this storm system into the Hawaii region around August 5th," the National Weather Service says. "August is typically the most active month for tropical cyclones in the Central Pacific. Prepare your family for hurricane season by storing at least 2 weeks of food, medicines, and water supplies in your home."