(BIVN) – Hurricane Erick continues to slowly weaken 615 miles southeast of Hilo. Still, as of 5 a.m. HST, Erick is a category 3 hurricane on the Saffir-Simpson Hurricane Wind Scale, with maximum sustained winds near 120 mph.
Erick is forecast to weaken during the next 48 hours, and is expected pass south of the Big Island Thursday night.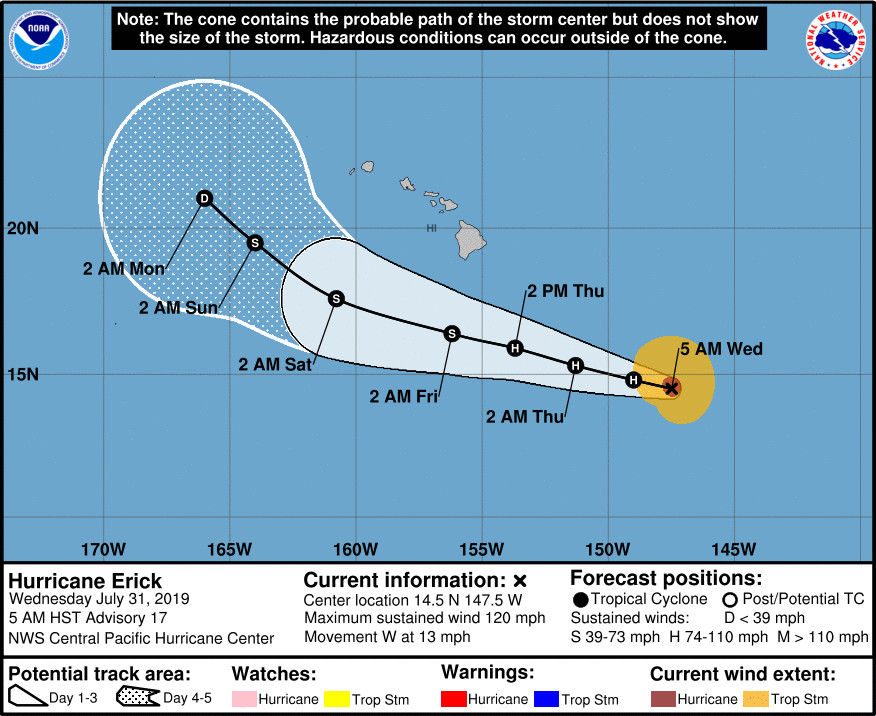 Over the southern coastal waters (not the island) a Tropical Storm Watch was upgraded this morning to a Tropical Storm Warning. No islands are included in this Tropical Storm Warning, so far, the National Weather Service says. "However, due to the increasing threat for heavy rain associated with Tropical Cyclone Erick, a Flash Flood Watch was issued this morning for the Big Island of Hawaii from Thursday afternoon through Saturday morning."
"Deep tropical moisture and instability will spread across the eastern islands starting on Thursday, with active showers spreading into all islands from Friday into the weekend," the Honolulu forecasters said. "Additional impacts associated with Erick's passage, such as high surf and stronger winds are possible."
"Swells from Erick will likely produce surf above the High Surf Advisory (HSA) levels along east facing shores of the Big Island starting tonight, with warning level surf possible Thursday and Friday," the National Weather Service said.

The U.S. Coast Guard Captain of the Port set port condition WHISKEY for Hawaiʻi County on Tuesday afternoon. Both commercial ports of Hilo Harbor and Kawaihae Harbor currently remain open to all commercial and recreational traffic.
Following behind Erick is Hurricane Flossie, which is is expected to weaken to tropical-storm strength later today, before re-strengthening later this week back into a hurricane.
While Flossie's forecast track in the direction of Hawaiʻi has not changed much, there have been alterations to projected intensity of the storm. From the National Hurricane Center's 5 a.m. discussion:
Given the current structure of Flossie (or lack thereof), a substantial change was made to the intensity forecast. The global models indicate that the current shear affecting the cyclone will likely continue for another 24 h or so and Flossie is now forecast to become a tropical storm during that time. In fact, the statistical guidance suggests that Flossie will merely gradually weaken for the next 5 days. On the other hand, the GFS, ECMWF, and regional hurricane models indicate that the upper-level environment could become more favorable in a few days, so some re-intensification is possible at that time. The NHC forecast now closely follows the intensity consensus through 48 h and then blends back toward the previous forecast at 72 h and beyond, still favoring the dynamical models at that time.
"Extended range model projections show Flossie moving into the local area by next week Monday or Tuesday," the National Weather Service in Honolulu said this morning. "We are fairly confident that another round of tropical humid weather with active showers will develop over Hawaii for the first half of next week."