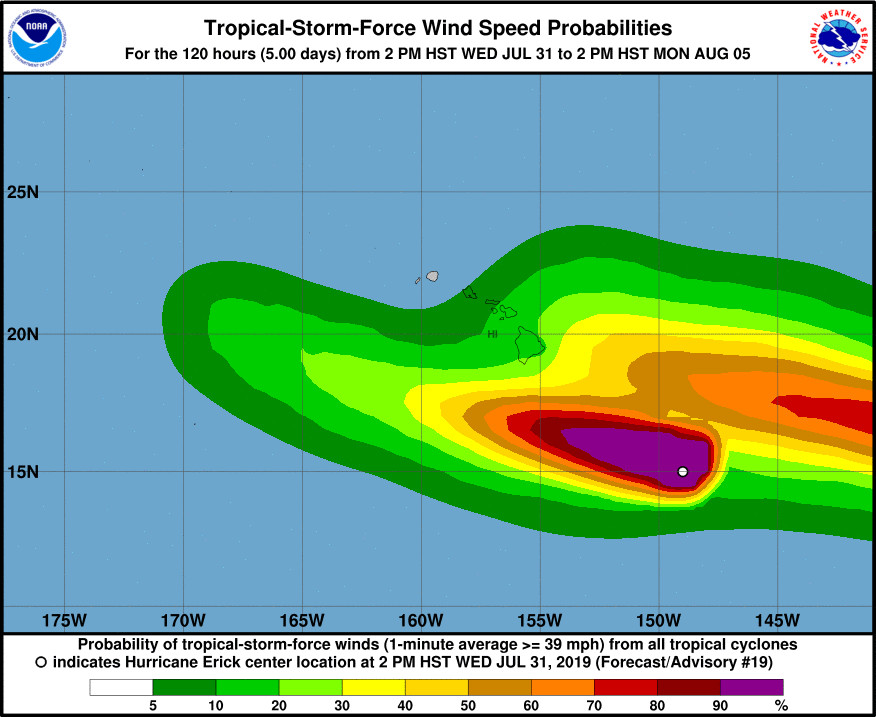 (BIVN) – At 5 p.m. HST, the center of Hurricane Erick was located 480 miles southeast if Hilo, and moving toward the west near 14 mph.
Erick is a category 2 hurricane with maximum sustained winds near 105 mph (165 km/h) with higher gusts. The storm is forecast to slowly weaken during  the next 48 hours, the Central Pacific Hurricane Center says.
"Wet weather will spread from east to west across all islands Thursday into the weekend as Erick passes just south of the state Thursday and Friday," the National Weather Service in Honolulu reported.
A Flash Flood Watch will be in effect for Hawaiʻi Island from Thursday afternoon through Saturday morning.
A High Surf Warning is also in effect for east-facing shores until 6 p.m. HST Thursday. The National Weather Service expects surf to rise overnight exceeding advisory levels by daybreak, with warning level surf of 15 to 20 feet expected through the day.
Hawaiʻi County Civil Defense says the following public safety measures and recommendations are now in effect:
Whittington and Punaluʻu Beach parks are now closed. All camping permits and pavilion rentals for these parks are cancelled through the weekend.
South Point Road is now closed. Only residents of South Point Road will have access until further notice.
The Bayfront Parking lot will be closed Thursday morning, August 1, until further notice. The Hele-On buses will pick-up passengers behind the Afook-Chinen Civic Auditorium. Please park between the Butler Buildings and Wong Stadium.
Secure canopy tents and loose items on your property by Thursday.
The Central Pacific Hurricane Center wrote this in its 5 p.m. discussion:
Hurricane Erick is slowly weakening as seen in recent satellite imagery with the eye becoming cloud filled. Subjective Dvorak current intensity estimates from all fix sites came in at 4.5/77 kt. The initial intensity estimate for this advisory has been decreased 90 kt which may be a big generous. Erick continues moving slightly north of due west with little change in forward speed. The initial motion estimate for this advisory is 280 degrees at 14 mph.

Track guidance remains tightly clustered through 72 hours with some divergence in the guidance on days 4 and 5. The latest forecast track has changed little from the previous forecast through 72 hours with a slightly north of due west motion expected as a strong subtropical ridge remains north of the main Hawaiian Islands. The track forecast for days 4 and 5 has been adjusted slightly to the left of the previous forecast which is in line with most of the reliable model guidance.

The intensity guidance remains consistent indicating a gradual weakening trend through the entire forecast period. This is due to an upper trough just north of the main Hawaiian Islands which is inducing southwesterly wind shear over the system. The UW-CIMSS vertical shear magnitude is currently 22 kt from the southwest. As the system continues moving toward the west-northwest, the shear is forecast to increase with Erick weakening to a tropical depression in about 96 hours.

FORECAST POSITIONS AND MAX WINDS

INIT 01/0300Z 15.1N 149.6W 90 KT 105 MPH

12H 01/1200Z 15.5N 151.3W 75 KT 85 MPH

24H 02/0000Z 16.1N 153.7W 60 KT 70 MPH

36H 02/1200Z 16.6N 156.2W 50 KT 60 MPH

48H 03/0000Z 17.1N 158.6W 40 KT 45 MPH

72H 04/0000Z 18.4N 163.3W 35 KT 40 MPH

96H 05/0000Z 19.9N 166.9W 30 KT 35 MPH

120H 06/0000Z 21.0N 169.6W 30 KT 35 MPH
Meahwile, Flossie – once a hurricane but now a topical storm – is 1,775 miles east of Hilo, and moving toward the west near 16 mph.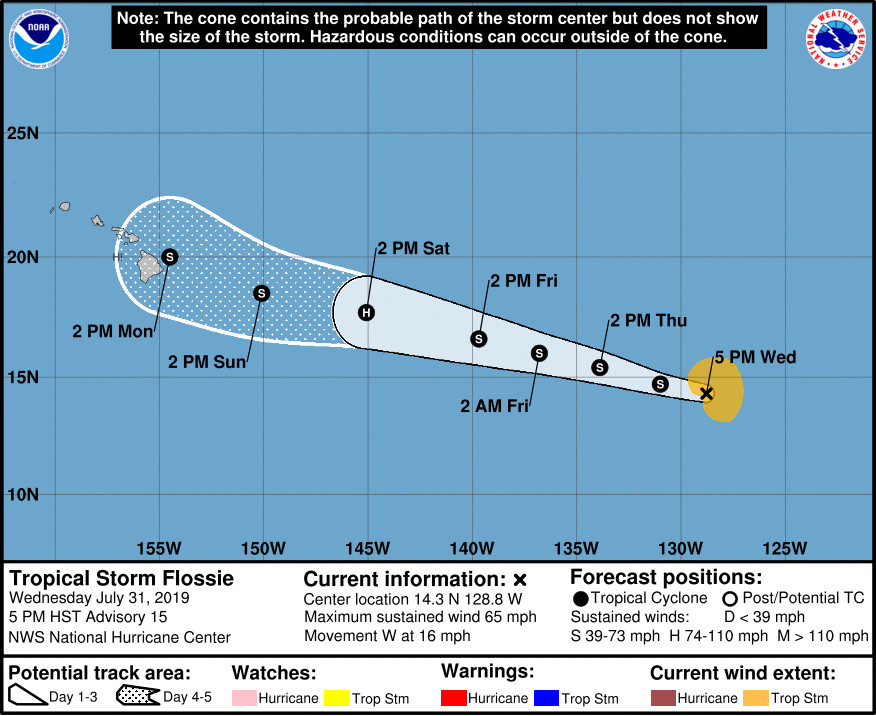 "Maximum sustained winds have decreased to near 65 mph (100 km/h) with higher gusts," the National Hurricane Center reported at 5 p.m. HST. "Little change in strength is forecast during the next 36 hours, followed by some strengthening later this week."