(BIVN) – Hawaiʻi Island is bracing for intense rainfall and possible flash flooding as Tropical Cyclone Erick, still hanging on at hurricane strength, passes south of the state.
A Flash Flood Watch is in effect. Heavy rain is expected especially along the east and southeast facing slopes of the Big Island. Peak rainfall accumulations of 4 to 8 inches with locally higher amounts will be possible, forecaster say.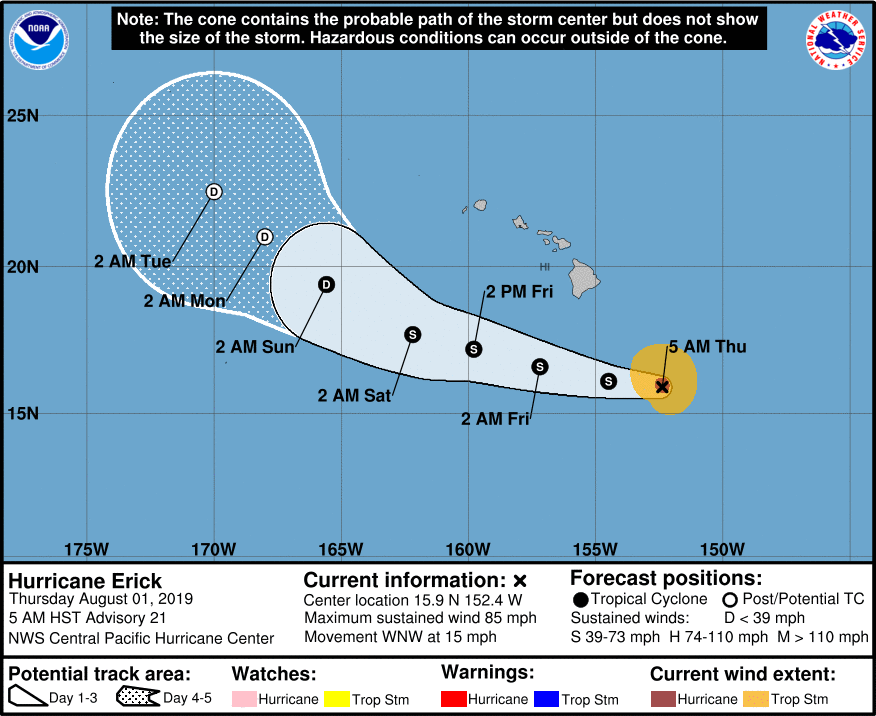 From the National Weather Service in Honolulu:
The short-term guidance remains in good agreement and depicts the potential for a wet and windy period across the islands as Erick passes to the south tonight through Saturday. The threat for heavy rainfall will initially setup over the eastern end of the state this afternoon through early Friday, then potentially for the smaller islands Friday through Saturday. Guidance reflects this and depicts a surge of tropical moisture moving up the island chain with widespread PWs exceeding two inches. Although the bulk of the rainfall coverage will focus over windward locales, some will manage to spill over into leeward sections of the smaller islands due to the elevated inversion and strong easterly winds. The greatest chance for flash flooding will remain over the windward and southeast slopes of the Big Island through this time (Flash Flood Watch from this afternoon through Saturday for the Big Island).
The National Weather Service in Honolulu has also issued a Wind Advisory, which is in effect from noon today to 6 p.m. Friday. East winds will be 25 to 35 mph with gusts to 45 mph for most of the Big Island.

A High Surf Warning is also in effect for east facing shores of Hawaiʻi Island. Surf is expected to rise to 15 to 20 feet through today.
Pohoʻiki, Whittington and Punaluʻu Beach parks are closed till further notice, Hawaiʻi County Civil Defense says. All camping permits and pavilion rentals for these parks are cancelled through the weekend.
South Point Road is also closed. Only residents of South Point Road will have access until further notice, officials say.
In addition, the Hilo Bayfront Parking is closed until further notice. The Hele-On buses will pick-up passengers behind the Afook-Chinen Civic Auditorium. Please park between the Butler Buildings and Wong Stadium, civil defense says.
From the Central Pacific Hurricane Center discussion posted at 5 a.m. HST:
Although Erick has the overall appearance of a hurricane facing an increasing amount of headwind, deep convection near the center has thus far prevented the environmental wind shear from disrupting the inner core. Southwesterly shear near 20 kt is limiting outflow in the southwest semicircle, but a burst of thunderstorms over the center led to the development of a cloud-filled eye right around analysis time. These strong thunderstorms and eye feature have since persisted, but the southern portion of the eyewall looks degraded in latest satellite images, and in an 1119Z ATMS pass. Given those developments, and using a blend of the subjective and automated Dvorak intensity estimates from PHFO/SAB/PGTW/UW-CIMSS, the initial intensity for this advisory has been lowered slightly to 75 kt.

Tracking the cloud-filled eye leads to increased confidence in the initial motion estimate of 285/13 kt. The track forecast continues to expect a general motion just north of due west for most of the forecast period, with a low- to mid-level ridge centered to the north and northeast respectively providing the primary steering, especially as Erick becomes increasingly shallow. A turn toward the northwest, with some slowing in forward speed, is expected on days 4 and 5 as the ridge to the north weakens and lifts north. The updated track forecast has changed little from the previous, and is close to the ECMWF and HCCA guidance.

Erick is moving into an area of even stronger vertical wind shear, associated with a semi-permanent upper-level trough northwest of the main Hawaiian islands. Shear values along the forecast track increase to 30-40 kt over the next 12 to 24 hours, and this unrelenting shear is expected to lead to the demise of Erick as a tropical cyclone. The bulk of the dynamical and statistical guidance indicates that Erick will barely be hanging on as a tropical storm in 48 hours, and the official forecast closely follows. Erick is then expected to become a remnant low on days 4 and 5 before dissipating shortly thereafter.

Erick is currently passing about 100 nm south of NOAA buoy 51004, which is reporting seas over 14 feet, and is still about 375 nm east-southeast of buoy 51002, where seas have reached 11 feet. This data was used to increase the radii of 12 foot seas in the northwest semicircle. A partial ASCAT pass around 0733Z led to a reduction to the 34 kt radii in the northern semicircle. Six-hourly soundings will begin at PHTO later today.
Meanhwile, 1580 miles east of Hilo, Tropical Storm Flossie is holding steady and moving west northwest at 16 mph.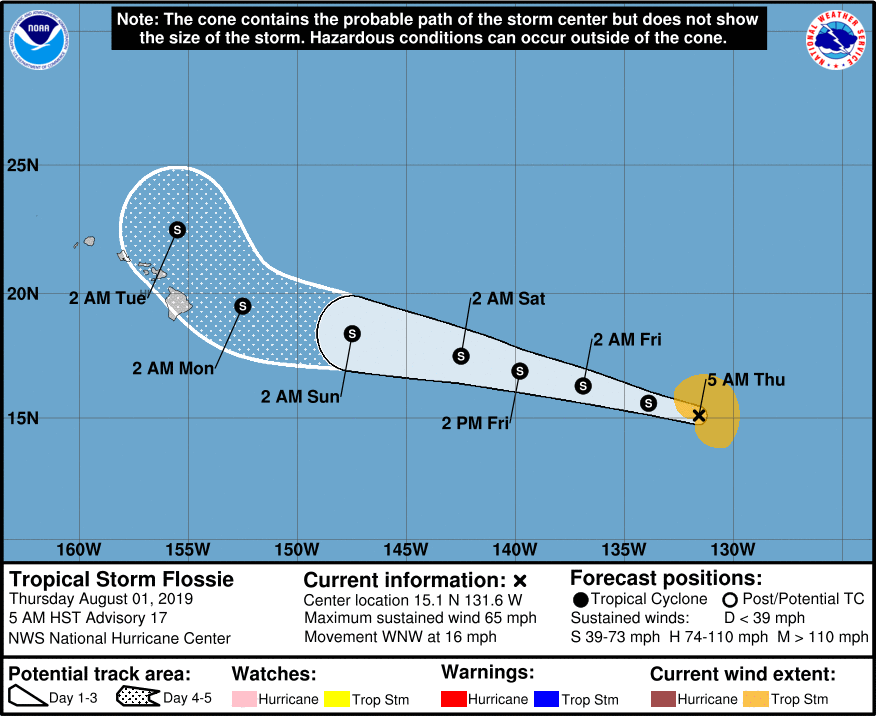 "Flossie is still expected to remain a tropical storm for the next 5 days," the National Hurricane Center says. "The intensity guidance is finally in good agreement on the forecast, and all of the models indicate that that Flossie's strength will not change substantially for the next day or two, followed by gradual weakening through early next week."