(BIVN) – Tropical Storm Erick is 185 miles southwest of South Point on Hawaiʻi Island, moving toward the west-northwest near 14 mph. The center of the storm will pass by, well to the south of the main Hawaiian Islands, today and tonight.
Erick's maximum sustained winds are near 50 mph (85 km/h) with higher gusts, and some gradual weakening is forecast during the next couple days.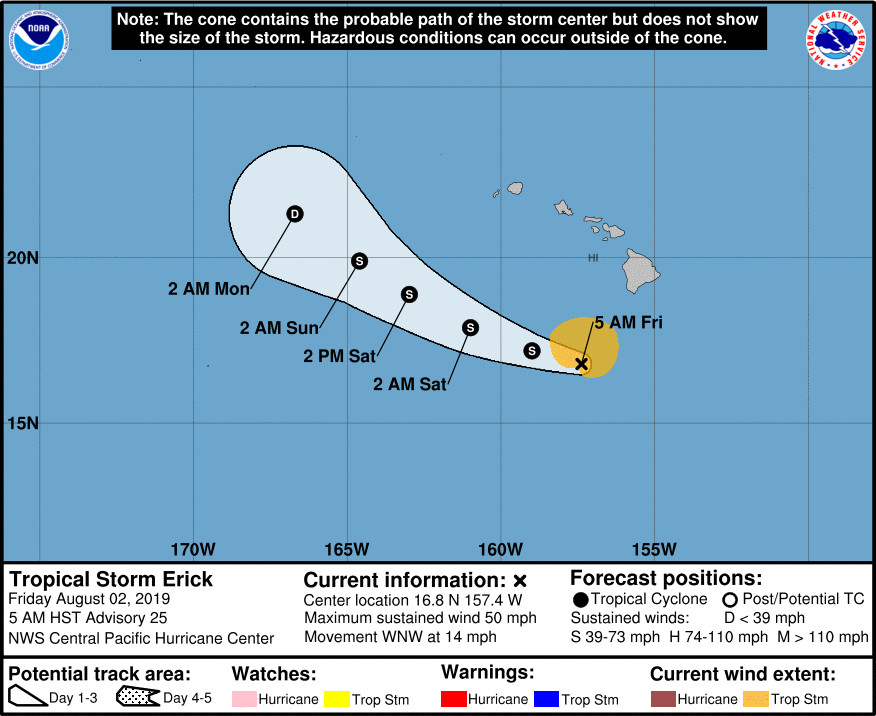 "Strong vertical wind shear will continue to hammer Erick over the next several days," the Central Pacific Hurricane Center says. "Despite the shear, periodic bursts of deep convection will likely result in slow weakening of the tropical cyclone. Erick is forecast to weaken into a tropical depression by Sunday, and become a post-tropical remnant low Sunday night."
For Hawaiʻi Island, the following weather warnings and advisories are in effect:
Flood Advisory for southeast Hawaiʻi until 9 a.m. HST. "At 600 AM HST, radar indicated a large area of moderate to heavy rain continuing to move ashore over the southeast slopes and windward areas of the Big Island. Rain was falling at a rate of one to two inches per hour in the heavier showers," the National Weather Service says. Locations in the advisory include but are not limited to Hilo, Hawaiian Acres, Naʻalehu, Orchidlands Estates, Glenwood, Pepeʻekeo, Keaʻau, Hawaiʻi Volcanoes National Park, Volcano, Pahala, Oʻokala and Wood Valley.
A Flash Flood Watch continues for the entire Big Island through Saturday morning. "Heavy rainfall will continue to impact portions of the Big Island as Tropical Cyclone Erick passes to the south, especially along the east and southeast facing slopes. Peak rainfall accumulations of 4 to 8 inches with locally higher amounts will be possible," forecaster say.
High Surf Warning for east-facing shores. Surf heights will be 10 to 15 feet through this afternoon.
Wind Advisory is in effect until 6 p.m. this evening. Winds are from the east at 20 to 40 mph with localized gusts over 45 mph for portions of Maui County and the Big Island.
According to a Friday morning message from Hawaiʻi County Civil Defense, the following public safety measures and recommendations are now in effect:
Public Works has sand available at their baseyards. Please bring sandbags and shovel with you. If your property is flooding call 935-0031 for assistance.
Isaac Hale, Punaluu, and Whittington beach parks are closed. Camping permits for these parks are cancelled for this weekend. South Point road is restricted to local traffic only. The Bayfront parking lot on Kamehameha Ave. is closed. Hele-on pick-up is at the Afook-Chinen Civic Auditorium. Please park between the Butler buildings behind the auditorium.
Expect flooding conditions throughout the day. Be cautious when driving as conditions may be dangerous and roads may close at anytime.
Meanwhile, Tropical Storm Flossie will move into the Central Pacific basin later today.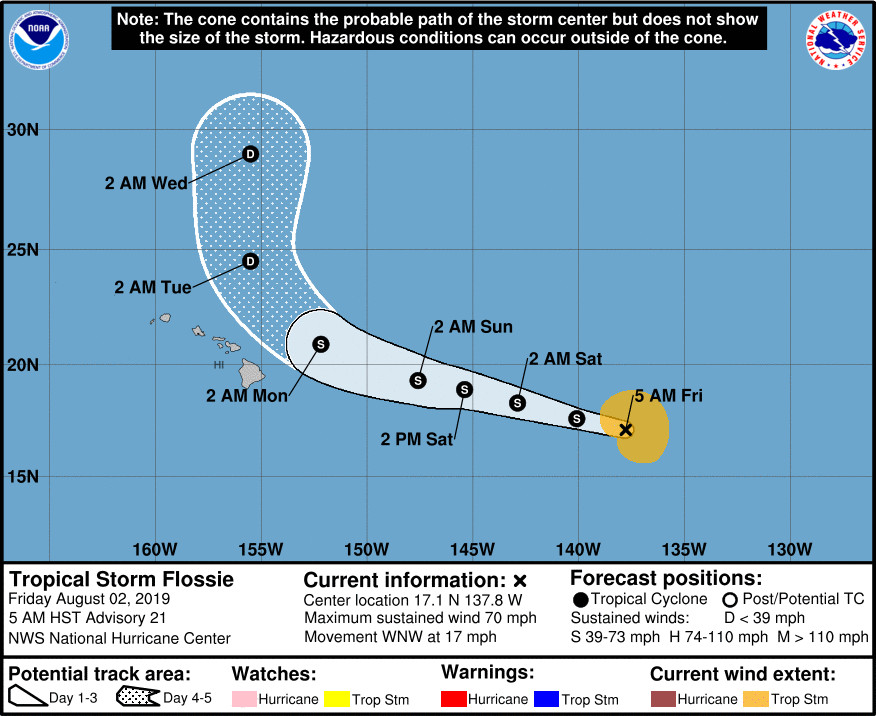 The National Hurricane Center had this information in its 5 a.m. discussion:
The track forecast has not been significantly changed from the previous advisory. Flossie continues to move west-northwestward, now at about 15 kt, and a subtropical ridge to the north should keep Flossie on this general heading for another 2 or 3 days. Most of the models suggest that Flossie will slow down slightly and then turn northwestward early next week, ahead of an upper-level trough located northwest of the Hawaiian Islands. By day 4, a turn toward the north is forecast by all of the typically reliable global models. The NHC forecast follows suit, showing recurvature east of Hawaii, and is very close to the HCCA and TVCE models at all forecast hours.

All of the intensity guidance forecasts that Flossie will gradually weaken over the next 3 to 4 days. The cyclone is moving over marginal sea surface temperatures near 26 deg C, and moderate shear of around 20 kt should continue to affect the cyclone through early next week. By 72 h, a sharp increase in westerly shear should occur as Flossie approaches the aforementioned upper-level trough, and additional weakening is anticipated. The NHC intensity forecast is very similar to the previous one, and is near the middle of the low-spread intensity guidance envelope.