(BIVN) – Flossie is barely hanging on as a tropical storm, and appears to be making a closer approach to the islands as it heads west at 13 mph.
As of 5 a.m., Tropical Storm Flossie was 475 miles east of Hilo. The Central Pacific Hurricane Center says "interests in the main Hawaiian Islands should continue to monitor the progress of this system."
A High Surf Warning is now in effect for east-facing shores of Hawaiʻi Island, with waves reaching 10 to 15 feet high today. A Tropical Storm Watch may be required for portions of the Hawaiian Islands later today, forecasters said.
From the National Weather Service in Honolulu this morning:
Monday and Tuesday, Tropical Cyclone Flossie approaches the islands from the east bringing up deeper tropical moisture into the islands. Flossie's more northerly storm track differs from Erick's southerly path which will bring up more unsettled weather into the islands spreading from east to west through Wednesday as it passes north of the state. The upper level ridge will also weaken as this tropical air mass moves into the area, increasing the height of the trade wind inversion into the 8000 to 12000 foot range. Additional threats from Flossie include high surf, potential for flash flooding, strong gusty winds, and thunderstorms. The latest forecast track for Flossie brings the center of the low very close to the Hawaiian Islands. These additional threats are increasing as Flossie's forecast track trends closer to the Big Island and Maui. The biggest challenge with Flossie's impacts will be in forecasting the wind speeds, at this point relatively small track changes will make the difference between light winds and 25-40 MPH wind speeds for the eastern islands. A Flash Flood Watch may be needed for some of the eastern islands on Monday.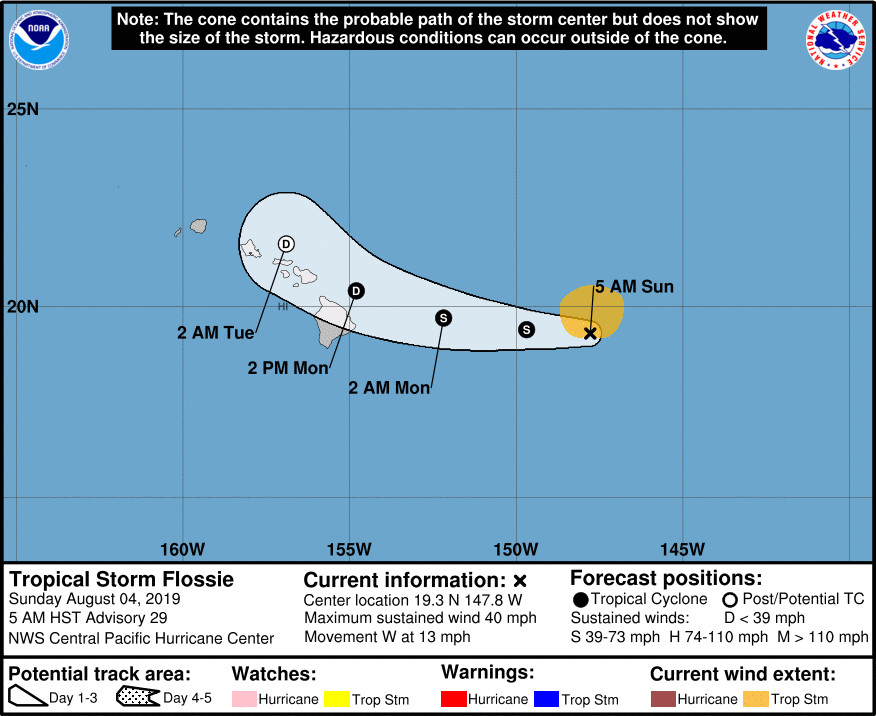 According to a Hawaiʻi County Civil Defense message issued this morning:
Beaches are open this morning, but may close at any time due to dangerous surf conditions which may reach 15 feet along east facing shores.
Whittington and Punaluu Beach Parks are open but camping permits and pavilion rentals are cancelled through the weekend.
Bayfront Parking lot on Kamehameha Avenue will remain closed until further notice.
The Hele-On Buses will continue to pick-up passengers behind the Afook-Chinen Civil Auditorium.
From the Central Pacific Hurricane Center discussion posted at 5 a.m. HST:
Strong thunderstorms in Flossie's eastern semicircle persisted for the first half of the night, prevented from moving over the low-level circulation center (LLCC) by persistent westerly vertical wind shear near 25 kt. Those thunderstorms began diminishing shortly after midnight, and while the LLCC remains obscured by mid-and high-level cloudiness, it appears poised to make an appearance. Subjective and objective Dvorak intensity estimates indicate that Flossie is barely hanging on as a tropical storm, and with the LLCC becoming increasingly exposed, the initial intensity estimate for this advisory is lowered to 35 kt.

Without any overnight microwave passes to assist with center-finding, the initial motion estimate is primarily based on tracking what can be seen of the LLCC, yielding 280/11 kt. A low- to mid-level ridge north of the cyclone is expected to support a general motion toward the west over the next 24-36 hours, especially as Flossie weakens further and is steered by the low-level trade wind flow. After that, Flossie will round the western portion of the ridge, interact with a persistent deep-layer trough northwest of Hawaii, and dissipate. The updated track forecast was changed little from the previous, which represented a significant westward shift, and lies close to the EMXI and HCCA. Given average forecast error, a Tropical Storm Watch may be required for portions of the Hawaiian Islands later today.

The gradual spin-down of Flossie is expected to continue as it draws closer to the Hawaiian Islands, despite SSTs gradually warming to near 27C. The forecast track takes Flossie into an area of even greater vertical wind shear, leading to steady weakening, soon followed by dissipation. The intensity forecast has changed little, and mimics trends indicated by both the statistical and dynamical guidance.

FORECAST POSITIONS AND MAX WINDS

INIT 04/1500Z 19.3N 147.8W 35 KT 40 MPH

12H 05/0000Z 19.4N 149.7W 35 KT 40 MPH

24H 05/1200Z 19.7N 152.2W 35 KT 40 MPH

36H 06/0000Z 20.4N 154.8W 30 KT 35 MPH

48H 06/1200Z 21.6N 156.9W 25 KT 30 MPH…POST-TROP/REMNT LOW

72H 07/1200Z…DISSIPATED