(BIVN) – Flossie's low level center was about 80 miles north northeast of Hilo as of 5 p.m. this evening, as the storm continues to degenerate as it moves toward the west-northwest near 12 mph.
Flossie is no longer a tropical depression, instead becoming a remnant low. The Central Pacific Hurricane Center issued its final advisory on Flossie at 5 p.m. Monday.
Skies over Hilo are mostly clear this evening, although forecasters say there remains the potential for heavy rainfall. "Thunderstorms popped over the interior of the Big Island this afternoon," the National Weather Service in Honolulu reported, "The forecast continues to carry the chance for thunderstorms into tomorrow due to the unstable airmass overhead."

Still, "thunderstorms associated with the system remain sheared well to the east of the low level center," forecasters say. "A northeast to southwest oriented line of towering cumulus is about 100 miles to the southeast of the Big Island, and this band may reach the Big Island later tonight." 
A Flash Flood Watch remains in effect for the entire Hawaiʻi Island, and a High Surf Advisory is also in place along east facing shores. Surf is expected to be 6 to 10 feet through Tuesday.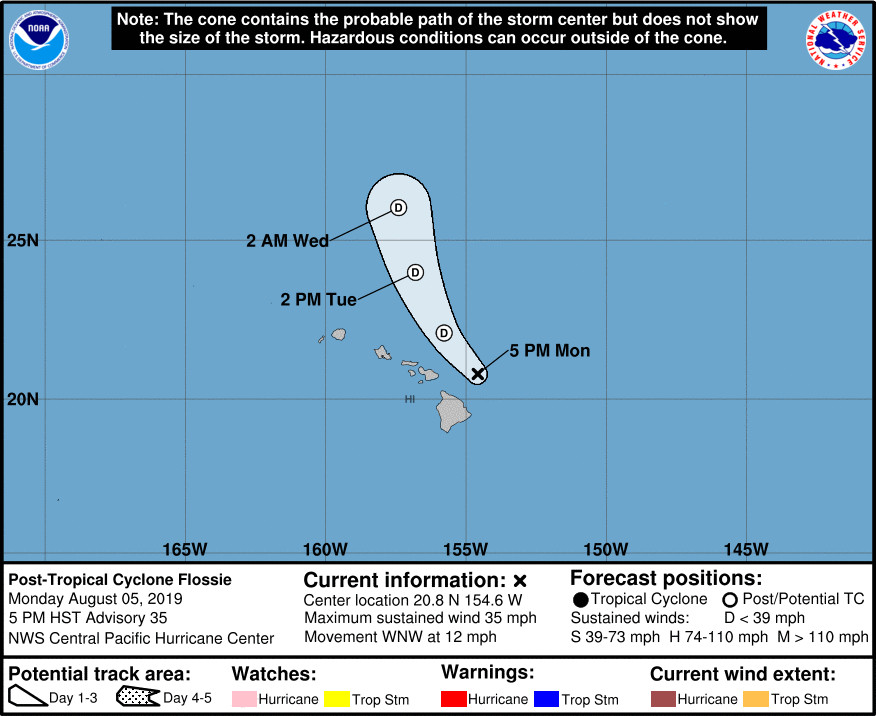 According to the final discussion posted by the Central Pacific Hurricane Center at 5 p.m. HST:
Under relentless vertical wind shear, the remnant low will continue to degenerate as it passes near the main Hawaiian Islands. The westerly vertical wind shear will be maintained by a deep upper-level trough parked northwest of the Hawaiian Islands. This upper trough is also eroding the low- to mid-level ridge that is steering Flossie. As a result, the remnant low will gradually turn toward the northwest tonight, then shift toward the north-northwest until dissipation on Wednesday. The track forecast was nudged to the right from the prior advisory and is near TVCN. All guidance shows weakening or little change in intensity until dissipation.
Once Flossie dissipates, there will no longer be any tropical cyclones in the Eastern North or Central North Pacific, for the time being. Hurricane season runs until November 30.