(BIVN) – A discussion between all four county mayors in Hawaiʻi on television turned into a brief – and illuminating – discussion on the response to the situation at the base of Mauna Kea related to the Thirty Meter Telescope project.
Hawaiʻi County Mayor Harry Kim joined Honolulu Mayor Kirk Caldwell, Maui Mayor Mike Victorino, and Kauaʻi Mayor Derek Kawakami on the program Insights on PBS Hawaiʻi.
Host and moderator Daryl Huff (who is also Hawaii News Now Managing Editor) eventually steered the conversation toward the topic of TMT about mid-way through the program.
"There was no real energies for violence on either side," said Mayor Kim about the standoff between TMT opponents and law enforcement charged with making way for the observatory construction crews. Kim told the panel that if you go up there, you will be "quite impressed, really" by the apparent "control of the crowd."
"This was a decision on the numbers game," Kim said, explaining why police officers appeared to stand down after initially arrested 38 people on July 17. Even if police moved on the Mauna Kea kia'i, "they would not be able to keep that area clear," the mayor said.
The statements made by Mayor Kim offered an additional perspective on details, recently reported in the media, painting a picture – from a police perspective – of the law enforcement response to the situation on Mauna Kea. Although the Mauna Kea Access Road was closed by the state on July 15, police lost control of the entrance to the road to the TMT opposition, and have been unable to ensure access for construction crews ever since.
"What do you think is going to happen?" Daryl Huff asked the mayor during the PBS Hawaiʻi show.
"I don't know what's going to happen," Mayor Kim said. "But I'll tell you what I hope is going to happen."
"As soon as you mentioned this subject, I found myself go in a different zone. It's because of what it's doing to our island," Kim said, talking about the division between those in favor of TMT on Mauna Kea and those against. "People have different views on it. There shouldn't be any hostility, intimidation, hatred related to your position, regardless of what your position is."
Kim spoke briefly on the need to decommission underutilized scopes, saying "every scope up there now was built before the year 2000. Since then, [there' been] tremendous improvement in regards to regulation. No one will deny that we did a lot of wrongs. There's a lot of things we need to correct if we are to go forward."
Then the mayor hinted at some sort of solution in the coming days.
"I'm going come out very shortly on a plan on how to go forward," Kim said. "I'm just hoping that people will back up a little bit from their hurt and pain of past and see how we can go forward and make this a good thing for Hawaiʻi."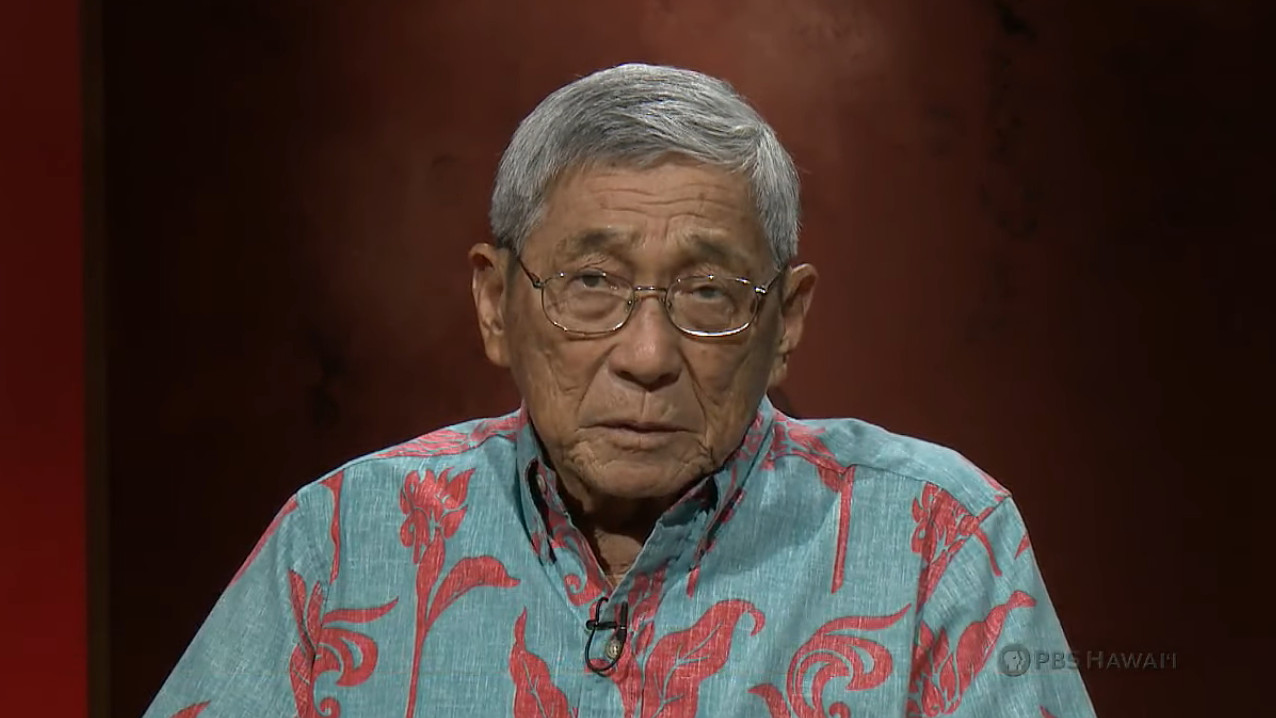 "In my position, I really believe this is a good thing," apparently speaking about the TMT project. "But it depends on how we go forward."
"Do you think it was a mistake to have allowed the demonstration to occupy the road?" Huff asked the mayor.
"I was the person that received a call from the Chief of Police on where we are, what was happening. I don't think anyone," Kim said, "anticipated this kind of numbers. I think everybody knows this was very planned and organized, it was a good thing," apparently referring to the actions of the TMT opponents.
"They have stuck to their word with regards to no violence," Kim continued. "They have the people of the Royal Order of Kamehameha helping out, making sure that young people stay in line with regard to behavior. And they've done a great job in the way they do it."
"The police was faced with a very, very difficult … decision," Kim said. "They prepared, they really prepared in regards to making sure – they knew it was going to be seniors – how you handle them. Gentlest of care. Prewarning of what's going to happen. Television likes to show drama. Nobody was struggling. Not one person arrested was struggling. They were gently taken away and advised what they gonna do and their rights, et cetera."
"When the numbers came, they couldn't keep up with those they take away, they came and replaced," Kim said of the initial arrests of kūpuna on July 17. "At this rate we can't control it. Do you want us to use any kind of a force? Everybody agreed, nobody wants that in Hawaiʻi."
Trying to make the record clear, Huff said to Kim, "you're commander called you and said, 'do you want us to use force?'"
"They called me because I could pass word on to the governor because this was a State Operation," Kim answered. "With DOCARE people and sheriffs and police officers. And Governor – obviously a very difficult decision – said, no, we should not force physical force."
"The question was of tasers. Question was mustard gas," Kim said, although he later acknowledged to Hawaii News Now that "mustard gas" – a chemical warfare agent – was said in error and was never in the police toolkit.
Kim said he supported the governor's decision, "knowing the consequence of it, no chemical or weapons of any kind."
Daryl again tried to clarify. "You called the governor and told him, 'I'm being told that we can't end this without physical force including these kinds of tools?'"
"And then control it," Kim said.
"And you told him that, and asked him, "what should we do?'" Daryl asked.
"I'm asking that the people in command ask me to pass the word in
regards to use of force," Kim said. "And I passed that response back, 'at this time no'.
It has been 36 days since the scheduled start of construction of the Thirty Meter Telescope on Mauna Kea. Construction has yet to begin.