(BIVN) – Hurricane Kiko rapidly intensified on Saturday evening, becoming a major hurricane far out in the Eastern Pacific, over 2,200 miles east of Hilo.
Kiko is a category 3 hurricane on the Saffir-Simpson Hurricane Wind Scale, with maximum sustained winds near 115 mph with higher gusts. Some additional strengthening is possible tonight, the National Hurricane Center says. Then, gradual weakening is expected to begin by Monday, but Kiko is expected to be at or near major hurricane strength for the next couple of days.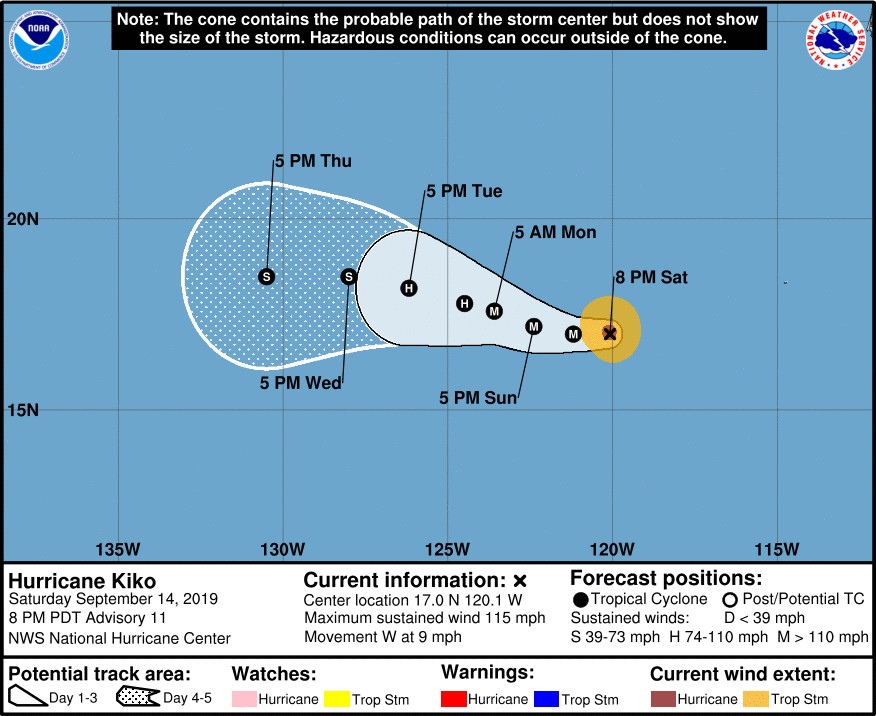 Kiko is expected to be a slow moving storm. It is currently moving toward the west near 9 mph, and forecasters say a slightly slower motion toward the west-northwest is forecast by Tuesday.
Kiko is expected to weaken as it approaches the Central Pacific, and dies not appear as if it will be a threat to Hawaii at this time. However, the National Hurricane Center says there is "significant divergence between the models" later in the forecast, in terms of the track the storm will take. Here is the 5 p.m. HST discussion:
Kiko has undergone a remarkable intensification over the past 24 hours. The initial intensity for this advisory is 100 kt, 55 kt higher than last night's estimate at the same time. The hurricane briefly developed a very clear eye earlier today, and although the eye has become slightly obscured by an increase in eyewall convection, it still has a very impressive satellite appearance. The 100 kt intensity is based on a blend of recent subjective and objective estimates that range from 90 to 105 kt.

There is no obvious reason why Kiko would stop strengthening in the short term. The hurricane is clearly not being affected by any of the dry air to its east, SSTs beneath the cyclone are warm, and the shear is quite low. This should be the case for the next 36 h or so, and Kiko is expected to at least maintain its current strength through that period. Beyond that time, the intensity forecast is quite complicated. Kiko will be moving nearly parallel to a strong SST gradient. If the hurricane moves farther south than forecast, it could maintain its strength for longer than indicated. But if it moves farther north, it will likely weaken quickly. Kiko is also forecast to slow down, and upwelling of colder water could also become a factor in a few days, even if the hurricane stays on the warm side of the SST gradient. The NHC forecast continues to show gradual weakening beyond 36 h, but is on the high side of the intensity guidance, most of which is tied to a forecast track north of the latest NHC forecast.

The hurricane has slowed a little but is still moving west with a motion of 270/8 kt. For the next couple of days a mid-level ridge should keep Kiko moving generally westward at a similar forward speed. Beyond that time, there is significant divergence between the models. The GFS and regional hurricane models all show the ridge weakening, allowing Kiko to turn northwestward. The ECMWF and UKMET (as well as a clear majority of their ensembles) show no such weakness forming and keep Kiko moving steadily westward through mid-week. Unfortunately, no one solution appears superior at this point, so the NHC forecast isn't fully following either group of models. Instead it has been adjusted only modestly southward, and remains close to the multi-model consensus. Needless to say, confidence in the forecast is quite low.

FORECAST POSITIONS AND MAX WINDS

INIT 15/0300Z 17.0N 120.1W 100 KT 115 MPH

12H 15/1200Z 17.0N 121.2W 110 KT 125 MPH

24H 16/0000Z 17.2N 122.4W 105 KT 120 MPH

36H 16/1200Z 17.6N 123.6W 100 KT 115 MPH

48H 17/0000Z 17.8N 124.5W 95 KT 110 MPH

72H 18/0000Z 18.2N 126.2W 80 KT 90 MPH

96H 19/0000Z 18.5N 128.0W 60 KT 70 MPH

120H 20/0000Z 18.5N 130.5W 45 KT 50 MPH