(BIVN) – Hurricane season is in full swing – both in the Pacific and in the Atlantic Ocean – where numerous tropical cyclones have formed and, so far, none is threatening Hawaiʻi.
Tropical Storm Kiko, Tropical Storm Mario, and Hurricane Lorena are active in the Eastern North Pacific. Mario and Lorena will stay close to North America, but Kiko is wandering westward.
Once a major hurricane, Tropical Storm Kiko is roughly 1,800 miles east southeast of Hilo. Maximum sustained winds are near 65 mph with higher gusts, and Kiko is expected to strengthen back into a hurricane again on Thursday or Friday.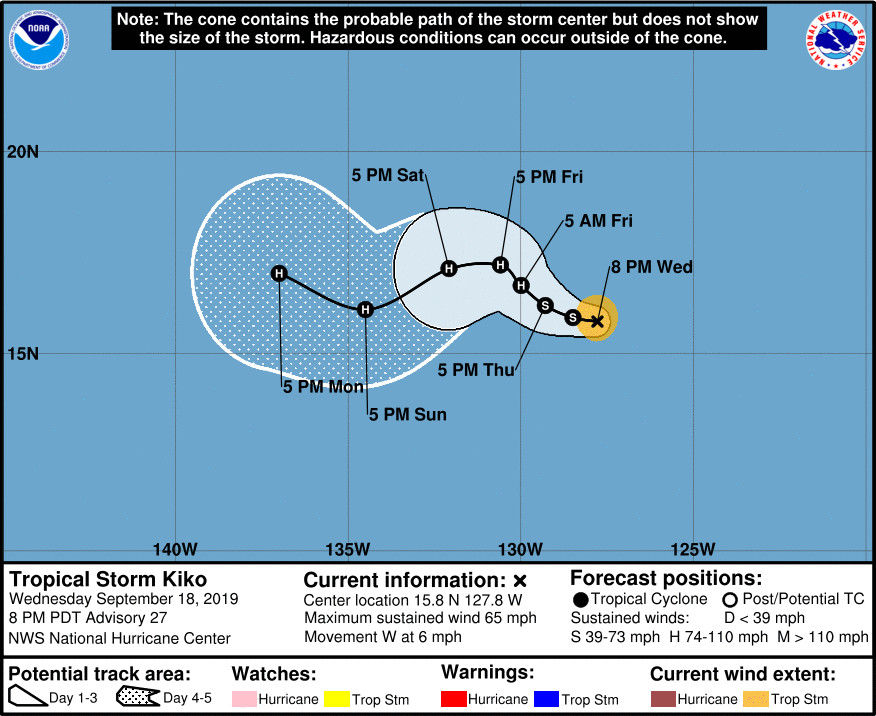 "Both dynamical intensity models (HWRF and HMON) show that Kiko will eventually reform an inner convective core and strengthen, but do so several days apart," wrote Forecaster Zelinsky in the 5 p.m. National Hurricane Center discussion. "It seems likely, given the light shear and warm SSTs beneath the tropical storm, that Kiko will restrengthen at some point. That said, determining the exact timing is probably beyond our current ability to forecast tropical cyclone intensity. The NHC intensity forecast calls for slow strengthening during the next several days, as shown by HCCA, but I would not be surprised if Kiko is nearly steady-state for a day or two, and then strengthens at a faster rate than expected. Confidence in the intensity forecast is therefore somewhat low.
Given the current forecast track, Kiko could wobble its way into the Central Pacific at or near hurricane strength. "Oscillations in the strength of a mid-level ridge to the north Kiko should cause the cyclone to turn northwestward in a day or so, and then back toward the west another day after that," the NHC wrote. "After Kiko reaches the crest of its curvy path, it is expected to turn southwestward yet again by the weekend. The model guidance is in remarkably good agreement for such an unusual track and the NHC forecast remains near the multi-model consensus, with a little extra emphasis placed on the ECMWF which has thus far handled the forecast of Kiko quite well."
Meanwhile, closer to Hawaiʻi, there are three areas of low pressure where environmental conditions are only marginally conducive for development over the next several days.
The closest disturbance is around 700 miles south-southeast of Hilo, but the Central Pacific Hurricane Center says there is little chance that a tropical system will develop.