(BIVN) – As of 5 p.m., Hurricane Douglas was 665 miles east of Hilo, moving west northwest at 20 mph. Douglas remains a category 3 hurricane, with maximum sustained winds at 115 mph with higher gusts.
Warnings & Watches In Effect For Hawaiʻi Island
A Hurricane Watch is in effect
A Flash Flood Watch will be in effect from Saturday evening through Monday afternoon.
A High Surf Warning for east-facing shores from Saturday at 6 a.m. HST to Monday at 6 a.m. HST. Dangerously large breaking waves of 15 to 25 feet are possible.
The National Weather Service this afternoon started to get into the details concerning the specific hazards that Douglas may bring to Hawaiʻi:
WIND
Prepare for dangerous wind having possible significant impacts across Maui County and the Big Island. Potential impacts in this area include:
Some damage to roofing and siding materials, along with damage to porches, awnings, carports, and sheds. A few buildings experiencing window, door, and garage door failures. Mobile homes damaged, especially if unanchored. Unsecured lightweight objects become dangerous projectiles.


Several large trees snapped or uprooted, but with greater numbers in places where trees are shallow rooted. Several fences and roadway signs blown over.


Some roads impassable from large debris, and more within urban or heavily wooded places. A few bridges, causeways, and access routes impassable.


Scattered power and communications outages, but more prevalent in areas with above ground lines.
Also, prepare for hazardous wind having possible limited impacts across the rest of the State of Hawaii.

SURGE:
Prepare for locally hazardous surge having possible limited impacts across Maui County and the Big Island. Potential impacts in this area include:
Localized inundation with storm surge flooding mainly along immediate shorelines and in low-lying spots, or in areas farther inland near where higher surge waters move ashore.


Sections of near-shore roads and parking lots become overspread with surge water. Driving conditions dangerous in places where surge water covers the road.


Moderate beach erosion. Heavy surf also breaching dunes, mainly in usually vulnerable locations. Strong rip currents.


Minor to locally moderate damage to marinas, docks, boardwalks, and piers. A few small craft broken away from moorings.
Elsewhere across the Hawaiian islands, little to no impact is anticipated.
FLOODING RAIN:
Prepare for life-threatening flooding having possible extensive impacts across Maui County and the Big Island. Potential impacts include:
Major rainfall flooding may prompt many evacuations and rescues.


Rivers and tributaries may rapidly overflow their banks in multiple places. Small streams, creeks, canals, arroyos, and ditches may become dangerous rivers. In mountain areas, destructive runoff may run quickly down valleys while increasing susceptibility to rockslides and mudslides. Flood control systems and barriers may become stressed.


Flood waters can enter many structures within multiple communities, some structures becoming uninhabitable or washed away. Many places where flood waters may cover escape routes. Streets and parking lots become rivers of moving water with underpasses submerged. Driving conditions become dangerous. Many road and bridge closures with some weakened or washed out.
Prepare for dangerous flooding having possible limited to significant impacts across the rest of the State of Hawaii.
TORNADOES:
Little to no impacts are anticipated at this time across the Hawaiian islands.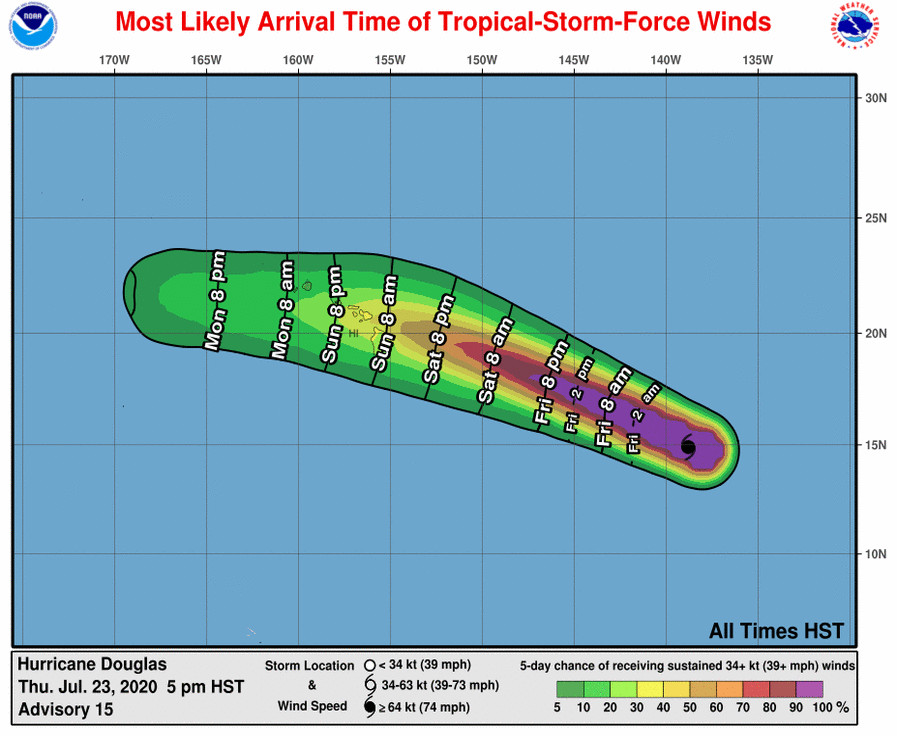 From the 5 p.m. HST Central Pacific Hurricane Center discussion:
The eye of Douglas has remained visible in conventional satellite imagery through the day today, and even cleared out for a little while this afternoon, indicating that Douglas remains a powerful hurricane. Subjective satellite current intensity estimates ranged from 4.5/90 kt to 5.5/105 kt, while ADT was near 5.5. Although the eye is clouding up again this afternoon, and surrounding convection is cooling, the initial intensity has been held at 100 kt for this advisory.

The forward motion vector has changed little over the past 24 hours, and is measured to be 295/17kt, as Douglas continues to be steered by a mid-level ridge centered to the distant northeast. As Douglas draws closer to the main Hawaiian Islands the next 2 days, it will round the western periphery of the ridge, allowing the cyclone to gain some latitude, with some reduction in forward speed. Thereafter, a mid-level ridge is forecast to build to the north of Douglas, potentially inducing a turn toward the west, with some increase in forward speed. The updated track forecast is nearly identical to the previous, lies along the southern side of a fairly tightly-clustered guidance envelope, and is very close to ECMWF ensemble guidance. On the forecast track, Douglas will move dangerously close to the Hawaiian Islands, and a Hurricane Watch is posted for all islands except Kauai County, which may need to be added on Saturday.

Douglas will be traversing an area of sub-26C SST for the next 36 hours or so, which is expected to lead a gradual weakening trend, despite vertical wind shear on the lighter side, especially by central Pacific standards. SSTs along the forecast track increase from 48 hours onward, at the same time that Douglas is expected to move into an area of increased vertical wind shear as it rounds the southwestern periphery of an upper-level ridge. This is expected to lead to a continued weakening trend, although at a fairly slow rate. The intensity forecast is very close to the SHIPS guidance, and close to the IVCN intensity consensus.

A Hurricane Hunter aircraft is en route to fly an initial mission into Douglas, and this valuable data is expected to be available for the next forecast update. Additional flights into Douglas are scheduled for tomorrow. In the meantime, a morning ASCAT pass was used to fine tune the wind radii analysis.

Key Messages

1. Douglas continues to approach the main Hawaiian Islands, potentially passing dangerously close to, or over, the islands Saturday night through Sunday night. The close passage of Douglas brings a triple threat of hazards, including but not limited to damaging winds, flooding rainfall, and dangerously high surf, especially along east facing shores.

2. It is vital that you do not focus on the exact forecast track or intensity of Douglas, and remain prepared for changes to the forecast. Due to Douglas' angle of approach to the islands, any small changes in the track could lead to significant differences in where the worst weather occurs. Even if the center remains offshore, severe impacts could still be realized over the islands, as they extend well away from the center.

3. Terrain effects can cause strong localized acceleration of the wind through gaps and where winds blow downslope. These acceleration areas will shift with time as Douglas passes near the islands. Winds will also be stronger at the upper floors of high rise buildings.