(BIVN) – Hurricane Linda was 1,520 miles east of Hilo as of Wednesday morning, and has maintained its intensity as it heads west at 13 mph.
The latest National Hurricane Center forecast indicates that Linda will move into the Central Pacific Hurricane Center's area of responsibility as a weakening tropical storm or low-end category 1 hurricane as early as Thursday afternoon.
Forecasters say Linda is expected to pass to the north of the Hawaiian Islands as a post-tropical gale late Sunday into Monday.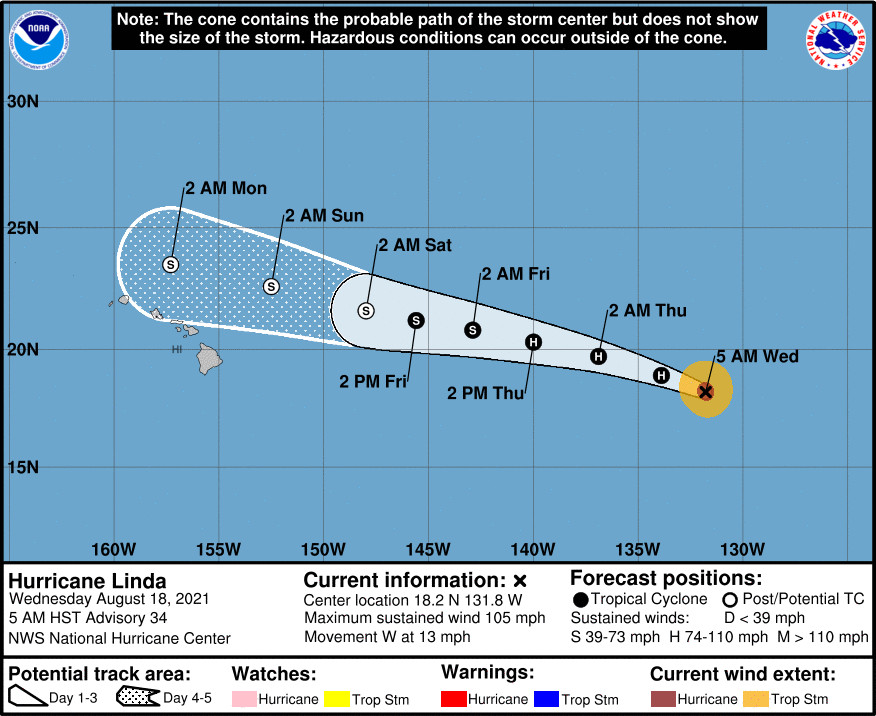 This morning, maximum sustained winds were reported near 105 mph (165 km/h) with higher gusts, stronger than was measured the previous morning. Still, "a slow weakening trend is forecast to begin by tonight, followed by more steady weakening Thursday through Friday," forecasters wrote.
Looking ahead for Hawaiʻi, the National Weather Service in Honolulu said on Wednesday morning that "the remnants of Tropical Cyclone Linda, will pass just north of the Hawaiian Islands shutting down the trade winds once again. Deeper tropical moisture will move up into the islands producing very humid conditions. In the absence of trade winds, local scale land and sea breezes will develop, and converging sea breeze winds will produce periods of showers over island interior sections. Some of these showers may become locally heavy at times."
"Due to the uncertainties of this long range pattern it remains too early for island by island weather impacts," the Honolulu-based forecasters said. "Stay tuned for more detailed information, as the time period grows shorter, and this extended range forecast evolves."
From the NWS National Hurricane Center at 5 a.m. HST:
Satellite images indicate that Linda has been maintaining its intensity over the past 12 h or so. The hurricane has begun to lose some of its annular characteristics, as cloud tops in the northern semicircle are warmer than in the southern semicircle. However, the eye remains clear, and the overall structure has not changed much in the last 6 h. Final-T numbers from TAFB and SAB were both T-5.0/90 kt. Therefore, the initial intensity remains 90kt for this advisory.

Linda is currently over SSTs near 26C, but SSTs along the path of the cyclone will decrease to below 25C in about 12 h, then remain in the 24-25C range during the 12 to 48 h period. Vertical wind shear will remain low through 48 h, but mid-level relative humidity will decrease and become very dry over the next 48 h. Despite the favorable dynamics through 48 h, the unfavorable thermodynamics will likely cause weakening to below hurricane strength by 48 h. By 72 h, wind shear is forecast to increase and become strong by day 4 as Linda approaches a potent upper-level trough located to the northwest of Oahu. This will ultimately lead to the loss of deep convection, despite a slight increase in water temperatures along the cyclone's path at that time. Linda is forecast to become a post-tropical gale by Saturday morning. The NHC intensity forecast is essentially unchanged from the previous forecast and is in best agreement with the DSHP statistical-dynamical guidance.

The initial motion is 280/11, which is unchanged from 6 h ago. There is no significant change to the previous forecast track or reasoning. A well-established subtropical ridge should steer Linda in a westward to west-northwestward fashion during the next 5 days. The new NHC forecast track is virtually unchanged from the previous one and is in best agreement with the TVCN and HCCA consensus models. Linda is forecast to cross into the Central Pacific in about 36 h and is expected to pass to the north of the Hawaiian Islands as a post-tropical gale late Sunday into Monday.

FORECAST POSITIONS AND MAX WINDS

INIT 18/1500Z 18.2N 131.8W 90 KT 105 MPH
12H 19/0000Z 18.9N 133.9W 85 KT 100 MPH
24H 19/1200Z 19.7N 136.9W 75 KT 85 MPH
36H 20/0000Z 20.3N 140.0W 65 KT 75 MPH
48H 20/1200Z 20.8N 142.9W 55 KT 65 MPH
60H 21/0000Z 21.2N 145.6W 45 KT 50 MPH
72H 21/1200Z 21.6N 148.0W 40 KT 45 MPH…POST-TROPICAL
96H 22/1200Z 22.6N 152.5W 35 KT 40 MPH…POST-TROPICAL
120H 23/1200Z 23.5N 157.3W 35 KT 40 MPH…POST-TROPICAL