Novermber 2, 2010 – Hawaii County
Video by David Corrigan | Voice of Stephanie Salazar
In just a few more hours, Hawaii will see which campiagns struck the right chord with voters.
Some of the key local races to keep an eye on this year: The Hawaii County Council majority is threatened with the possible outcome of the district 5 and district 6 runnoff elections. Puna councilwoman Emily Naeole is locked in a tight race against Hawaiian Beaches resident Fred Blas, while Ka'u councilman Guy Enriques hopes to fend off a stern challenge from newcomer Brittany Smart.
There are also some interesting statehouse races that bear watching in Kona. Republicans Scott "Hendo" Henderson and Becky Le'au are challenging Democratic incumbants Cindy Evans and Denny Coffmann for their statehouse seats.
And not all election day decisions have to do with candidates.
This year, voters will be asked to vote on several charter ammendments.
Recently, Big Island Video News spoke with Debbie Hecht, who has followed the recent charter commission delibarations and is well versed in the choices facing voters.
She is pushing to pass a charter ammendment that would reinstate a new version of the property tax land fund set aside to go towards opens space aquisitions. She is also sharing her opinion on some of the other ammendments that she doesn't believe would be a step in the right direction. There are 19 ballot questions in all.
For more info on the ammendments, visit her website at dhecht.com, or download the resource on the subject compiled by the League of Women Voters here.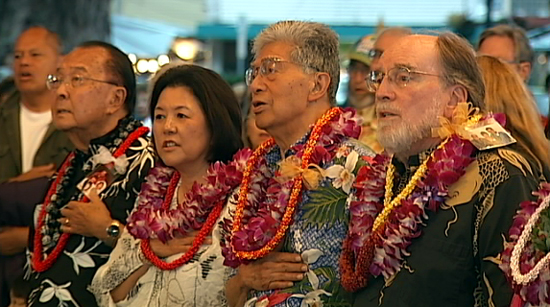 A line up of powerful democrats awaits coming results
New Patient Safeguards for Online Drugstore Prescriptions. Part 2