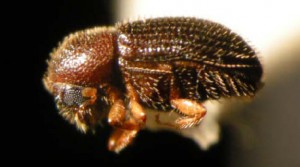 November 28, 2010 – Kona, Hawaii
Video courtesy Hawaii County Office of the Mayor | Voice of Karin Stanton
For coffee farmers like Sotero Agoot, work on the Kona Pacific Farmers Co-op in Napoopoo has been a lot more challenging ever since a little bug showed up.
It is unknown at how the Coffee Berry Borer arrived on the Big Island, but it is considered the world's most destructive coffee pest. Researchers estimate damage caused by the CBB worldwide is about $500 million per year in a global industry worth $90 billion per year.
The beetle lays its eggs in the coffee cherry and as the eggs develop into larva, the larva feed on the inside of the coffee bean. The bean may be further damaged by fungal, bacterial and insect infestation. The combined damage can reduce yield, lower the quality and destroy the entire bean.
Because of the pest invasion, the Hawaii Board of Agriculture met on Tuesday and approved an emergency interim rule that establishes two quarantine zones on the Big Island.
The quarantine restricts the movement of coffee plants, plant parts, green beans and bags to prevent and slow the spread of CBB in Hawaii. The Emergency Interim Rule will go into effect when it is published in
newspapers in a few days and may remain in effect for up to one year.
The two quarantine zones include a primary quarantine zone for the areas on the island that are infested with CBB – that would be in Kona from Kaloko to Manuka State Park – and a secondary quarantine zone that will encompass the entire Island of Hawaii.
The Department of Ag has approved several treatment and mitigation methods that would allow for the transport of green coffee beans from the quarantine zones to other islands. These treatment and mitigation methods include fumigation and also heat treatment and other methods that are acceptable for
treatment of organic coffee beans.
As all of this is decided on Oahu, farmers in Kona – like Agoot – continue their struggle with the devastating pest. Most of the visitors to the Agoot's Co-op facility ask about the basics of coffee processing. But once the quarantine zone is up, they are sure to be asking a whole new series of questions.