Move to reconsider thwarted by surprise 5 to 4 vote in favor of public hearing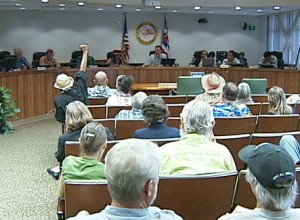 December 1, 2010 – HILO, Hawaii
Video by David Corrigan | Voice of Tim Bryan
It was the only item on the agenda for Tuesday's special meeting of the lame duck Hawaii County Council, and once again the governing body maneuvered to delay action.
The lawmakers were meeting to reconsider Bill 311, which was already approved two weeks ago. The bill authorizes a $56 Million bond for various capitol improvement projects around the island.
The bond was recently passed by a 7 to 1 vote, but with three council members on the way out, certain council members were saying that the decision should be made more carefully and by the incoming council… which takes office on December 6th.
With the new council comes a new council majority, but the outgoing council majority wanted to push the loan bill through before current terms end.
The bond was initiated by Mayor Billy Kenoi. $55 and a half million dollars will go towards various capitol improvement projects around the island. The administration called the loan "a practical application of sound economic principles" and said the funded projects will help the economy.
However, most of Tuesday's public testimony encouraged the council to postpone the vote and hold public hearings. Many were clearly weary about the plan to borrow in the current economic environment. The bond bill also had its supporters, mostly in the interest of development. Once again, a group of residents from Kalapana spoke in favor of the planned park for the Kikala-Keokea community.
The testimoney appeared to sway the minds of some of the councilmembers, like Emily Naeole, who in past votes had favored getting the bill passed, fast.
Others, like North Kona councilman Kelly Greenwell and Kau councilman Guy Enriques, held fast to their earlier decision to support the bond authorization.
Hamakua councilman Dominic Yagong urged fiscal prudence in the matter. Before Hilo councilman Donald Ikeda could call for a vote, Yagong made a motion to  hold public hearing.
Although outgoing County Clerk Kenny Goodenow interpreted the rules of order to require 5 votes in favor of Yagong's motion rather than the usual 3, it nonetheless came down to the ninth and final vote of J Yoshimoto, who voted "aye", much to the pleasure of many in attendance. 
Once again, the council minority managed to stave off Bill 311, with a 5 to 4 vote for a public hearing. This time it will certainly be a new council that takes up the matter again.