Aloha State no stranger to white summits in winter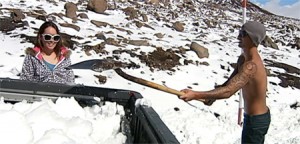 December 12, 2010 – MAUNA KEA, Hawaii
Video by David Corrigan | Voice of Tim Bryan

The day after a winter storm soaked the Hawaii Islands, residents on the Big Island awoke to find the summit of Mauna Kea covered in white.  It was a welcome sight for locals who were disappointed by the lack of significant snowfall last winter.
Island residents waited for the Mauna Kea Summit access road to reopen on Saturday, and when it did… the mountain was flooded with picket up trucks looking to scoop up as much of the white stuff as possible.
For some, it was their first time experience. Others new just what to do…
From making snowmen, to making snowballs, to taking a quick ride down slope…
That is a lot of activity for 13,000 feet above sea level, where the altitude makes even minor exertion seem exhausting.
Although Mauna Kea steals the show when it comes to wintry weather, equally impressive is the sight of a snow capped Mauna Loa, seen in this video taken from Hawaii Volcanoes National Park.
Mauna Kea and Mauna Loa are Hawaii's tallest peaks, and get at least some snow every year, usually between October and March, although snow can fall any time from August to May. Forecasters are predicting lots of rain under a La Nina effect rainy season. That could mean this will be a common sight this winter.
New Patient Safeguards for Online Drugstore Prescriptions. Part 2