An emotional Neil Abercrombie thanks supporters at Kuhio Hale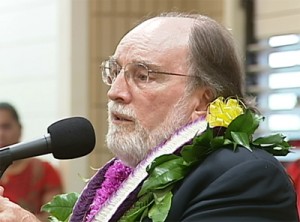 December 13, 2010 – WAIMEA, Hawaii
Video by David Corrigan
The new Governor of Hawaii – Neil Abercrombie – made his second stop in as many days on the Big Island, part of the "E Ho'omalu o Hawaii" (To Protect Hawaii) events being held on the islands following his inauguration as the Aloha State's top executive.
Joined by Lt. Governor Brian Schatz and his chosen nominees for various state department heads, the new administration celebrated with the local community in Waimea, at an event held at Kuhio Hale.
A tearful Abercrombie thanked his supporters for all their help, and noted that since he always hears about the Big Island's "East side and West side" he asked himself, whatabout the north side and south side?
Which is why he held Sunday's event in Pahala, within Hawaii Island's southernmost district of Ka'u.
The Waimea gathering included a protocol welcome, entertainment by the Beamer-Solomon Halau O Po'ohala and Waimea Hawaiian Civic Club, and Slam Poet Kealoha, whose "New Day" performance was an inauguration day highlight… and of course, grinds.
Considered an extension of the inauguration day ceremonies, organizers say the events are travelling to the different islands "To validate their their commitment to all of the voters of Hawai'i"